Here are 4 unique dining experiences in
Singapore
, including themed eateries, must-visit cafes, and new places to eat in Singapore!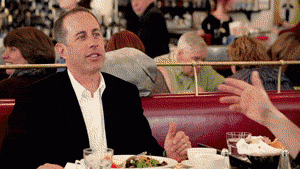 Credits - giphy.com
1. Jungle Breakfast with Wildlife


Picture Credit - www.weekendgowhere.sg

Address: 80 Mandai Lake Road, Singapore 729826, inside
Singapore Zoo
Tel: (65) 6269 3411
Opening Hours: 9 am - 10.30 am
Website: www.zoo.com.sg
You might think that breakfast at your house every day seems like you're eating with animals; kids fighting, milk spilling, dishes breaking, etc.; but imagine if you actually had a chance to have a meal amidst orangutans! Jungle Breakfast with Wildlife gives you exactly that experience (and trust us, a far calmer scenario than at home).
Dine on delicious a delicious
Halal
breakfast of toast, coffee, local food, and fresh fruits while the apes swing by. You can also stop by after your meal to get a picture with them! And if you're lucky, you'll catch one of the many other animals at the zoo wander by. This is a one-of-a-kind dining experience that you can't find anywhere else, and with prices as low as SGD 16 per adult, it is an absolute steal!
2. Catch-Your-Own-Seafood
One of the best unusual dining experiences in Singapore is the concept of "catch-your-own-seafood", which is literally what it sounds like. At these
restaurants
, you'll be given a rod and bait which you'll use to catch your
food
from ponds. You will then bring them to the restaurant to have it cooked right there and enjoy the freshest seafood ever. Literally, from the water into your belly! Here are a couple places where you can try out these specially themed restaurants in Singapore.
Smith Marine Seafood Kelong Restaurant
Address: Pulau Ubin Coastal Area FC97E, Singapore.
Phone: +65 9792 7609
Opening Hours: 10:00 am – 7:00 pm
Website: http://www.smithmarine.com.sg/index.html
Recognized as Singapore's first floating restaurant, and is situated in the middle of the sea definitely qualifies Smith Marine as one of the most extraordinary
restaurants
in Singapore. Housed in a modern kelong located between
Pulau Ubin
and Changi Point ferry terminal, the restaurant is a great place to relax and catch some sea breeze with friends and family. And they also have a Halal certification, score!
Note: They recommend you make a reservation at least 3 days in advance, as they are situated in the middle of the sea.
Prawning at Orto
Address: 81 Lorong Chencharu, #01-01, Singapore 769198.
Phone: +65 6257 8858
Opening Hours: 24/7
Website: orto.sg
This catch-your-own-seafood restaurant specializes in prawns, as you might have guessed from the name! Apart from catching your own prawns, you'll also get to skewer and grill them yourself. Orto also has fun activities for guests like paintball and a 'game' for catching prawns with tags.
Note: This is not a
Halal-certified restaurant
. Other than the fresh prawns that you grill yourself, please inquire about accompanying dishes.
3. NOX Dine in the Dark
Address: 269 Beach Road, Singapore 199546.
Phone: +65 6298 0708.
Opening Hours: 6 pm – 12 am
Website: http://www.noxdineinthedark.com/
One of the must-visit special themed restaurants in Singapore is NOX Dine in the Dark. As the name suggests, this restaurant gives you one of the most unusual dining experiences in Singapore of having a meal in pitch black darkness! The concept of this extraordinary restaurant in Singapore is to heighten your senses (being deprived of sight, perhaps the sense we rely mostly on) for a meal unlike any other. You will have a personal guide to assist you throughout your entire meal, and the incredible thing is that all of them are either blind or visually-impaired. The transfer of power of them suddenly having to be your eyes is an amazing experience and one that should stay with you forever.
Note: This restaurant is not Halal-certified. They do offer a vegetarian meal option and cater to specific dietary restrictions. So call ahead to inquire about and request for Halal food.
4. Sushi-Away!
Maki-San
Address: (1 of 5) Sembawang Shopping Centre, 604 Sembawang Road 01-22/23.
Phone: 6481 9081
Open Hours: 11:30 am – 10:00 pm
Website: http://www.heisushi.com/
Are you a picky eater, or someone who nitpicks about the way food is prepared? Or maybe you've been wanting to try sushi, but weren't sure where to find a Halal sushi restaurant in Singapore? Well, you're in luck because Maki-San gives you an unusual dining experience of getting to build-your-own sushi, and they're
Halal-certified
! You can pick everything from the wrapping to the type of rice, and all the fillings, sauces, and condiments that go into your maki! You can also ask for your sushi to be fried for an extra bit of crunch and yum!
Hei Sushi
Address: 2 Handy Rd, Former Cathay Building, Singapore 229233.
Phone: +65 6737 8772
Opening Hours: 11:30 am – 9:30 pm
Website: http://www.rollwithmakisan.com/
If you're from
Japan,
this might not seem that impressive to you; but for all of us Sushi noobs, a Halal-certified restaurant where we can get the unique experience of eating sushi that is served in a conveyer belt is definitely exciting! If you were unaware, this is a common concept that is authentic to Japan where guests in a restaurant can simply pick the dishes they want as they slide along the conveyer belt next to the tables. Different coloured plates indicate different prices, and your final bill is calculated based on the plates on your table.
And the great thing is that they don't just serve sushi, but have an extensive menu of over 200 different varieties of Japanese dishes (wow!). This is the first kaiten (sushi belt restaurant), and of the best new places to eat, in Singapore!