Word of Mouth - Vienna Locals Tips
Getting the chance to spend a holiday in Austria is a luxury many can only dream of. If you are one such lucky traveler with the chance to vacation in Austria, you sure would want to make the most of it. As the capital and largest city in Austria, Vienna is one of the main locations you will be attracted to as you travel Austria. Therefore you must be already making a list of top-rated tourist attractions in Vienna to visit.While almost all the guides available will cover most of the Vienna attractions and activities that are popular among tourists, we would like to highlight a few tips from locals on what to do in Vienna. This way you could try some of the more unique things to do in Vienna that uncover some of the hidden treasures of this mesmerizing city.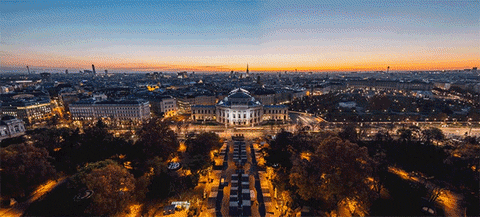 1. Enjoy the tranquillity of The Vienna Woods
Picture Credit - commons.wikimedia.org
Also referred to as Lainzer Tiergarten, this is by far one of the most tranquil locations you can wander off to. This beautiful forest area is located in the foothills of the Alps and is bordered by the main rivers Triesting, Gölsen, Traisen and Danube. For Viennese, this is a very popular recreational area. So if you are interested in enjoying a quiet picnic with friends and family, a long walk or even a hiking adventure, this is one of the perfect places to visit. Don't forget to drop by the Hermesvilla, one of the famous Vienna attractions to learn more about the cultural history.
2. Shop at popular market places
Picture Credit - commons.wikimedia.org
Vienna is known for its popular market places that attract locals and foreigners alike. While there are many of these scattered across the city, some of which are annual events like the Christmas markets, the best options to visit include the Naschmarkt and Brunnenmarkt. The Naschmarkt is highly popular among locals looking to purchase their daily essentials and enjoy lunch or dinner. The longest street market in Europe, the Brunnenmarkt, is one of the most vibrant locations where you can find anything from fresh food, clothing and accessories, and authentic souvenirs, all at affordable prices.
3. Walk or cycle around the city
Picture Credit - commons.wikimedia.org
If you ask any local for recommendations of what to do in Vienna they would highly recommend you wander through the streets and just enjoy the splendour of this charming city. Cycling is a popular mode of transport and favourite leisure activity among locals. You can get your own wheels from CityBike or Pedal Power and explore the many Vienna attractions. If navigating through the streets seems a bit complicated you can even walk around because most sites and attractions are found in a compact area. All you need is a comfy pair of shoes and enjoy strolling along the classical paved streets. Make sure you take your camera along because you will definitely come across some amazing photo opportunities.
4. Visit the Film Museum
Picture Credit - www.flickr.com
The Austrian film industry is quite famous around the world. So as you enjoy your holiday in Austria you must try to stop by the Film Museum dedicated to honouring the great works created over the years. The site also features a library featuring a rich collection of books on the industry.
5. Wiener Zentralfriedhof (Vienna Central Cemetery)
Picture Credit - commons.wikimedia.org
While visiting a cemetery might not usually be one of your favourite things to do when traveling in Vienna, you might want to consider a trip to Zentralfriedhof. The second largest of its kind in Europe, this site of historical importance and has been around for over 200 years. Graves of world-famous personalities like Beethoven and Schubert are also found here.
6. Tantalize your taste buds with Viennese cuisine
Enjoying the rich flavour of one of the finest cuisines in the world is one of the top things to do in Vienna. Although not in plenty, you can find some great Muslim friendly restaurants in the city for your Halal vacation in Vienna. Some must-visit restaurants in Vienna where you can try some must-try Halal dishes in Vienna include the Hotel Imperial's OPUS, Park Hyatt Vienna's The Bank, Persian restaurant Pars and the Turkish eatery Kent.