Muslims all over will celebrate the blessed month of Ramadan under lockdown and tight limitations due to the coronavirus pandemic that has weakened all continents. Be that as it may, with strict curfews imposed throughout and physical social distancing orders authorized to confine the spread of the exceptionally infectious COVID-19 virus, a large number of Ramadan's customs and conventions will be abridged for the current year.
Gathering to pray in mosques are prohibited in a few nations, and numerous mosques have been closed down until the virus is eliminated. Mosques around the globe will stream sermons, Quranic recitation, and prayers via the web and video conferencing mechanisms. Muslims will likewise have the option to participate in religious sermons through video-conferencing modes like Zoom, Facebook, WhatsApp video call, and YouTube.
The Eid al-Fitr celebration denotes the end of Ramadan and is commended as an official holiday in many countries. This year, the world will see an Eid like never before – with few traditions that can only be carried out at home.
So we feel that this is how celebrating Ramadan remotely would look like!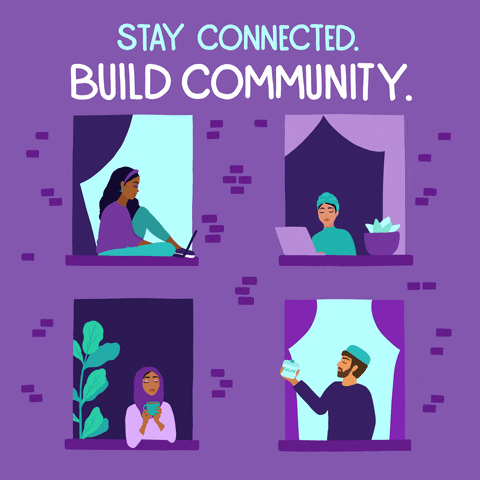 1. Eid – A Homely Affair
Image Credit: Douglas Sheppard on Unsplash
Due to lockdown instructions set up and enormous get-togethers prohibited, the current year's merriments will be downsized. The physical distancing guidelines will likewise lessen the festivity feel of Eid.
Many will most likely be unable to meet with their families to celebrate Eid Al-Fitr. Muslims are being encouraged that in the event that they are living and working in different parts of the world compared to where their family is residing, they should shun away from visiting their hometowns for Eid.
Given the current situation, it stays muddled if countries will lift or simplify lockdown measures for Eid. Due to this, it is advised that Eid prayers are performed at home. Whether we like it or not, Eid this year will be much more somber than how it is celebrated in the previous years. It will be unique as it will be a close Eid festivity between the immediate family members.
A lockdown and Eid do not go hand in hand. Eid is about association, mingling together, and coming together for the much-awaited family time with our loved ones. This year, innovation is one aspect that all will be utilizing. This year we will have to rely upon social media and the internet when we want to communicate with our family and friends residing in different parts of the country or world instead of getting to meet them physically.
Draw up your Eid plan like how you would usually do it! Sit down with your family and talk about what you will do on Eid. Despite the fact that you will celebrate it at home, you can settle on what sorts of Eid treats you will prepare at home, how you can pass on Eid Salaams virtually and how you can get together your family and friends by means of Zoom and celebrate it with them.

2. Dress Up!
Image Credit: Aniq Danial on Unsplash
When taking most Muslim nations into consideration, Eid is a period for purchasing new garments. In spite of the fact that this year, you won't be actually venturing out or going visiting, you can, in any case, still wear your Eid clothing at home - which you would have bought or selected - to get into the spirit of Eid.

3. Decorate!
Image Credit: Prasanna Kumar on Unsplash
Decorate the house with your family members to get into the lively and festival feel of Eid. It will help liven up your children from not being able to spend Eid the usual way. Use balloons, banners, decorations from the previous year, and lights. You can even choose to have a home DIY Raya photo studio! Spruce up yourself and your children in your lovely clothing attires that you chose for Eid and set up a background that suits you best and get clicking!
Every arrangement utilizes an alternate setting or backdrop, giving you loads of assortment and different ideas on how you want your photo to be. They are quick and simple to set up and you could even utilize items that you would have stored in your storeroom. It could be leftovers from last Eid's decoration or the decorations that you used for your kids' birthday party! Get creative! The sky is the limit!
One item that deemed useful and convenient as a setting is curtain panels. They are quite tall and are accessible in pretty much any shading you could need. You can even use Lampu Lap Lip to spruce up your Eid decorations which can likewise be utilized as a prop for your Raya photoshoot. These are solar-powered and convenient to use with low energy consumption. They give an exquisite shimmering shine that can be seen from any point which could improve the quality of your photographs as well.
4. Hari Raya Puasa – Food! Glorious Food!
Image Credit: Akharis Ahmad on Unsplash
Typically, a three-day festival, Hari Raya unites loved ones to indulge in and bury themselves in the preparation of the traditional sweets and cheerfulness. However, given the current circumstances, the festival will have to be celebrated within one's own home. Instead of visiting the homes of friends and family, one can opt for the ideal social distancing tool – video conferencing.
This year you can whip up some delicacies that you can prepare with your family along with a slight twist – amalgamating some modern treats too! Some of the traditional dishes being Bubur Lambuk, Ketupat or Lemang, Kueh Raya, Kueh Lapis, Lontong, Bandung, and Satay with Spicy Peanut Sauce. The modern dishes that you can incorporate to your meal could be Churros, Boms, and Steaks.
5. Netflix All Day Long!
Image Credit: Mollie Sivaram on Unsplash
Due to the inability to go to a cinema or to a friend's house to have a movie night, Netflix is now our savior! While you stay at home, this contributes to having a lot of time to spend to run through a plethora of movies, TV series and dramas Netflix has to offer as entertainment amidst this pandemic.
Here are a few recommendations for you this Eid:
Humor
I Think You Should Leave with Tim Robinson, Friends and Derry Girls
Thrillers
Good Time, Black Mirror and 1922
Binge-watch worthy
Better Call Saul, I Am Not Okay with This and Money Heist
Family-friendly
Annie with an E, The Fresh Prince of Bel-Air and John Mulaney & the Sack Lunch Bunch
6. Gaming Applications to keep you occupied!
Image Credit: Mika Baumeister on Unsplash
Online games have made social distancing much easier! The vast array of games and applications now available will help keep you associated while in detachment from the rest of the world.
Here are some of the best picks:
Houseparty
Staying true to its name, Houseparty offers an approach to hang out and party with companions while being isolated at home.
Apart from offering the video calling option, Houseparty accompanies in-application games to play while talking. There are likewise discrete virtual "rooms" that users can switch from, giving the feel of an authentic house party, but virtually.
Facebook Gaming
Facebook's Gaming tab offers an approach to play online games with your loved ones or even anyone from the 2 billion users who make use of this gaming facility. It has incorporated classics and modern games like Pac-Man, Space Invaders, and Super Dash.
Quiz Up
Having a database of 1200 topics and 600,000 questions, this trivia application enables users to challenge their friends and have competitions on topics ranging from general knowledge to topics that you would have probably be taught back in your good ole school days.
Classic board game now comes in the form of applications too. The majority of classic board games have been transformed into an online game application, which has a lot of similar features in comparison to the actual board game and is adjusted to suit their users with playing these games on phones, PCs, or tablets. Those that have accomplished this are the famous Scrabble, Uno, and Monopoly.
7. Sleep – The Answer to all Problems!
Amidst this pandemic, it would be justifiable for anxiety and stress to kick in. Rather than investing time and vitality stressing out, why not transform that kind of stress into what you can control, focusing on aspects like taking care of yourself and your loved ones. Concentrating on gaining sufficient rest is a characteristic fit for dealing with the betterment for yourself which can boost your immunity at the same time.
Satisfactory rest can augment your potential for having better days under these conditions. Ideal rest controls and enhances while giving you a positive state of mind, improves brain capacity, and boosts energy and efficiency to keep you active throughout the day. Uneven sleeping schedules and patterns or even sleeping too much during the day can hinder your sleep altogether.
Rest is critical at present, especially once Ramadan wraps up. Here are some tips and tricks that can help you boost your sleep:
Incorporate some `me` time.
Cut down on afternoon naps.
Have a go at breathing exercises.
Form a sleeping schedule and make sure to stick to it.
Curtail screen time at night.
Do keep in mind that rest is significant to keep us lively especially during these trying times. Agonizing over rest just transforms into more pressure and stress and I'm sure that is something which you do not want to be dealing with this Ramadan. Simply ensure to put forth a valiant effort to get the chance to bed on schedule and follow these tips should you find it difficult to get in some sleep time.

Given the ongoing pandemic, it won't be possible for Eid to be celebrated the way it was previously. Even though things might be intense in this present circumstance, we could all learn and take this opportunity to reflect on our behaviors and past lifestyles prior to this pandemic. Perhaps one of the takeaways from this year's humble celebration is never to take things for granted. Hopefully, in the near future, we will be more appreciative of the smaller things in life and work towards having a more meaningful Eid, with lessons learnt from this year's humble celebration.