Once again, we are blessed with the month of Ramadhan! Alhamdulillah. And of course, this Ramadan 2017, the biggest annual bazaar – Geylang Serai Ramadhan Bazaar 2017 – is filled with stalls featuring flavoursome Halal street food in Singapore, bedazzling accessories, colourful clothes and many more.
We don't know about you, but as huge foodies, we're always enthralled by the food stalls. The number of trendy stalls selling hipster-ish foods such as Colorful Galaxy Milkshake and Rainbow Bagels have amplified at the Ramadan Bazaar at Geylang Serai. Although they are Instagram-worthy, we would steer more towards old-school street foods to relive a taste of nostalgia.
Here's a list of tantalizing old-school street foods that will revive memories during the simpler times of Geylang Ramadhan Pasar Malam!
1) Ramly Burger


Picture Credit - www.ramly.com.my
Let's start with the basic of all basics! Ramly Burger, one of the popular old-school snacks in Singapore's Geylang Serai Ramadan Bazaar, or any other Pasar Malam. You can choose between beef or chicken patty, which is wrapped in egg and complemented with rich sauces like black pepper, mayonnaise and cheese. If you have a big appetite, go for a "Ramly Special" with consists of two patties, egg, onions, vegetables and 3 different sauces! Doesn't that sound like a Halal party in your mouth?
2) Roti John
Picture Credit - www.flickr.com
Another popular local food in Ramadan bazaar would be Roti John, which is said to originate from food hawkers in Singapore way back in 1960s. It's made of a crusty baguette topped with egg, onion and minced meat, and slathered with mouth-watering chilli or red sauce and mayonnaise. It is one of the best foods in Geylang Bazaar, yum!
3) Mee Goreng
If you're famished, an excellent choice to include in your list of things to eat at Geylang Serai bazaar would be Mee Goreng, also known as Fried Noodles. Springy noodles, deliciously stir-fried with soya sauce, chillies, onions, eggs and more! Although a breakfast staple among the Malays, it is often eaten for lunch, dinner or even supper as well. But be careful not to have too much, or else you will not have space for other yummy goodness at the bazaar.
4) Vadai
Vadai – doughnut fritters originating from India – is another Halal street food in Singapore, often eaten as breakfast or mid-day snack. Another old-school snack in Singapore's Geylang Serai Ramadan Bazaar, Vadai can be made from numerous types of pulses including chickpea and pigeon pea, seasoned with onions, green chillies, curry leaves and more. Have it while it's fresh and warm, its strong spices are sure to get your taste buds tingling!
5) Kebab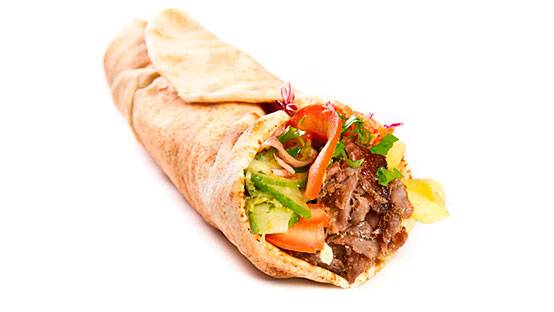 Originating from Turkey, you can easily find Kebab at the Geylang Bazaar 2017. Kebab – a flavourful flatbread wrap filled with succulent meat that is cooked on a vertical rotisserie, vegetables including lettuce and onion, cheese and various sauces to your liking – is another Geylang bazaar food not to be missed. Sedaaaaap!
6) Dendeng
Thinly sliced meat marinated in various spices, Dendeng is another one of the best foods in Geylang Bazaar. Often eaten on its own, you can also have it in Malay cuisines such as fried rice. An interesting fact – it was first created by the Minangkabau people in Indonesia for them to snack on while travelling long distances.
7) Otah
Otah – a style of minced meat (usually fish) flavoured with a mixture of spices like chilli, turmeric and lemon grass, wrapped in banana leaves and grilled over charcoal to a yummy perfection – is one of the delicious Halal snacks to savour during Ramadan. A traditional snack in Singapore, Malaysia and Indonesia cuisines, you can also have it with rice for a more filling meal. You can easily smell your way to this food item from afar due to its distinct earthy scent.
8) Takoyaki
If you're craving for a Japanese snack, you can find takoyaki at the Geylang Bazaar 2017 as it has become quite a staple street food in Singapore and one of the best foods in Geylang Bazaar. They are savoury flour-based balls cooked in a special moulded pan, brushed with takoyaki sauce and mayonnaise, and served with dried bonito. Traditionally filled with diced octopus (also known as Tako, hence the name), it is also offered in other fillings such as shrimp, squid and more.
9) Apam Balik


Picture Credit - www.seasaltwithfood.com
Too stuffed from savoury goodness? Don't give up, you still have desserts! Warm fluffy pancakes, filled with a mixture of crunchy peanuts and sugar. Sounds delicious? Another must-get Halal street food in Singapore is Apam Balik - a traditional Malay dessert that has been around for years, and is popular in Singapore, Malaysia and Indonesia. You can also have this heavenly delicious dessert at the Ramadan Bazaar at Geylang Serai in different fillings – corn, banana-chocolate or even cheese.
10) Kuih Muih
At the Geylang Ramadhan Bazaar, you can please your eyes (and your palate) with a variety of traditional Malay kuih – old-school sweets and snacks in Singapore. Some of the top favourites are pineapple tarts (buttery biscuits topped with pineapple jam) and kuih makmur (leaf-shaped biscuits filled with a peanut and sugar mixture). They are sinfully addictive but give yourself a treat with one of the old-school snacks in Singapore's Geylang Serai Ramadan Bazaar, it's the festive season!
11) Air Katira
Picture Credit - www.lakako.com
Last but not least, what better way to beat the heat at Geylang Serai Ramadhan Bazaar 2017 than with an ice-cold Air Katira? Made with evaporated milk, katira (tragacanth gum), biji selasih (basil seeds) and buah kembang semangkuk (malva nuts), you might find the combination weird at first, but I'm sure you'll grow to like it! It also has health benefits such as curing a sore throat and counteracting toxicity in our body.
So what are you waiting for? Head over to the Geylang Serai Ramadan Bazaar to enjoy these delicious old-school street foods before the month of Ramadhan ends!