Krabi has recently gathered traction, being a better option for tourists who prefer a less crowded island. The easiest way to get to Krabi is by hopping on a flight that would take two to three hours from its neighbouring countries such as Singapore and Malaysia. As a Muslim traveler, you won't have to worry about finding Halal food as there plenty stalls serving halal food cooked by local muslims. So let's move on and get you started!

Upon arriving at the airport, you'll find rows of counters that offer transportation services such as buses, minivans and taxis. If you are opting for the taxi, be sure to book your ride at the airport rather than to flag one by the road. Generally, taxi drivers will refuse to use the meters and you will have to bargain the price before boarding.

Krabi is embraced with two seasons, namely summer from November to April and the rainy season from May to October. Be sure to choose your travel dates wisely!
1. Ao Nang Beach

Compared to Phuket, the beaches in Krabi are generally less busy. If you're looking for a peaceful and relaxed getaway, then Krabi is the best place to spend your holiday. A perfect getaway with beautiful views of the fishing village, fine white sand, crystal-clear waters, and towering limestone hills with unique curves. This combination of beaches and limestone hills makes Krabi the ultimate destination for divers and rock climbers.
You can expect exciting holiday activities such as snorkelling, chilling in the hot springs, or kayaking through the lush tropical forests. Don't miss the chance to explore the different islands while you're at it.


a) Masjid Ao Nang Al-Munawarah

Credit: @Masjid Al-Munawarah on Facebook

Masjid Ao Nang Al-Munawarah is the largest mosque in Ao Nang, catering to the large Thai Muslim Community. It is the main masjid in the area.

Address: 420/14-15 4203, Tambon Ao Nang, Amphoe Mueang Krabi, Chang Wat Krabi 81000, Thailand

b) Panan Krabi Resort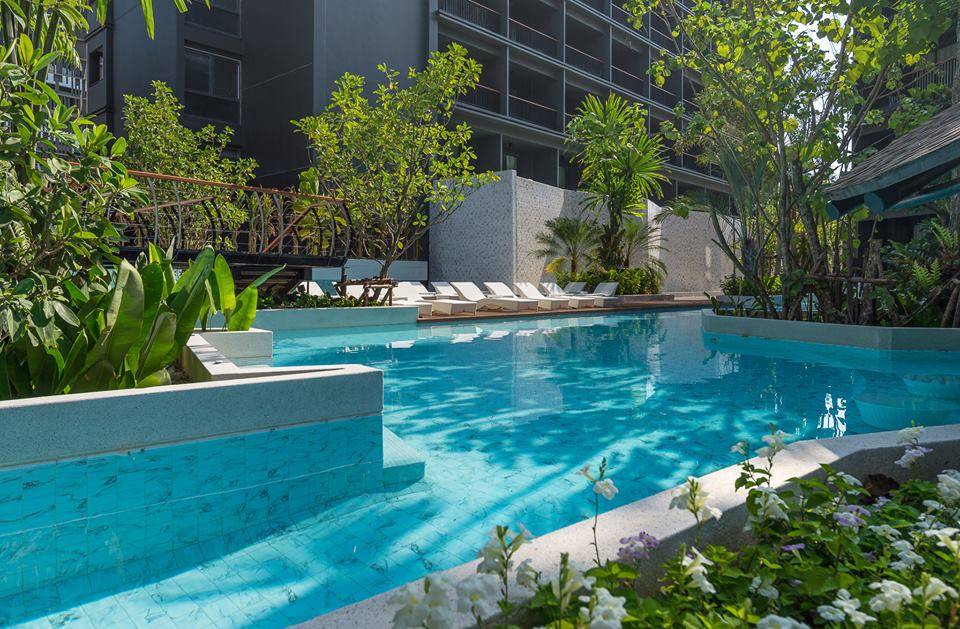 Credit: @panankrabiresort.aonang on Facebook

This highly recommended place in Krabi is designed to provide guests with a clean and modern look. Staffs are very welcoming and friendly, even if you arrived early, the staff will encourage you to use the facilities while you wait for your room. Located just 600-700 meters from the Ao Nang Beach, you could simply walk to the beach.

Just a little tip for you: You might want to book a room that has a sea view because the view is absolutely awesome!

If you have rented a room at Panan, don't worry about money exchange, Burger King, McDonald's or Seven Eleven, they are right there; either beside or opposite the property.

Address: 945 Ao-Nang, Mung, Mueang Krabi District, Krabi 81180, Thailand
Krabi Airport: 2 Mins away
Phuket International Airport: 36 Mins away

Contact No.: +66 (0) 75 817 788
Email: [email protected]

Website | Facebook | Instagram

c) Bombay Palace Restaurant



Credit: @bombaypalacerestaurant on Instagram

Bombay Palace offers well priced Indian Cuisine, with some western meals as well. It is conveniently located in Ao Nang, and well priced.

Address: Opposite Siam Commercial Bank 27/1 Aonang Beach Road Moo 2 Amphoe Mueang Krabi, Chang Wat Krabi 81000, Thailand
Opening Hours: 11AM to 11.30PM (Daily)

Contact No.: +66 0 86 952 3829 | +66 0 80 551 4396 | +66 (0) 75 637 024
Email: [email protected]

Website | Facebook
2. Railay Beach

Railay Beach, which is no less popular, has a beautiful view with limestone hills along the coast, suitable for rock climbing activities. There are many rock climbing schools in this area that offer classes for beginners. The only what to get to Railay Beach is by a long tail boat. Equipped with several caves and lagoons, the beaches around the area look cleaner than the ones in Ao Nang or Nopparat Thara. Vehicles that can be used here are only bicycles and golf carts which are usually used as a means of transportation by highly-rated hotels.

While you're there, don't forget to pop into the restaurants, second-hand bookstores, small kiosks, and shopping plaza.

Part of the island hopping experience includes snorkelling by the beaches. It's not everyday that you get to witness the beauty within the Andaman sea.
If you're into more fun, challenge yourself to scuba diving. Many operators provide services around Krabi, especially in the Ao Nang Beach area.
Generally, the diving sites are around the Ao Nang Bay, King Cruiser Wreck, Shark Point and Phi Phi Marine National Park area. If you love challenging yourself, you can also do cavern diving, in a cave in the Ko Ha Yai archipelago.


a) Railay Bay Resort & Spa

Credit: @railaybayresort on Instagram

A good place to relax.

You can rent a kayak from the hotel for 200 to 300 baht and explore the bay and see other beaches. It is a must to do. Also, you will have access to two swimming pool and a jacuzzi. Also, it is easy to arrange transfer to Krabi Airport. For about 1600 baht, you have a private transfer to airport by golf kart-boat and mini van.

The food was good and you can enjoy the stunning view while eating at their main restaurant directly located by the beach. If you don't want to eat at the hotel, you can walk 2 mins to a small street where there are plenty of small restaurants.

Address: 145 Moo 2 Ao Nang, Muang, Krabi, 81180 Thailand
Krabi Airport: 3 mins away
Phuket International Airport: 37 mins away

Contact No.: +66 (0) 93 584 2643 | +66 (0) 75 819401 3
Email: [email protected]

Website | Facebook | Instagram
b) Local Thai Food Restaurant



Credit: Trip Advisor

Address: Ao Nang, Mueang Krabi District, Krabi 81000, Thailand
Tel: +66 75 819 447
Located along the Railay walking street, Local Thai Food Restaurant serves an array of entrees and mains at great prices.
We totally recommend the Penang Curry, Pad Thai and Spring Rolls.
3. Four Krabi's Island

It is a popular tour in Krabi with 4 islands, there are Phranang Beach, Tup Island, Chicken Island and Poda Island. You can go from your hotel around 8 am and were immediately escorted to the pier, where you gathered with other tourists to get on the waiting speed boat.
a) Phranang Beach

Credit: @gulliverstrip on Instagram

At Phranang Beach you will be given time to relax and explore Princess Cave, which contains beautifully formed stalactites and stalagmites adorning the cave.
The atmosphere is different from the surrounding beaches because there is a cave on the left side of the beach. The water is clear and the iconic is the food seller on board. You can also go to this beach by kayak from the Railey West beach. One of them is the very famous James Bond Island.
If you are one of snorkeling addict, the sports activities in the area are around the next two islands, namely Tup Island and Chicken Island.
b) Chicken Island



Credit: @sarah.muehlbacher on Instagram

Chicken Island or Koh Kai, where the name is obtained because on one of the cliffs there is a limestone shaped like a chicken head.
This island, which did have a not too deep seabed and beautiful scenery with various kinds of coral reefs and colorful fish. It's amazing, it can take a dip and snorkel in the sea side by side with towering limestone hills.
When the sea is receding, the white sand plain will connect to this island with two other islands around it, namely Koh Mor and Tup Island.
c) Tup Island

The island is unique and beautiful because we can walk to the island next to it if the sea water recedes, but if the tide eats this island apart. Walking to the next island at low tide is fun.
Feel's like it's own. Lonely and Beautiful.
One of the islands that you could visit by having a service with having a dinner, campfire and fire dance performances provided by tour organizers. Beautiful island clusters and sunsets and clear sea water. Clean environment and the unique wave will be mesmerized you.

d) Ban Sainai Resort

Credit: @bansainairesort_aonang on Instagram

It is a quiet resort, nice pool, very well equipped rooms.
If you want to enjoy the great moment, especially with the good breakfast, nice landscaping, frequent shuttle to the beach, spacious cottage, amazing porch, awesome spa bath and/or good massage therapist.
Limestone rock view from the pool, so you will be swimming with a full view of the high cliffs looking down at you. The shuttle was also very handy, but do try to walk to the beach too. It's nice to see some of the not so seen shops. Ban Sainai Resort Resort is the answer.
Address: 550, Soi Aonang 11/1, Moo 2, Tambon Aonang, Amphur Muang, Krabi 81180 Thailand
Krabi Airport: 2 mins away
Phuket International Airport: 36 mins away

Contact No.: +66(0) 75 819 333 | +66(0) 84 295 1112
Email: [email protected]

Website | Facebook

f) Gecko Cabane Restaurant



Credit: @GeckoCabaneRestaurant on Facebook

Visiting Krabi town, you need to rest in this Gecko Cabane Restaurant. It is a hidden away down a little side road but well worth seeking out, it's a classy little restaurant and the food is wonderful.
This is a must visit in Krabi town with a lovely little place with a really cozy and also nice atmosphere. Attentive staff and their service are amazing, the waitresses are very friendly and served very well. The menu has a great selection, mainly Thai and good variety.
A recommended food is steak, curry chicken burger, red and green chicken and also massaman curry, and Thai fusion.
Restaurant Information: 1/36-37 Soi Ruam Jit Muang Krabi Amphoe Mueang Krabi, Chang Wat Krabi 81000, Thailand
Opening Hours: 11AM to 2.30PM, 5PM to 11PM (Daily)
Contact No.: +66 81 958 5945
4. Koh Phi Phi Island

Credit: @kohphiphiisland on Instagram

The Phi Phi Islands are located 43km from Krabi Province on the mainland. Koh Phi Phi is the combined name for small islands in Krabi Province, which is only 45 minutes away by speed boat from Krabi. Known as the 'jewel of the Andaman Sea', there are six islands in Mu Koh Phi Phi-Nopparathara National Park: Phi Phi Don, Phi Phi Ley, Bamboo Island, Pulau Yung, Bida Nok, and Bida Nai.
Only Phi Phi Don is inhabited, the rest is not developed and protected with the status of their National Park and is often visited every day by visitors from Phuket, Krabi and Phi Phi Don.
Koh Phi Phi is a beautiful island that has a number of beaches, featuring a variety of accommodation options and outdoor activities. The best time to visit Koh Phi Phi is between November and April when the weather is warmer and when the rain rarely falls.
Snorkeling and diving sites abound around these islands, and the laid-back atmosphere of Tonsai village on Phi Phi Don make them a must-visit place for anyone visiting Phuket or Krabi.
a) Holiday Inn Resort Phi Phi Island

Credit: @HolidayInnResort.PhiPhiIsland on Facebook

Choose A Beach Side Villa for having the pristine beach in front of the villa.
The location and scenery, like everything in Phi Phi and the surrounding islands, are stunningly beautiful. The beach also is stunning, very clean and the water have a nice turquoise color. The turquoise colored sea is really like a swimming pool with warm water and a beautiful white sandy beach.
The pools and beach were clean and they have ample sun loungers throughout the day. On the quiet side of the island, so it is very relaxed, in the evening it is almost too quiet and everything shuts down before midnight. A recommended place for honeymoon or couple.
You can use the activity center to borrow snorkeling equipment and swimming out to the reef. Or venture out walking the tsunami evacuation route to the neighboring village for drinks and a massage, and caught the ferry to the mainland to walk to the viewpoint which has the views a breathtaking and worth the hike in the heat.
Address: 123 Moo 3 Ao Nang Beach A. Muang Ao Nang, 81, Amphoe Mueang Krabi, Chang Wat Krabi 81180, Thailand
Getting there: Krabi Airport: 27 min
Phuket Intl Airport: 39 min

Tel: +66 75 810888

b) Efe Cuisine Restaurant

Credit: @eferestaurant on Facebook

The only restaurant that serves Halal food in Koh Phi Phi Island. If you want good food and are not looking for a flashy atmosphere, do yourself a favor and eat here. EFE, the owner, itself is a very cozy little place with great staff and countries flags and money bills from almost all over the world under the table glasses.
There is air con in the restaurant, but if you have an issue with it, there is also a couple of tables available outside. The owner and the waiter are friendly. All of the food is delicious, and at the end of the meal, the owner will give Turkish tea on the house. Especially to those who do not like spicy Thai food and they are looking for something in European style.
Recommended food are Kebab, Kaboobs or lambs and eggplant, Baklava, and Turkish Pizza

Restaurant Information: 125/22 Moo 7 Soi Babai | 125/22, Ko Phi Phi Don 81000, Thailand
Tel.: +66 95 150 4434
5. Klong Muang Beach

Credit: @sarah.muehlbacher on Instagram

The beach itself is clean and much less crowd than Ao Nang beach. You can just park the var in the woods next to the Klong Muang beach sign, very convenient.
A nice beach with soft white sands and tropical blue sea. A good aspect with views to the islands and enticing clean, a beautiful shoreline, and clear water for a swim. It has a long beach and the location is not crowded, you can swim at the beach or just walk at the beach.
It is a pretty safe beach with no monkeys and a lot of private spots. The Dusit Thani (the hotel above) is on this beach and it will be a great pick.
The sunset not that amazing but it is very lovely, very calm. There are many restaurants along the beach and there are many beachfront hotels. Those who are looking for nightlife, this is not the place but those who want some relaxing and quiet moment, need some peace, soul-searching while soaking in the sun, this is the right beach.
Recommended Hotel & Halal Hotel in Khlong Muang Beach:
a) Dusit Thani Krabi Beach Resort

Credit: @DusitKrabi on Facebook

Dusit Thani Krabi Beach Resort had a lanai with a beautiful view of grounds and great plantings. The grounds and garden are beautifully maintained and the walks past the lakes and water lilies are simply divine.
Two infinity pools with poolside bars including one swim-up bar. The lunches by the pool are good and there are lots of shady sunbeds under the palms.
On the right beach, which is raked every day and smooth, sandy, some fine white gravel. Many shells. Swimming zone was roped off with buoys and line to ensure no intrusion by boats. Water was a pleasant temperature and no jellyfish.
The hotel staff was courteous and helpful. Rooms were in separate buildings and they did have "golf cart" shuttles to transport guests if desired around the resort.
Lots of areas to sunbathe, pools, lawn area and the beach which was vast and clean.
The main breakfast area - Mangosteens is a bit of a free for all though, too many people, not clearing tables quickly enough. Would recommend the Malati which is the overflow breakfast area - much more pleasant, quieter and you and can sit outside, relax and admire the views.

Address: 155 Moo 2, Nong Thale, Krabi Town 81180
Getting there: Krabi Airport: 4 min
Phuket Intl Airport: 31 min

Tel: +66 75 628 000
b) Asama Halal Thai Food

Credit: @AsamaHalalThaiFood on Facebook

They have free WiFi. The portion of the food is decently large. This place is not only for the night out, but it is best for the take away to your hotel.
The staff is friendly and nice. This halal traditional Thailand food will make your tummy feel happy.

Restaurant Information: 203, Moo 3 | Klong Muang, Nong Thale, Krabi Town 81000, Thailand
Tel: +66861217319
6. Long Beach, Ko Lanta

The beach was beautiful with nice views and amazing sunsets. This beach is a place to chill and rest. The sea is warm and quiet most of the time.

The water in the whole area has 'sea lice' which are jellyfish larvae which sting a little in the water. An early morning routine walks to get some exercise and it is perfect for this. If you want something a bit more relaxed, it is great for sunbathing on and you can often use the beach chairs of the local restaurants free of charge if you have something to eat and drink. And on the evening, you can have long peaceful walks along the palm-fringed shores of a gently lapping sea while the sun sets over the horizon.
The area is also quite touristy as it appears that is the only industry. It is not too busy and there are really nice bars and restaurants along the beach.
Recommended time: please reconsider if you want to travel to this island during low season because a lot of island hopping trips are closed due to the rough sea and bad weather.
a) Crown Lanta Resort & Spa

Credit: @crownlanta on Facebook

Wonderful place to stay.
This place is all the hotel rooms and restaurants are built in a 22-hectare area. So, they have mostly hidden through the trees greenery. Very nice - not a concrete jungle like a lot of other hotels. In fact, if you stand on the Klong Dao beach and look up - you can't see any buildings. Excellent!
The backyard exit to the beach is nice, easier to walk down.
The staff was fantastic, just so attentive. They are very polite, and the room service is very fast.
A recommend for others, to ask for a room on the ground floor at the pool on top of the mountain since this pool is nice and sunny and the ground floor rooms practically have pool access.

Address: 315 Tambon Sala Dan, Amphoe Ko Lanta, Chang Wat Krabi, Thailand
Getting there: Krabi Airport: 30 min
Trang Airport: 42 min
b) Kunda Vegan Vegetarian Lanta

Credit: @kunda.vegan.vegetarian.lanta on Instagram

This place is a hidden gem.
Friendly staff, brilliant food. All of the ingredients are fresh and so good for you. The Portion sizes are generous. You will enjoy it so much that you want to come back there again.
Simply a magic place, extraordinary atmosphere. The restaurant has a lovely vibe to it, really cozy and generally pleasant to chill in. And they serve free drinking water.
Even this place is not the Halal restaurant, but it is gluten-free guaranteed and vegetarian.
That is the recommendation 6 best beaches in Krabi with the place to stay and halal food restaurant. Hopefully, it can be useful guide for you who have a plan on vacation to Krabi Island, Thailand.


Restaurant Information: 372 Trairat Rd, Tambon Wiang, Amphoe Mueang Chiang Rai, Chang Wat Chiang Rai 57000, Thailand
Tel: +66 (0) 82 8866 301