Osaka
is one of Japan's largest cities and has increasingly become a must-visit destination in
Japan
. Home to countless
attractions
, from museums and galleries to beautiful natural sites,
the city
of Osaka, with its rich history and culture is a must-add on to every travel addict's bucket list. While there are countless reasons to visit Osaka, these top sights will absolutely complete your trip to the enchanting city!
Osaka Castle & Park
The magnificent
Osaka Castle
is one of the top sights in Osaka. This beloved
attraction
is reason enough to visit Osaka, due to its important role in Japan's history and its architecture. The ancient castle, although reconstructed and restored, is architecturally magnificent, and visually quite stunning. Its stone walls, 42-meter-tall main tower, copper roofing and gates are all impressive, but a must-visit while there is the informative museum featuring Japanese history, along with the history of the castle itself and its former inhabitants, such as
Toyotomi Hideyoshi
. Be sure to also pay a visit to the observatory for unforgettable views of the area, as well as to take a stroll through
the park
around the famous landmark, especially if you're visiting during
cherry blossom season
!
Osaka Aquarium Kaiyukan

Next up on our Osaka travel guide is the famed Osaka Aquarium Kaiyukan! Impressive all the way from its exterior, to what it holds inside, the Osaka Aquarium Kaiyukan, is a top-rated tourist attraction in Osaka. Known to be one of the biggest of its kind in the world, the attraction houses an array of colourful fish, mammals, and a variety of other aquatic life - from sea lions, jellyfish and rays to whale sharks - in over 15 enormous tanks. You will not only get to experience training, and feeding sessions, as well as numerous interactive exhibits, but also get the chance to touch a shark, while here!

Dotonbori
Found along the south bank of the
Dotonbori-gawa
Canal, Dotonbori is a lively area popular amongst locals and tourists alike. It is one of Osaka's most colourful areas brimming with
fabulous restaurants,
shops,
street entertainers, and movie theatres. It is, however, renowned for the buildings found there that are covered in illuminated advertisements and gaudy neon signs, giving the area its much-loved atmosphere. A bit of a heads-up for
Muslim tourists
though, the area is also home to numerous bars, so stay clear of them!
Universal Studios Japan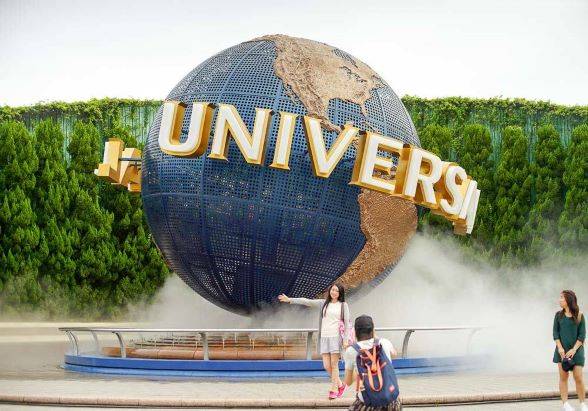 Image Credit:
www.pohtecktoes.com
One of Osaka's
busiest attractions
, and one of the four
Universal theme parks
found around the world, Universal Studios Japan is our top pick for families, even though solo travelers are sure to enjoy it just as much. Visiting Osaka and not spending a couple of hours at Universal Studios Japan is absolutely unheard of; in our books at least! Packed with movie-themed rides - the likes of Harry Potter, Jurassic Park, Despicable Me and Jaws - and Japanese entertainment characters, areas for live entertainment, and even a few
shops
and
restaurants
, Universal Studios Japan ensures a fun-filled day out, no matter how old you are. Remember to head there early and to wear comfy shoes!
Umeda Sky Building
Another
must-see attraction
in Osaka is the spectacular
Umeda Sky Building
. Known for its stunning modern architecture, the high rise structure offers visitors the chance to enjoy 360-degree views of the
city
of Osaka and even a glimpse of
Awaji Island
! Hop on an elevator and head to the 39th floor; to the Floating Garden Observatory, for an open-air deck experience unlike any other.
Shinsaibashi
Shopaholics, this one's for you! Osaka's largest
shopping area,
about 600 meters long, Shinsaibashi is home to countless stores ranging from chain retail stores and speciality shops to department stores, high-end designer labels and luxury stores. The arcade is the place to
shop in Osaka
, no matter how old you are or where you're from. A symbol of the city,
Shinsaibashi
also boasts a variety of other attraction and numerous
great restaurants
. As with Dotonbori, Muslims visiting Shinsaibashi should be aware that the thriving neighbourhood is also known for its nightclubs and bars, so best steer clear of those!
Osaka Museum of History
Located just outside of the grounds of the Osaka Castle, is the
Osaka Museum of History
. Visiting this museum is a great way for tourists to learn about the 1,400-year history of
Osaka
. It features captivating life-size reconstructions, scale exhibits, captivating photographs and movies, all bringing to life Osaka's fascinating past.
Tennōji Zoo
Image Credit:
www.welcomekansai.com
Attracting millions of tourists each year, the
Tennōji Zoo
, located in the green oasis of Tennōji Park, makes its way onto this list because of how appealing it is to adults and kids alike. Housing about 1,000 animals of 230 different species, from koalas to hippos and reptiles, in what could be as close to their natural habitats and environments as possible, the zoo aims to offer visitors a better understanding of
awareness
through observation. Head there early so you can explore the beautiful
Tennōji Park
too!
Osaka Science Museum
The
Osaka Science Museum
on
Nakanoshima
is a fantastic place to visit when in Osaka. With four floors of interactive exhibits and themed displays, the museum guarantees that the entire family is occupied for hours on end. Starting from the Universe & Discovery, then on to Familiar Chemistry, Enjoy Science and Electricity & Energy exhibits, visitors get to be hands-on with the displays which certainly makes up for the fact that the information available for a lot of the exhibits are only in Japanese. Don't forget to check out the Planetarium while here! Found in the basement of the museum, this facility houses a modern digital system along with a high-performance projector that projects 28,000 stars on a dome screen known to be one of the largest in the world. Prepare yourself for some exquisite, unforgettable star gazing!
National Bunraku Theatre
Last but certainly not the least on our Osaka
travel blog
, is the
National Bunraku Theatre
.
Bunraku
, a form of traditional Japanese puppet theatre was created in Osaka. Today, the National Bunraku Theatre offers visitors the chance to experience this fascinating art form. These shows are however only held during a few months a year, so if you're visiting during the months of January, April, June, July, August and November, try and get hold of a few tickets. You will be able to follow the show in English on earphones if you're concerned about it being entirely in
Japanese
.