When you hear the word cruise, what do you think of?
My very informal (and non-scientific) survey (of my colleagues) has taught me that cruises are often seen to be synonymous with casinos-at-sea. A holiday for gambling, drinking and catching Rated shows. What do you even do on a cruise ship as a Muslim?
A seacation now is far more than that. Those things still exist on the ship, yes, but Dream Cruises has put in more thought for their Muslim clientelle, paving a space for Muslims to enjoy a seacation onboard their luxurious World Dream ship. Alhamdulillah for inclusivity!
Our team has gone down to experience a staycation on deck, picking up all the neat tips and tricks to make your next seacation worthwhile. Here's the breakdown:
Must-Tries (Free)
Food (I'm sure you'd need to eat at least once on your trip)

Pool & Slides

Rope Course & Zipline

Mini-golf (I mean, it's free!)

Walking around the ship / hanging out on the balcony with your loved ones
Must-Tries (Paid)
VR Games

Spa, or spa amenities
Other Cool Things If You're Interested
Outdoor Movie

Performances at the Zodiac Theatre

Workshops / enrichment classes (there are a lot of these — pretty under-utilized in my opinion)

Bridge Viewing Room

Gym (limited to 1.5 hours & requires booking)
If you're a visual person, here's a video with all the awesome highlights you can expect aboard the World Dream (drop a like to send some love too!):
We've also come up with an itinerary to make your trip as worth it as possible, including some pro-tips from our time on the ship. First up;
1. Booking Your Trip
You'll need to decide:
1. What kind of room you want to stay in
Interior — Cozy room that can fit 2–4 people. Over 13 sqm. Budget-friendly.
Balcony — Fits 2–4 people, with a small balcony sitting area. Over 20-22 sqm. Recommended option.
Palace Suite — Fits 4 people, with a larger balcony sitting area. 37 sqm and larger. The luxury option.
2. How many nights do you want to stay?
2 Nights – Wed–Fri morning OR Fri–Sun morning
3 Nights – Sun–Wed morning
As Dream Cruises is currently offering a Festive Sale, the most worth-it room option is the Balcony room (2-Night: SGD 159/pax | 3-Night: SGD 189/pax). This room option is a popular one, and is great for groups. You may book your tickets here.
Pro-tip #1: Request for adjoining rooms with your friends / family to double the fun! Just remember to keep your party size to a maximum of 8 people, to comply with Phase 3 restrictions.
If you're looking to splurge a little more on comfort, access privileges and a personal butler service, you should opt for the Palace Suite (2 Night: From SGD 659/pax | 3 Night: From SGD 959/pax). Enjoy free room service, special access to Palace facilities such as the Palace Pool, complimentary Wi-Fi and much more. Find out more about the Palace here.
For this article, I'll be talking mostly about a 3-Night experience in a Balcony Room.
Pro-tip #2: Get motion-sickness pills before your trip, you might need them! Do note that they generally kick in about 30 minutes after consumption. The ship's clinic also carries this medication, but we would still recommend getting it pre-embarkation.
2. Online Check-In
Once you've booked your seacation, you'll have to do a mandatory online check-in before embarkation. Online check-in will be available 90 days before your embarkation date.
3. The COVID-19 Test
I'm sure most of you have heard mixed reviews about the COVID-19 swab test. This might cause some pre-embarkation fear. We were scared too. But once we were there, we soon realized we were sitting for the Antigen Rapid Test, which is nominally way more comfortable than the oft-spoken about PCR Test. The swab was mid-nasal, which means it only so much as tickles your nasal cavity, and doesn't go all the way down to your throat. Phew.
It was a breeze, we all tested negative, and the whole process (including waiting for registration and results) took about 30 minutes.
Note: Availability & timings of the activities and shows listed below are subject to change, depending on the scheduling of the ship activities during your trip. Check out Dream Daily or the Dream Cruises app during your trip for the most accurate information.
Day 1, we're on a ship!
Plan your day with Dream Daily — book all your stuff
The first thing you should do the moment you step into your room is download the Dream Cruises App, as well as check out the Dream Daily Newsletter they've set aside for you in your room. Seriously, it will give you all the insider information to make your trip worthwhile — like time-sensitive flash deals as well as specialized workshops throughout the day.
For some reason, our team didn't read through the newsletter till we got back to the office so we missed out on cool, free workshops like Islamic Halal Art Stone Painting and Fundamentals of Acrobatic Class (by actual Circus Acrobats IMFERA). Don't be like us. Know your trip's schedule.
Pro-tip #3: There's some Ship Lingo you might need to pick up. Each floor is called a deck, and each deck has a Forward (FWD), Middle (MID) and Tail / After (AFT) section. For example, if you see 'Deck 17 FWD', it means the front section of the 17th level of the ship.
Another super important thing to do early is to book a pool timing for your trip. To keep everyone safe and socially-distanced, each passenger is entitled to 1 hour of swimming time during the trip. Make your way over to the public pool's towel collection area at deck 16 FWD to make your reservations early to ensure you get a slot. But we'll get back to swimming later on in this article.
And finally, if you don't plan on going full off-the-grid during your stay, you can get access to Wi-Fi through the Dream Cruises App. The Standard Wi-Fi packages start at SGD 18 for 2 nights (1 device), and SGD 27 for 3 nights (1 device). If you want to share a package with your friends or family, there are packages for multiple devices as well. Wi-Fi access for 2 devices go for SGD 48 for 3 nights, and access for 4 devices go for SGD 81 for 3 nights. The Standard package grants you access to Wi-Fi for email, chat and social media. Here's the full package price listing, if you want to compare between deals:
Pro-tip #4: You'll be given a MICE Pod and lanyard with your passport and room access card at the beginning of your trip. Keep these with you at all times. The MICE Pod is used for contact tracing purposes, and the room access card is required for access into most places onboard, and is used to track your expenses onboard as well.
You may not be granted access to basic places like the pool or the restaurants without the room access card.
After all that planning, checking out all the stuff your cabin has to offer and possibly taking a walk to get acquainted with your new temporary home away from home, you've probably worked up quite an appetite. Next item on the list:
Grab dinner at Dream Dining Room Lower (7 AFT)
The World Dream ship is fitted with a fully equipped Halal-only kitchen (as well as Halal-only lifts in the back of house to transport Halal food and ingredients!) that serves food to both the Lido and the Dream Dining Room (Lower). Although these are the only two restaurants that serve halal dishes, you don't need to worry about variety as they provide an extensive (largely) Asian menu specially curated for each day of your trip.
Important note: Where you'll have your meals might be affected by the ship's cleaning schedule, but at least one of the halal restaurants will be open at any given meal time. Check out the Dream Cruises App for opening hours and food options for the day.
The Dream Dining Room is the place to dine if you're feeling fancy. With a family-style dining concept, expect your food to be served in courses as you enjoy a rambunctious conversation with your family, or extended family (up to 8 pax).
On our trip, our main course included:
Scrumptious Grilled Chicken glazed in honey (Ayam Bakar Madu);
Unbelievably tender Mutton Rendang (Rendang Kambing);
Served with a side of delectable Fish Curry with Okra (Kari Ikan Kacang Bendi), Tempeh Sambal Ikan Bilis and Stir-Fried Kailan. To fill the tummy, we were also served Salted Fish Fried Rice (Nasi Goreng Ikan Masin) and plain rice.
We ended our meal with the rich traditional Malay Kuih, Putri Salat. Yummm.
The World Dream also offers Ramadan-related services, including the preparation of Suhoor & Iftar meals for Muslim passengers.
Find out more about Dream Cruises' Muslim-friendly amenities at a glance here!
Catch the laser show
After a scrumptious meal, head over to the second level of the public pool at deck 17 FWD for a dazzling Laser Show.
Allow yourself to get lost in the artistry of the laser display — a feast for the eyes, that feels a lot like watching a dance performance.
An enchanting start to your trip, the laser show is perfect for getting you right in the mood for the holiday you deserve!
VR & Arcade
At Esc Experience Lab, immerse yourself in the future of experiential gaming with a number of Virtual Reality (VR) games all at one place. My personal suggestions are the games offered on the Virtuix Omni device, the Icaros Flying Simulator and the VR Maze.
This is me strapping up for the Virtuix Omni game. This was definitely one of the coolest experiences I had on-ship. The device is a type of VR treadmill which allows you to control where and how your in-game character walks, with 360-degree coverage. Super immersive. I look like a fool but I have no regrets.
Do note that the Virtuix Omni can be a physically demanding activity for some. Motion sickness and claustrophobia are also possible side-effects of this activity. Please take due precaution if you want to try this experience and do not engage in this activity if you are feeling unwell.
Here's me again, shooting at my colleagues unknowingly at the VR Maze. Also really immersive. I enjoyed the fact that I could walk around and not feel constrained to a certain space — I wasn't just shooting at monsters, I was exploring the virtual space around me as well.
The Esc Experience Lab also has other interesting rides and games like a 4D interactive motion theatre (XD Dark Ride), a super-advanced racing simulator (Vesaro racing simulator), and a build-your-own-roller coaster 4D ride (Finger Coaster). Check them all out here!
Each experience costs around SGD 15~20. Our suggestion is to go when there's a promo to have the most worth-it experience. These are usually listed in the Dream Daily Newsletter.
Pro-tip #5: The ship is biiiig and might be confusing to navigate at times. If you ever get lost (indoors), look down and follow the flowers!
A tip we got onboard was that the flowers usually point to the front of the ship. Follow it and get to somewhere more familiar.
Day 2, the meat and bones of the trip
The early bird catches the worm; Grab a hearty breakfast at the Lido
Start your day bright and early to catch that sweet moment of calm out on your balcony, enjoying the morning sea breeze. After that, you're gonna want to fill yourself up with some nutritious breakfast at the Lido because you have an adventure-filled day ahead of you!
The Lido usually opens from around 7a.m. till 9.30a.m. for breakfast (Dream Daily has the most accurate timings for your trip). Food is served as a buffet, but COVID-19 style, a.k.a you queue up, indicate what food you want, and the kitchen staff will scoop your food for you onto a plate.
Pro-tip #6: Request for your utensils at the drinks counter!
At the Lido, there's a very clearly demarcated halal section.
During our stay, our team did a back-of-house kitchen tour and found out more about how the Halal food is prepared on ship. According to the kitchen staff, the whole of Lido uses the same Halal ingredients for their food. However, the larger section of the restaurant is not Halal-certified as alcoholic drinks are served within the premises, and the kitchen that prepares the food in that section is unable to get certification due to a shortage of Muslim staff. Do dine at the rest of the Lido at your own discretion.
Work up a sweat at the sports and recreational facilities (18 AFT)
One of the coolest things to do on the World Dream is to get your adrenaline pumping at the Ropes Course at the sports & rec area on deck 18 AFT. Feel on top of the world as you navigate through an obstacle course in the sky and be rewarded with a perfect view of the magnificent ocean once you reach the end of the course.
But that's not the end of it! You need to make your way back to the starting point if you want to let your feet touch the ground once more. You have the option of continuing the course back to the starting point or, our personal favorite, zipline back to the start.
That's right, a one of a kind experience (especially since we're all stuck in Singapore) where you get to zip across the side of the ship, 35m above the sea. Members of our team who did the zipline said you won't even notice you're that high above the ocean, so if you're afraid of heights, we challenge you to try this out, conquer your fears and feel alive!
Disclaimer: Engage in this activity at your own discretion. If you feel uncomfortable completing the course, do prioritize your wellbeing and do what's best for yourself!
If you love a challenge, why not try your hand at rock climbing, next to the Ropes Course? Here's one of our team members in her element:
If heights really aren't for you, enjoy these other activities with the comfort of solid ground beneath your feet. Like ping-pong; simple, classic, might bring out your competitive side.
Giant Chess; for those of you who want to feeling-feeling Queen's Gambit a bit (no shade, that show was bomb).
Mini Golf; Like mini-golf on land, but free. Fun for the whole family!
By the time you're done with the sports & rec area, it'll probably be time for lunch. To the Lido we go!
Perform your prayers in your cabin or at the level 5 prayer room
Important Note: To the best of our knowledge, the ship does not provide prayer garments, so do remember to bring your own! You might also want to bring your own prayer mats, for hygiene purposes.
After lunch, head back to your cabin or the ship's prayer room on deck 5 for Zuhr prayers. World Dream caters to Muslim passengers by providing free-to-use Qurans, prayer mats, prayer compass, tasbih (prayer beads), attar (fragrant oil) in their prayer room.
You can also request these items for use in your cabins. Although the ship only has one prayer room set aside, they are able to convert other rooms into prayer rooms upon request.
We recommend you download the HalalTrip App (available on Google Play or the App Store) for our reliable prayer compass (Qibla) tool to keep updated on prayer directions as your ship cruises along the Malaccan Strait.
Cool down at the public pool
As mentioned, to maintain the safety of passengers, pool access is limited to 1 hour per passenger for the whole trip, but if you're lucky, there may be changes based on the number of passengers booking pool access. But to maintain expectations, let's just plan for an hour in the water.
Once at the pool, you gotta try out the water slides. There are adult water slides (17 AFT) and kids' water slides (16 AFT) that are sure to get your adrenaline pumping. Make sure to have a cameraman ready to snap photos of you as you whoosh through the slides!
The adult slides are accessible via the sports and recreation area on deck 18!
Catch an outdoor movie under the cool night sky
After drying off, catching your prayers and having dinner, relax under the cool night sky at the ship's outdoor movie area. Several movies are screened over the duration of your trip at the tail-end of the ship, on the same level as the public pool (deck 17 AFT). The Zouk Beach Club is decked out with a variety of seating options. Seriously, there are so many kinds of seats for you to choose from, so make yourself comfortable as you relax those muscles — they must be tired after such an active day.
If you've ever found yourself roaming the streets of Singapore, looking for an appropriate place to sit and lepak with your friends without having to buy food, the cruise is fulllllllll of perfect spots for this. Outdoor seating areas, your friend's cabin balcony, or just simply your cabin. The movies screened at the public movie areas are the same as the ones available on your cabin television, so just call your friends over for your own private movie marathon in the comfort of your own room.
Day 3, we're disembarking soon :(
Hit the Spa (or spa amenities if you want to save up for other activities)
Day 3s are all about relaxing and releasing the tension in your body (feel free to disagree). So after a tiring, fun-filled day, we recommend hitting the Crystal Life Spa (15 FWD) to get your body into extreme relaxation mode. Don't forget to grab some breakfast first!
The spa packages can be a little bit on the pricier side, but if it's your cup of tea, I say go for it!
Disclaimer: Prices are subject to 18% service charge
Book yourself an Aroma Swedish Massage, Deep Tissue Massage or a Chinese Tui-Na Body Massage from SGD 130 for 60 minutes. Alternatively, treat your feet to a 60 minute Chinese Foot Reflexology Massage (inclusive of 15 min shoulder & neck massage) for SGD 70.
You can even book a VIP Spa Suite if you wanna feel extra pampered for an additional SGD 50, or have a private spa session in your own cabin for an additional SGD 50 as well. Plus, enjoy your spa with peace of mind by requesting for a female therapist (for Muslimahs).
If you want a spa experience, but prefer to save up for other activities, we hear ya. You can still pamper yourself by purchasing access to the female/male-only spa facilities. For SGD 20 (plus 18% service charge, that's around SGD 24), let your troubles melt away as you dip your toes in the spa's Vitality Pool (there's a hot one & a cold one); you can also let your problems evaporate in the steam room and the sauna. These facilities are complimentary for those who have purchased spa packages.
Do note that COVID-19 safety restrictions apply.
You'll also get access to a locker for your belongings, decked out with bathrobes, slippers and toiletries.
Also, the lockers can be locked & unlocked with the simple tap of your room access card. How cool is that?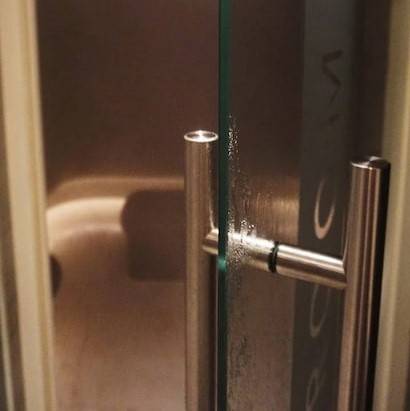 Steam room. Too steamy for a good pic. But that's a good thing.
Sauna. Very wood, much nature.
This is a warm chair. I don't know what it's called, but it's as comforting as a warm hug from a friend.
If you're anything like me, you'd be starving by this point. Something about deep relaxation just gets the stomach churning. By now, I'm sure you know where to head to for lunch (the Lido or the Dream Dining Room [Lower]).
Hone a new skill by joining one of the many workshops onboard
Photo by Alice Dietrich on Unsplash
The most underrated activity on the cruise, I feel, is the workshops & enrichment activities. The liner offers so many options for new (or old) hobbies to explore, with workshops peppered generously across the days' schedules. Pick out what you like in the Dream Daily newsletter and set aside some time in your day to check out some of the cool new things you might get to learn!
The ship also offers fun activities for the kids. Other than the water slides and recreational activities, kids get to have some fun while learning something new (like coding / programming or music!) at the Little Dreamers Club (16 FWD). Charges may apply.
You'll probably have some free time after the workshops and lunch, take it free and easy! Perform your prayers if you haven't already, check out the ship, hang out in your room, the world – or should I say ship – is your oyster.
Catch a show at the Zodiac Theatre (7 FWD)
The Zodiac Theatre.
You know that feeling at the end of a school camp where you sit back, watch a chill performance by your camp leaders, and just soak in the atmosphere of just, camp? That's what this activity felt like for us. It just felt like a nice way to end the last night of the trip. You don't really know the other passengers on board but you just feel this sense of comradery, like yeah we went on this holiday together, kind of. It's also a nice way to relax and do something more passive before the night closes.
Explore the ship & soak in the calm of the ocean for one last night
It's your last night! Enjoy your time out at sea by exploring the ship a little bit more, looking for small moments of calm while soaking in the ocean air. Take a walk around the upper decks of the ship with your friends or family, and snap some pictures to remember your vacation by!
Day 4, all good things must come to an end
It's your final day aboard the World Dream, there's not much to do before you disembark, but that doesn't mean you can't make the most of your time on the ship! You'll be informed of your disembarkation timing by now, so make sure you're all packed and ready to go.
Try to be up bright and early so you can relax out on your cabin's balcony and take a moment or two to marvel at the beauty of Allah S.W.T's creations — the sun, the sky and the sea. How blessed we are to be here, Alhamdulillah. Breakfast will still be available so head over to the Lido to indulge in a hearty meal before leaving the ship.
Once you're all set, gather up your party and make your way off the ship via deck 7. Get ready to do some Safe Entry scanning before you reach immigrations, and do remember to prepare the Antigen Rapid Test barcode stickers you were given on day 1 for your pre-disembarkation COVID-19 test. The process is swift, and you can leave the premises straight after. You will be contacted via your mobile number if there is any follow-up required regarding the COVID-19 test. Other than that, you're all set to head home for your post-vacation rest (beacuse holidays can be tiring).
If you made it to the end of this article, thank you for the support! Give us a mention on Facebook or Instagram with your pictures on board the World Dream and let us know what your favorite part of the cruise is. We're excited to see you pamper yourself on your dream seacation!