In today's society, sustainability has become an important aspect of life, which has gradually improved over the years and has brought people closer to one another. In addition, different cultures can be discovered throughout different parts of the world.
Just south of the equator and east of Java, lies a small Indonesian island recognized as
Bali
. We know of Bali as a beach heaven, a place for rest, relaxation, and a great tan. But few people know the hidden gems in Bali, the places that could take your travel adventures to the next level and reveal the cultural significance of Bali. The Balinese people are a momentous example of how culture has been formed through art, food production, marriage, social organization, and religion. If you don't experience the extraordinary, you'll never know what you've been missing out on.
So Go off the beaten track and discover Bali through our Muslim- friendly guide to hidden attractions around this Island!
Photoshoot in the Sacred and Secret Canyon of Sukawati

Photo Credit - www.bestthingstodoinbali.com

Although Bali is best known for amazing beaches and beautiful rice paddies, Bali also has plenty of Canyons and beautiful rock formations which may be new to some Muslim travelers. The Guwang Hidden Canyon – yes, people named it as hidden as the location – is located in Guwang, a small village in Sukawati, Gianyar Regency just around 30 minutes from the city center of Denpasar through Bypass Ida Bagus Sumantra. You might find that entrance of the canyon is next to the temple, Pura Dalem Guwang.
For any artist, photographer, creative, or simply anyone who wants to be wowed by a real-life view of nature's masterpiece – this secret canyon is a must-visit in your muslim-friendly travel to Bali.
Located Near Pura Beji Guwang in Sukawati, it is just a short 5 – 10 minutes walk along the shallow river. However, do take note that some climbing over rocks is required to reach the canyon. You will also pass a river, which may vary in depth and flow. Many parts of the river are very shallow, but some can be deeper than it seems so watch your step. Don't worry about looking for Bali Travel Guides For Muslim Travelers in Bali as there are many available in Bali that can direct you to find halal food in Bali. You can also browse our
Muslim Travel Blog
before you visit this Bali for more information.
Take a camel on a joyride in Nikko Beach Nusa Dua

Photo Credit - www.bernardbaliadvisor.com

Would you like to try unusual things in Bali? Then, take a camel on a joyride on the beach with the white sands of Nusa Dua Bali and immerse yourself in the nature around it with the surrounding temples. The Camel Safari in Bali is as popular as an Elephant Safari. The Bali Camel Safari has packages that include lunch at the restaurant of Nikko Bali Resort or at a seafood restaurant in Jimbaran. On the back of these camels, the view is picturesque - you can even have a brief Middle-Eastern moment right here in Bali. There are many photogenic places for potential wedding photo shoots along the way and also chances to stop for some refreshing and complimentary drinks by friendly locals.
Besides that, if you want to find nearby mosques and prayer places in Bali, Nusa Dua, you can visit the Ibnu Batutah Grand Mosque. The mosque is right next to a Hindu temple and a Christian church. It features dominant gold-yellow linings on its exterior and a prism-shaped roof.
Get Picnic on Bukit Teletubbies, Nusa Penida
Photo Credit - www.www.thebalibible.com
Another unusual thing to do in Bali is a picnic on Bukit Teletubbies. The name is a reference to the rounded green hills that were home to the fuzzy aliens from the children's television program. During or just after the rainy season when the hills are a vivid green and most resemble the cutesy world of our gobbledygook-speaking space critters is the best time to visit there.
You can also find nearby
Halal food in Bali
, and there are so many
restaurants
to visit. If you want to enjoy Indonesian cuisine, do visit Warung Pondok Nusa Penida, a cute little breezy place right on the beach. Enjoy well-prepared Indonesian dishes and seafood (or an odd international dish or two) while taking in the views of Bali. You might want to try the 'seaweed mocktail' dessert as well.
Visit Ubud Art and Culture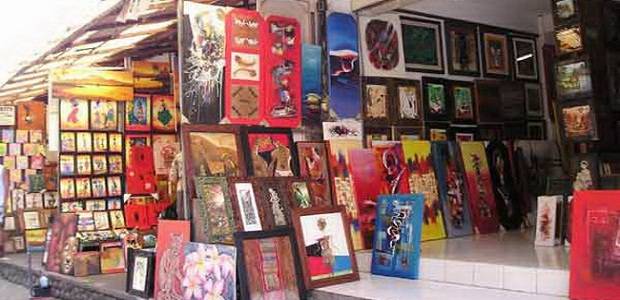 Photo Credit - www.baligreentour.com
Maybe you know the book and movie Eat, Pray, Love, yes it caused Ubud to be famous and became the epicenter of Balinese art and culture. This is where the modern Balinese art movement was born, with the surrounding royal palaces and temples acting as the main patrons. Until now several excellent local museums and galleries can be found to celebrate its evolution and traditions. Art gazing is particularly rewarding here, as many collections are housed in traditional Balinese buildings surrounded by serene tropical gardens.
For an overview of Balinese art, your first stops should be the Agung Rai Museum of Art (ARMA) and the Neka Art Museum, which lie within a short stroll of the Ubud Monkey Forest. Both displays works spanning from traditional to contemporary works, including kris (ceremonial daggers), photography, and classical wayang (puppet-figure) paintings. Other worthwhile art galleries and museums in the Ubud area include Setia Darma House of Masks & Puppets featuring ceremonial masks from Asia and beyond; Museum Puri Lukisan, which showcases a range of Balinese artistic styles; and the Don Antonio Blanco Museum, at the artist's former home and studio.
FYI, The Bali people also have domestic shrines, which portray carved figures of god-like deities. Culture and art throughout Bali have become popular amongst tourists. It has become an asset to the Island, which has given them the opportunity to continue to create cultural art while helping their economy. The men typically make paintings, sculptures, and musical instruments. While the women put the dyes and weave together. The art that they create is unique because it is intertwined with their culture and religion.
If shopping for art is more your style, don't miss the Ubud Art Market. You will find many things there, this labyrinth of stalls brimming with carvings, sculptures, jewelry, sarongs, paintings, and homewares is one of the top tourist attractions in town as well.
We've had the adventure of a lifetime discovering these hidden gems in Bali. Go forth and have the time of your life!