During this Covid-19 pandemic where most of us are staying home to prevent the spread of the virus, I'm sure many of us have thought about travelling after Covid-19. Some of us may have spent some time at home thinking about the perfect destination to go. It could be somewhere new, or somewhere with a beautiful view, as long as we get to spend quality time with our family and friends.
Domestic travel is expected to recover first after Covid-19 and going on road trips would thus be the most common way for people to travel with their family and friends. Imagine all the scenic views you can enjoy with your loved ones! A road trip is certainly one of the best ways to enrich your travel experience.
To help you out in creating the best experience for a road trip, especially for first-timers, here are 10 tips on how to prepare for a road trip!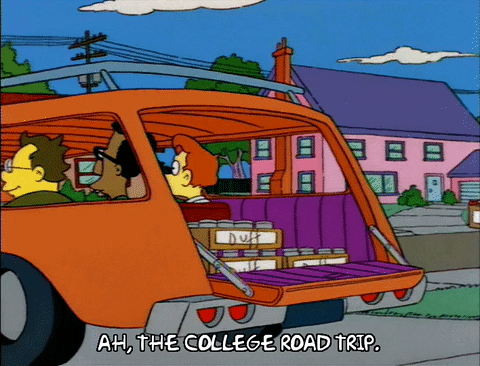 1. Prepare Your Vehicle
Image Credit: Ian Noble on Unsplash
To have a pleasant and safe road trip, pick the best vehicle for this road trip that suits the terrain and the number of people you will bring along. Will it be a 4- seated car, SUV, minivan, or RV? You surely do not want your vehicle crowded with people. A pleasant road trip could be obtained by planning which type of vehicle best suits the number of people you are bringing along for this road trip.
Furthermore, it is very important to check your vehicle performance before going on a road trip. Make sure to do checks on your vehicle and if possible, get the mechanics to check your vehicle's fluids, tires and brakes at least 3 days before a road trip. Also, prepare a fully inflated spare tire, vehicle jack, basic vehicle repair tools, jumper cables, and wiper fluids.
After that, be sure to clean your vehicle before going on a road trip and be sure to dispose of trash at the right place during the trip. Having a clean vehicle would certainly elevate everyone's mood and make travelling more comfortable.
2. Plan Your Road Trip Ahead
Image Credit: Simon Migaj on Unsplash
Plan your road trip ahead by doing some research. Have insights about your road trip's destination and its routes. It is important that you are fully aware of where you are going, how long you will take to get there, and the route options available. Also, book your accommodations ahead to avoid going to a fully booked one. This is to save you time from all the hassle on the day of the road trip itself.
Also, think about the rest stops that you can stop at to perform Salah, have a meal, and restroom breaks.
However, to have the best road trip experience, be flexible. Planning for the road trip is important but try not to be too fixated on sticking to your timetable as road trips can be really fun if it is done more spontaneously.

3. Travel With The Right People
Image Credit: Matheus Ferrero on Unsplash
We must add this to our list! Traveling is not only about where or how we travel but also with whom we travel.
Picking your best travel buddies can be an important factor that makes this road trip fun. By travelling with the right people, those that you are more comfortable with can make the road trip fun and exciting. It is also recommended to have at least two people who can drive on your road trip so that you both can take turns driving on the road. Also, it is better to have someone who knows how to navigate. It is best for the navigator to sit next to the driver to help and assist the driver on the road. This is to make things easier and more convenient on the road.
However, if you are the only driver, you can still make the road trip fun. Just be sure to take frequent rest, drink more water as well as eat some snacks to keep you energized.
4. Prepare An Offline Playlist
Image Credit: Tobias Tullius on Unsplash
Be sure to have enough entertainment on the road. Without it, having a road trip could be boring. It is important to keep everyone entertained, especially the driver to avoid drowsiness while driving. Therefore, we suggest preparing an offline playlist for your road trip beforehand in case there is a bad signal on the road. You can add a variety of songs, as well as songs suitable for kids if you are travelling with kids, in order to keep them entertained.
If you like to listen to podcasts on your road trip, be sure to check out our article here.
5. Bring Extra Cash
Image Credit: Chris Lawton on Unsplash
You might have already prepared a fixed budget plan for your road trip but bringing extra cash will not hurt everyone. Our safety tips for a road trip is to always bring extra cash, at least enough to fully fill up your vehicle's gas tank. You can put the extra cash inside your pockets or any hidden place to use for any emergency situation. Remember that it is always best to be safe!

6. Bring Enough Essential Items
Image Credit: Tai's Captures on Unsplash
To make it easier for you, we have listed some essential items for you to bring to your road trip after Covid-19. You can bring face masks, hand sanitizer, a small bag like a fanny pack or sling bag, medicines, enough clothes and a warm jacket or jumper, one pair of shoes or sandals for spare use, fully charged power banks, tissue paper, lotion, mukena, prayer rugs, travel pillow, sunglasses, cap or hat, and a camera. Also, do not forget to bring your ID cards like your driver's license!

7. Prepare Your Body And Mind
Image Credit: Ben Kolde on Unsplash
You not only have to prepare your vehicle, but also prepare your body and mind before going on this road trip.
To keep yourself and your travel buddies energized, eat a meal before going on this road trip. Never skip your breakfast! A healthy meal before a road trip could sustain your energy, which is important for the road trip. Also, make sure to stretch and make dua before starting your road trip journey. Other than that, plan for driving breaks. Stop for at least 15 minutes for every 4-hour drive.

8. Bring Healthy Snacks And Stay Hydrated
Image Credit: Nathan Dumlao on Unsplash
Keep yourself hydrated along the way by drinking at least 2 liters of water per day. Make sure to bring enough water for everyone. Other than that, snacks are also road trip essentials. It is believed that snacks can keep you awake and more energized. This is especially important for the driver who may be driving for long hours on the road. You could start with a simple snack such as gums, snack bars, or nuts.
However, keep in mind that everyone has their own preferences when it comes to snacks, so be sure to bring your own favourite snacks. Also, do not litter and ensure that you dispose of your trash in its rightful place.

9. Stay Adventurous
Photo by Coleen Rivas on Unsplash
You can make your road trip fun by staying adventurous. The keyword to it is to just stay local!
Staying local means eating local food, buying local snacks, and getting other local-made items. This is the best way to have an enriching road trip. This way, you can gain knowledge of the local culture. Try popular local food and explore interesting cultural sites on your road trip journey. Be adventurous; you never know what you will find ahead that can make your road trip memorable.
Visiting places with local cuisine and culture can make your road trip memory beautiful and unforgettable!
10. Have Fun
Image Credit: Timon Studler on Unsplash
The last tip on how to prepare for your road trip is to have fun. Leave your problems at home. We don't need them here, especially on this road trip, because this is the time for adventures and new experiences. This is the time that we have all been waiting for!
So, the key to having fun is to be spontaneous. Be open to trying new things that you have discovered on the journey to your destination. Stop by safely at some interesting places along the way and capture these moments with your mobile phone or cameras.

That's all we have for today, tips for you on how to prepare for a road trip. Do not forget to perform dua and sunnah on your road trip. For those of you who have worries about missing out prayer times, having difficulties finding Qibla, Halal restaurants, or hotels, simply download the HalalTrip to get the best Muslim travel insights here!
Stay healthy and stay safe readers!