Australia
is an amazing place to visit (and live) with a population that is multicultural, diverse, and accommodating. In fact, the recent consensus has also found that Islam is the fastest growing religion in the country, which means
Muslim travel to Australia
is now more possible than ever before.
1. Lakemba Mosque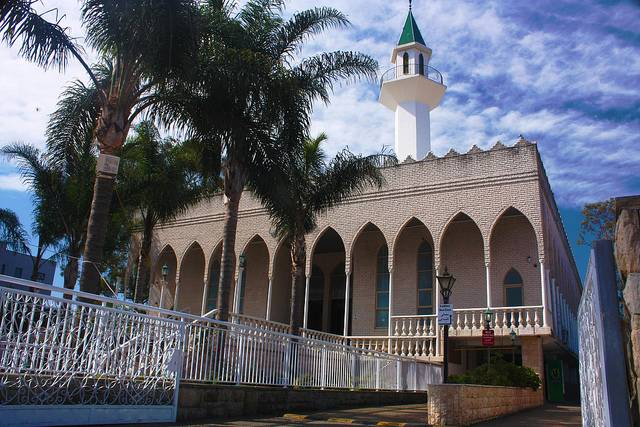 Picture Credit - www.gopray.com.au
Founded by the Lebanese Muslim Association in 1977, the Lakemba Mosque (also known as Masjid Ali Bin Abi Talib) is said to be Australia's largest mosque and the main mosque in Sydney. It holds Islamic classes, sermons and Friday prayers. The Eid prayers held here also see the largest crowds in all of Australia, with over 30,000 attendees!
The
Lakemba mosque
is also one of the participants (and the centre) of the National Mosque Open Day that is organized by the Lebanese Muslim Association with mosques from all around the country. Non-Muslims of the community are invited to the mosque to learn about the religion, share festivities, exhibitions, and even enjoy BBQ parties! The National Mosque Open Day for 2017 is October 28th, 2017.
2. Auburn Gallipoli Mosque


Picture Credit - www.aroundyou.com.au
If you're in New South Wales and are looking to find nearby prayer places in Australia where you can pray and have a bit of a rest, this is the ideal place for you. This peaceful mosque is beautiful, well-maintained, and easily accessible. This is one of the largest
mosques in Australia
and has a separate prayer hall for women and children. The inside features gorgeous Ottoman calligraphy, mosaic tiles, and scripts. The friendliness of the people at this mosque is something everyone, Muslim or not, takes along after a visit. The mosque also offers free guided tours (but do make sure to book ahead), and free food after prayers!
Click here for more information Auburn Gallipoli Mosque
---

Address: 15-19 Gelibolu Parade, Auburn NSW 2144, Australia
Phone: +61 2 9646 5972
Website: http://www.gallipolimosque.org.au/
3. Central Adelaide Mosque
Picture Credit - www.abc.net.au
The
Central Adelaide Mosque
is one of the must-visit places on your
Halal trip to Australia
, mainly because of the fact that it is the oldest surviving mosque in Australia. Originally built in 1888 as a safe haven and a prayer place in Australia for Muslim travellers, this mosque has been serving the community for more than a 100 years. In 1903, its original four minarets were added, and so was a surrounding garden. The mosque today, as it was in the beginning, remains an anchor to Muslim migrants in the area.
---

Address: 28/20 Little Gilbert St, Adelaide SA 5000, Australia
Phone: +61 8 8231 6443
Website: http://adelaidia.sa.gov.au/places/adelaide-mosque
4. Sunshine Mosque
Officially named The Cyprus Turkish Community of Victoria, this mosque is often called the "Sunshine Mosque", after the suburb in Victoria it is situated in. It was built in 1992 by the Cypriot community in
Melbourne
and is another mosque to add to your list of what to see in Australia because of it's unique Ottoman/Turkish-style architecture (the mosque was in fact designed to replicate the Sultan Ahmed Mosque in Istanbul, Turkey). The building's facade consists of a total of 17 domes and a single minaret of brilliant white, surrounded by a courtyard, which makes for a truly magnificent sight!
Click here for more information about Sunshine Mosque
---

Address: 618 Ballarat Rd, Sunshine VIC 3022, Australia.
Phone: +61 3 9363 8245
Website: http://www.sunshinemosque.com.au/
5. Baitul Huda Mosque
Located in
Sydney
's Marsden Park, this iconic mosque was built in 1989 and celebrated its 25 years with the community in splendour just a couple years back. It is run by the Ahmaddiyya Muslim Community (AMA) in Australia. Any Australian
mosque finder
is incomplete without the mention of the Baitul Huda Mosque (House of Guidance), because of the importance to its community, both Muslim and otherwise. The mosque is dedicated to building bridges and educating people about Muslims. The theme for its 25th-year celebration was "Mosque for Peace", which included over 500 attendees of all religions, a Quran exhibition, guided mosque tour, and endorsements by local officials (the prime minister of Australia even made a brief appearance over video).
Click here for more information Baitul Huda Mosque
---

Address: 45 Hollinsworth Rd, Marsden Park NSW 2765, Australia.
Phone: +61 2 9627 4521