Dubai is known for its glitz and glamour, but if you look closely there are some awesome things to do in Dubai that is quite different from the usual activities that tourists often end up doing. Gathering some useful travel tips from locals, we have put together some simple yet authentic must do things in Dubai. You could also find some things to do in Dubai for free to make sure you enjoy a budget friendly tour of wonderful Dubai.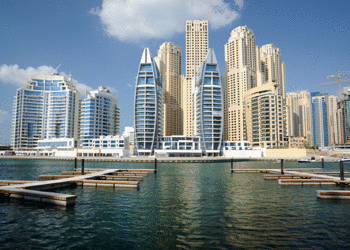 Credits - giphy.com
1) Enjoy a relaxing time on the beach
The Jumeirah Beach is one of the best-preserved beautiful beaches in the world. Therefore it comes to no surprise that it is a popular destination frequented by many locals and foreigners a like. It is one of the top things to do in Dubai for free and you can spend hours relaxing in the sun or enjoying some quiet time with friends and family. You might want to avoid the beach during mid-afternoon when it tends to get scorching hot.
2) Locate local dishes in Dubai that are quite affordable
Picture Credit - www.flickr.com
Finding Halal food in Dubai is absolutely no problem unlike in other parts of the world but what you might be worried about is the price. Although fancy fine dining restaurants take precedence in most parts of Dubai, locals often stick to budget friendly eateries serving equally delicious delights. You might want to look out for Ravi in Al Satwa known for the extra-large servings of Pakistani curries and naan. For more Mediterranean style dishes check out Zaroob or Zaatar Z Weit.
3) Enjoy a more traditional shopping experience
The flamboyant shopping malls make up a key part of Dubai, but if you are looking for unique things to do in Dubai you should spend time enjoying an old fashioned shopping experience. The Creek is one of the best places to visit and you could find rare items like gold, frankincense, and spices on the Deira bank and traditional items like the Arabian slipper on the Bur Dubai bank. One of the must do things in Dubai while you are here is to hop on board an Abra and cross the creek.
4) Witness the splendor of the mighty Mosques
There is no problem to find prayer places in Dubai and as you visit some of the famous mosques for your religious observances you can also enjoy the amazing splendor of these sites. The Jumeirah mosque, the largest mosque in the city is truly a beautiful sight to behold and you could get a guided tour to learn more about the culture and history of the region.
5) Enjoy window shopping
Picture Credit - commons.wikimedia.org
If you are worried about over-spending, avoiding the amazing shopping malls is not the way to go. That is why window shopping is a popular activity among what not to miss in Dubai. The Dubai Mall is a location packed with several high-end fashion and electronic stores ideals for the purpose. Enjoying the cool air-conditioning is another plus point to beat the scorching heat experienced in the afternoon.
6) Learn more about the history of Dubai
Picture Credit - commons.wikimedia.org
You may have already included a visit to the Dubai Museum as part of your Dubai bucket list, and this is a wise thing to do. In a time span of about 50 years, the city has undergone quite a transformation. For a very reasonable entry fee of Dhs3, this museum located in the Al Fahidi Fort will take you through all the important occurrences that led to the establishment of one of the greatest cities in the world.
7) Spend some time in the park
Though Dubai is dominated by skyscrapers and complex highways, you can also find some green spaces across the city. Travel tips from locals often recommend travelers to spend time in these areas namely the Zabeel Park, one of the largest of its kind. The site also features a ripe food and craft market every Friday you might want to check out. You can also enjoy the breathtaking view of wonderful Dubai from afar while enjoying a quiet picnic or stroll through the park.
Take a look at the very special Dubai city package we have put together to help plan your trip to Dubai now. Make sure to add some of the above activities to your Dubai bucket list and enjoy the very best vacation you could dream of.