What are the best times to visit
Dubai
? Dubai is one of the most exciting cities in the world with numerous activities and events that are happening almost all year round. Knowing what seasons or holidays you would enjoy, and what fun or unique activities you would like to experience will also help you decide when to go to Dubai.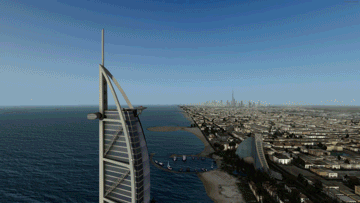 Credits - giphy.com
When Is The Best Time Of The Year To Visit Dubai?
The Best Time To Visit Dubai In 2017 – November To March
The ideal period to visit Dubai is usually from November to March which is also the peak tourist season in Dubai. Enjoy the cooler days and nights – the weather is extremely fine enough to take part in fun outdoor activities or trips.
The good weather gives you the chance to visit the top tourist attractions in Dubai without enduring the sweltering heat during the summer months.
February and March is an excellent period to take trips to the beach where you can take part in many fun activities or just relax and enjoy the surrounding. Don't miss out on going for a
Dhow
cruise or to a desert camp where you can get a rare cultural experience in Dubai.
Dubai is also known for its theme parks that offer so many thrilling rides and water parks with huge water slides – so do drop by places like
Aquaventure Park
or
Global Village
and take advantage of the good weather conditions.
It's no secret that Dubai is one of the top shopping capitals in the world all year round - but this is the best time to visit Dubai for shopping. You can make the most of this opportunity during the ever popular
Dubai Shopping Festival
which takes place every year for an entire month from December to January.
The Dubai Mall
, City Walk,
Mall of The Emirates
and
Ibn Battuta Mall
are just some of the places to enjoy great shopping and dining experiences during the Dubai Shopping Festival. The entire city is much livelier than usual – with plenty of entertainment and activities for everyone.
The Peak Tourist Season In Dubai
Good weather, airplane ticket prices and accommodation cost play an important role when planning a holiday – which is why you need know when the peak tourist season in Dubai is and during which seasons to enjoy the best weather conditions.
The few downsides to visiting Dubai during this time include having to deal with big crowds, higher air ticket fare and hotel rates. The best way around this issue is to plan your holidays at least months ahead before the peak tourist season in Dubai.
The Off Peak Season In Dubai
Traveling to Dubai during the off peak season which falls between April to October is when you can get lower rates on hotels, food and accommodation.However, the hot weather will most likely limit outdoor engagements.
But indoor activities such as retail therapy and good dining experiences still remain to be enjoyed - and the Dubai Summer Surprises and
Gitex Shopper festivals
that take place during this period are worth checking out too.
Planning a holiday to Dubai? Check out this amazing Dubai city package from
Halatrip
.