Credits - giphy.org

1. Walk Through The Bamboo Forests of Arashiyama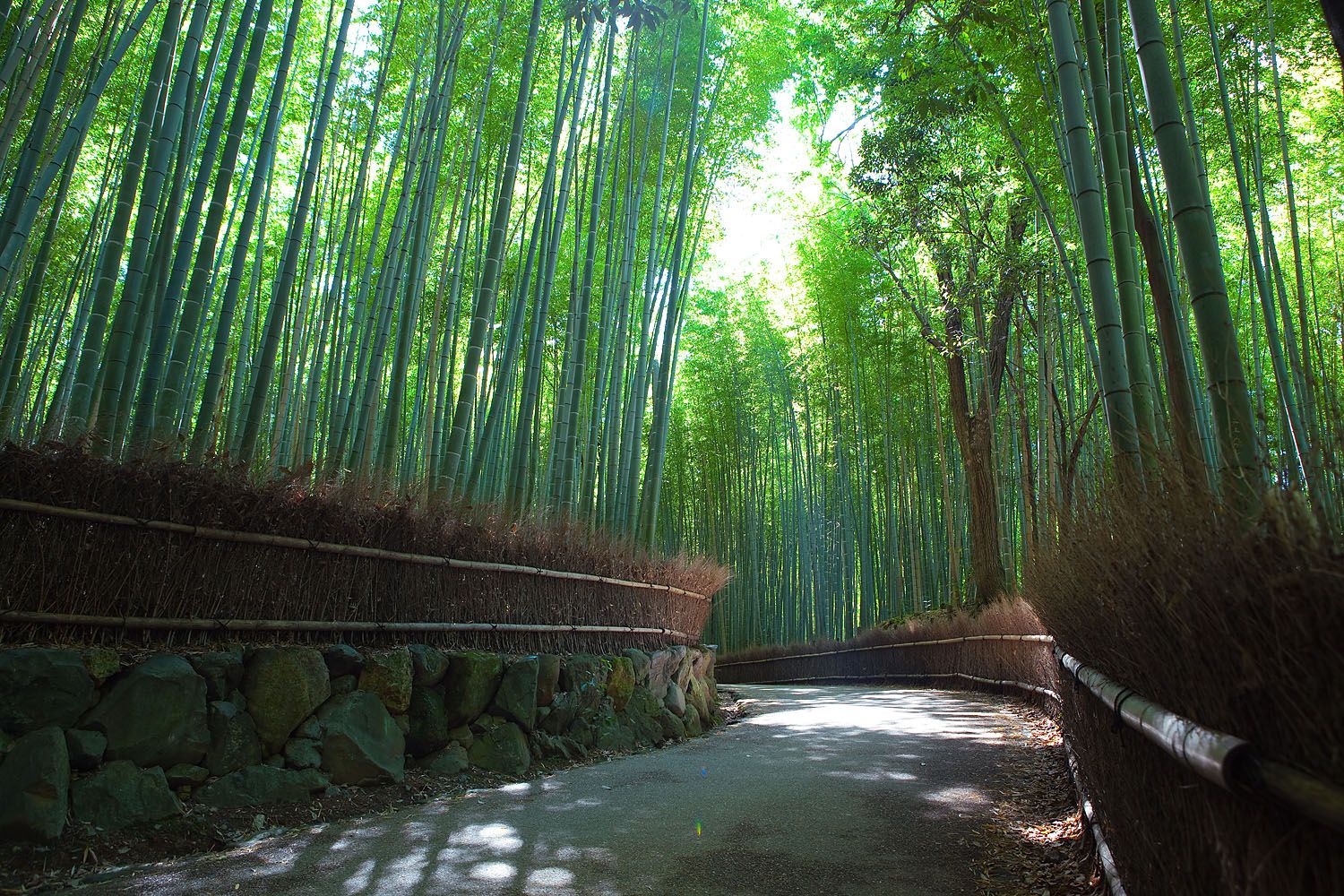 Local Tips:
The serenity of this magical place can be lost at times because this is one of the top-rated tourist attractions in Kyoto and everyone has (and should have) this on their list of things to do when traveling in Kyoto. That's why locals say that you'll have a better experience visiting during the low season when there aren't as many tourists.
2. Rent a Bike
Rent a bike to explore the city at your own pace.
Local Tips:
Handle your bicycle carefully. Don't park it outside the designated area, or you can face a fine and the removal of the bike. Driving under the influence (even on a bicycle) is also a serious crime that comes with a serious fine or imprisonment, but needless to say, being under the influence carries bigger consequences in a Muslim's afterlife!
3. Walk Through Higashiyama


Picture Credit - www.cruisebe.com

Local Tips:
Narrow alleyways, huge temples, small serene gardens, and traditional wooden-tiled houses make Higashiyama one of the most magical places in not just Kyoto, but in all of Japan. It's a place you definitely cannot miss!
4. Kyoto's Markets and Cafes
Local Tips:
Flea markets are held at shrines and temples throughout Kyoto on a weekly basis. These are great places to find unique and traditional art, clothing, antiques, and more.
Find local kissa (cozy neighbourhood coffee shop) hidden around Kyoto. A few such places are:
- Cafe Frosch (Nishjin),
- Nijo Koya (a little ways south from Nijo Castle),
- Iyemon Tea Salon (in Sanjo).
5. Spot a Geisha


Picture Credit - www.pinterest.com
Local Tips:
If you want to take a picture with a Geisha or maiko, please be polite, and do not force them if they are not interested.
6. Enjoy Halal Food


Picture Credit - www.japan-guide.com

Halal Ramen at Ayam-ya
(Location: 2111, Mikatakonyacho, Shimogyoku Kyotoshi, Kyoto 6008238.)
Chicken Karage at Naritaya
(Location: 422-1 Rinkacho, Higashiyama Ward, Kyoto, Kyoto Prefecture 605-0062.)
Notes: Delicious miso Ramen, a prayer room with ablution facilities, and free Wi-Fi!
Yudofu at Kiyomizu Junsei Okabeya
(Location: Higashiyamaku, Kyotoshi, Kyoto Kiyomizudera Temple 2, Shimizu, Monzen, 6050862.)
Notes: Yudofu (tofu simmered in hot water – a local delicacy), and grilled miso tofu.
Halal Wagyu BBQ at Nanzan Grill
(Location: Kitayama Notre Dame Mae, 31 Shimogamo Kitanononogami-cho, Sakyo-ku, Kyoto city 606-0846.)
Notes: Get the Kyoto Wagyu BBQ Set for a filling meal.
Halal Shojin-Ryori at Kiyomizu Junsei Okabeya
(Location: 2 Kiyomizu, Higashiyama-ku, Kyoto 605-0862.)
Notes: Shojin-ryori is a vegetarian-based diet developed by Buddhist monks, typically consisting of meals centred around tofu.
… and so much more!
Local Tips:
Don't cancel reservations at the last minute, and don't bring outside food and beverages into restaurants.
Tipping is not a Japanese custom. Instead, say "okini", which means thank you in Japanese.
7. Explore Sakyo-Ku
Local Tips:
Nestled in the ramen-stall lined streets is Keibunsha, a reader's dream. This bookstore has everything that a print-lover could ask for: books about various topics, self-publication, photography collections guides, and more. They also partner with local craftspeople to sell things like coffee blends and Japanese style towels.
Go next door to their exhibition space which has a rotating display of paintings, furniture, clothes, stationery, and more. Everything on display is for sale!
They have a little rental space at the back where workshops, exhibitions, talks, etc. are held, so catch one if you can!
8. Take Public Transport


Picture Credit - www.expatsguide.jp

Japan has one of the most evolved and technologically-advanced public transport systems in the world, so take advantage of this during your holiday in Japan!
Local Tips:
Don't take pictures near train tracks. Some trains are so fast that you'll barely have a warning. A cool picture is certainly not worth risking your life for!
If you are sitting in the priority seating area, please get up if you see someone who it is reserved for (elderly, disabled, pregnant women or people traveling with small children).
If you're taking a cab, please note that Japanese taxi doors are automated, so they open and close on their own. Do not manhandle the door, or stand too close that it bumps into you while opening.
9. Explore Kyoto!
Local Tips:
Smoking outdoors is frowned upon, therefore save it for when you're inside (areas where smoking is allowed).
Whenever required, line up in an orderly manner and make room for others.
Keep toilets clean.
Do not litter! Kyoto aims to be the most beautiful city in the world, therefore littering is strictly prohibited and you will be fined. A good idea would be to carry a small container in your bag to temporarily discard small trash.