Come February 15th 2018, major U.S. retailer; Macy's will be launching a "modest" fashion line focusing on outfitting the modern Muslimah.
Picture Credit - www.verona-collection.co.uk

via GIPHY
The popular department store, along with Islamic boutique Verona Fashion, is all set to release the Verona Collection featuring a variety of conservative, yet fashion-forward, ready-to-wear pieces of clothing, from dresses, tops, jumpsuits, pants and cardigans, to colourful hijabs, abayas and a selection of other loose garments, targeted at not just Muslim women, but for anyone looking to dress modestly, but be fashionable at the same time.
Photo credit - www.orangeobserver.com
The line was founded by Lisa Vogl, a fashion photographer and revert to Islam. Vogl is a graduate of Macy's development program for minority & women-owned businesses. the program was started in 2011 to diversify the company's merchandise suppliers, and Vogl's Verona Collection has been gaining recognition globally, ever since.
Photo credit - www.verona-collection.uk
"Macy's has been an amazing partner, helping us strengthen the foundation of our business through The Workshop at Macy's, and now introducing our brand to their consumers through this collaboration" said founder of Verona Collection, Lisa Vogl, in a press release on Thursday.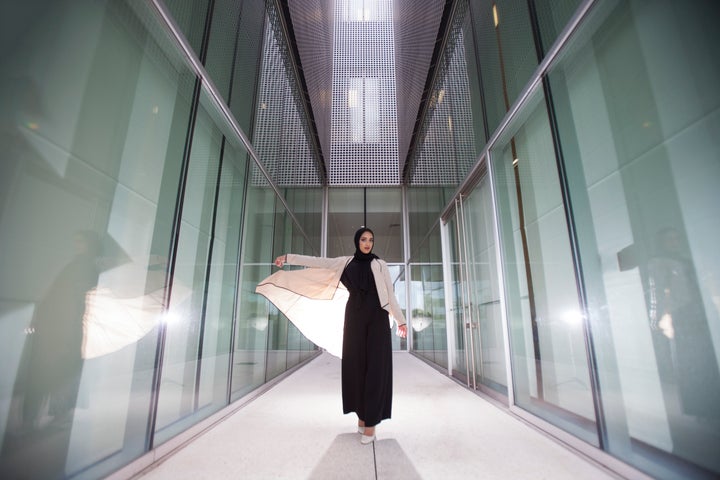 "Verona Collection is more than a clothing brand. It's a platform for a community of women to express their personal identity and embrace fashion that makes them feel confident on the inside and [the] outside," said Vogl. Unable to find clothing that was conservative, comfortable and affordable for herself, Vogl was inspired to start her own company where she could sell clothing items that would allow women of all religions to be able to express themselves through the types of clothing they wore. It was an instant success, with customers from around the globe buying her products. This fuelled her into opening a brick and mortar store, which was one of the first of its kind in a mall in Orlando, Florida.
Photo credit - www.bustle.com
This step towards inclusion comes in the wake of a handful of other popular brands such as Nike, DKNY and American Eagle, aiming to tap into the growing Islamic clothing market by selling a collection of conservative options for the modern Muslim woman. The lucrative consumer market has also been attracting well known international retailers like Uniqlo and H&M. Italian luxury fashion house, Dolce & Gabbana also received worldwide attention for launching a collection of hijabs and abayas aimed at Muslim consumers in the Middle East. And, U.S. Olympic fencer Ibtihaj Muhammad's easy to wear, fashion-forward clothing brand 'LOUELLA' may be targeted at the fashionable Muslimah, but it is definitely not exclusively for Muslim women.
Photo credit - www.verona-collection.co.uk
The modest Verona Collection will be available from February 15 2018 onwards, at a price range of $13 to $85, and will be for the time being sold only online on Macy's.
via GIPHY
Contacts:
Julie Strider
646-429-5213; [email protected]
Silvia Osante
646-429-5241; [email protected]