Dubai is a city known for offering incredible shopping, its larger-than-life attractions, skyscrapers unlike any you have ever seen, and of course, for offering unforgettable culinary experiences. Dubai is such a foodie's paradise, that to list some of the best Halal food places was such a daunting task! Being a Muslim country, finding Halal food in Dubai is an absolute breeze. Home to restaurants serving pretty much any cuisine you could ever imagine! With 'over-the-top' and 'extravagant' actually being Dubai's middle names, it is no surprise that the country has some of the best fine-dining restaurants in the world.
These prestigious fine-dining restaurants in Dubai are destinations in their own right - offering the best dishes prepared by Michelin-starred chefs, extraordinary service, jaw-dropping views, and the perfect décor and ambiance, so be prepared to spend, and get your money's worth at the same time!
Here are our top six spots in Dubai that will not just allow you to dine like royalty, but possibly even amongst them!
Find Halal food places near you in Dubai.
1. At.mosphere Burj Khalifa
Image Credit: At.mosphere
Located in one of the most iconic buildings in the world, and also the tallest - the Burj Khalifa, At.mosphere offers an unforgettable gastronomic journey at dizzying heights.
From its place on Level 122 of the Burj Khalifa, At.mosphere not only boasts a view of the city unlike anything you've ever seen, but also a critically acclaimed menu and dishes concocted out of the best ingredients, flown in from across the world! From fresh oysters from Britanny to the finest Wagyu beef from Australia, the menu here has it all.
If you are not in the mood for a filling dinner, or just don't have the time, we still highly recommend heading to At.mosphere for high tea. Be sure to book a table right next to the floor-to-ceiling windows, because watching the stunning sunset from that height, while nibbling on an exquisite selection of savories and desserts, only makes the entire experience even more memorable. Plus, you get to tell your friends you had tea on top of the world! How fancy. ;)
Cuisine: Fine Dining
Address: At.Mosphere, Burj Khalifa 122nd Floor, Dubai, United Arab Emirates
Opening Hours:
At.mosphere Restaurant: Breakfast - 7.00am to 10.00am / Lunch - 12.30pm to 2.30pm / Dinner - 6.00pm to 11.00pm
At.mosphere Lounge: High Tea 12.30pm to 2.30pm / Dinner 5.30pm - 7.30pm / 7.30pm to 9.30pm / 9.30pm to 11.30pm / 11.30pm to 1.30am
Price Range: AED 200 to AED 880 [50% breakfast discount for children aged 5 - 10 years, free for children under 5]
Reservations: Available
Contact: +971 4 888 3828 (for reservations)
Website: http://www.atmosphereburjkhalifa.com/
2. Nobu Dubai
Found at the renowned Atlantis, The Palm Hotel is the equally renowned Nobu by Michelin-starred Chef Nobu Matsuhisa - with 30 locations around the world. Said to be Dubai's hottest Japanese restaurant, at Nobu you won't just find top-notch food, but also exquisite atmosphere and fantastic service. Serving world-class Japanese cuisine, with a touch of Middle Eastern influence, Nobu Dubai presents to diners a bit of a twist on some already well-known Japanese dishes.
While you cannot go to Nobu without trying out its famed Black Cod Miso dish, also worthy of a try are the Arabic fusion dishes! Also, be prepared to spend quite a hefty amount - over Dhs 1,000 for a satisfying meal for two.
Cuisine: Japanese, Arabic fusion
Address: Ground Level, The Avenues, Atlantis The Palm, Palm Jumeirah, Dubai - Dubai - United Arab Emirates
Opening Hours:
| | | |
| --- | --- | --- |
| Fri | Brunch | 12pm - 3pm |
| Fri | Dinner | 7pm - 12:30am |
| Sat-Wed | Dinner | 6pm - 11:30pm |
| Thurs & Holidays | Dinner | 6pm - 12:30am |
| Bar | Daily | 6pm - 1am |
Ramadan Hours
| | | |
| --- | --- | --- |
| Fri | Brunch | 2pm - 5pm |
| Fri | Dinner | 7pm - 12:30am |
| Sat-Wed | Dinner | 6:30pm - 11:30pm |
| Thurs & Holidays | Dinner | 7pm - 12:30am |
| Bar | Daily | 6pm - 1am |
Price/Price Range: AED 395 - 650
Reservations: Available
Contact: +971.4.426.0760
Website: https://www.noburestaurants.com/dubai/experience/
3. Pierchic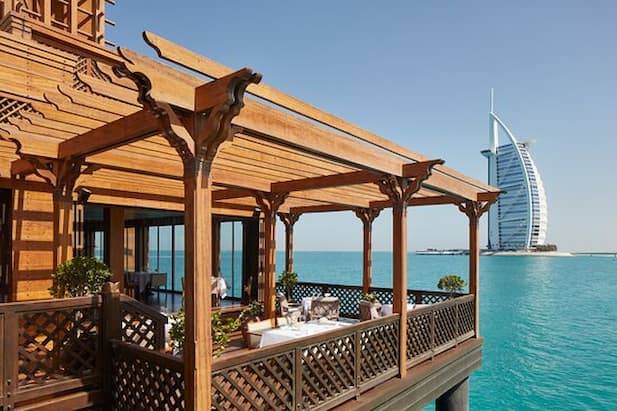 Image Credit: Pierchic
Pierchic may just be our favorite restaurant on this list, solely for its spectacular location - at the end of the pier at the Al Qasr Hotel at Madinat Jumeirah, overlooking the seven-star Burj Al Arab, Palm Jumeirah, and the picture-perfect Arabian Gulf.
Pierchic is one of the most romantic dining venues found in Dubai. The menu here mostly focuses on all types of the freshest seafood; from octopus carpaccio, to succulent oysters and confit salmon and pan-fried seabass, caught daily and sustainably, paired with a variety of seasonal ingredients. The restaurant in our opinion truly offers an unmatched dining experience. Who wouldn't like to dine on mouthwatering dishes such as lobster and caviar, above the calm waters of the Arabian Gulf, surrounded by some of Dubai's most magnificent attractions?
Address: Al Qasr at Madinat Jumeirah, Dubai, United Arab Emirates
Cuisine: Mediterranean Seafood
Opening Hours: 12pm - 11pm
Price/Price Range: Brunch - AED 395 to 750, Lunch - AED 350, Dinner - AED 350
Reservations: available
Contact: +971 4 432 32 32
Website: www.jumeirah.com/en/dine/dubai/al-qasr-pierchic/
4. La Cantine du Faubourg
If French food is what you are craving, La Cantine du Faubourg's top-notch menu will hit the right spot! Offering delectable upscale French fare and a multi-sensory experience, this place is THE place to be if you're part of Dubai's 'It' crowd, or if you're trying to be a part of it!
Dishes here include beef tartare served with a truffle emulsion, smoked salmon blinis with caviar, and crème Fraiche. Located in another of Dubai's iconic buildings, the Emirates Towers Hotel, La Cantine du Faubourg's posh décor and ambiance, paired with its noteworthy menu, and fabulous service, along with the famous faces you are likely to see on any given day here, make it a sophisticated dining experience unlike any other.
Cuisine: French, "melting pot" cuisine
Address: 1st floor, Emirates Towers Hotel, Trade Centre 2 - Dubai - United Arab Emirates
Opening Hours: Sun - Wed: 12pm to 2am / Thu - Fri: 12pm 3am / Sat: 12pm - 5pm, 7pm - 2am
Price Range: AED 110 - 240
Reservations: available
Contact: +971 43 527 105
Website: https://lacantine.ae/en/
5. Nathan Outlaw at Al Mahara
Image Credit: Al Mahara
Found at the Burj Al Arab Jumeirah - one of the world's most luxurious hotels, is the equally lavish Nathan Outlaw at Al Mahara. Award-winning British chef, Nathan Outlaw brings diners an elaborate dining experience in a unique underwater setting. Bringing together all things seafood through his unique cooking style, Nathan's exquisite dishes may look simplistic, but they are far from it. Dishes on the menu here include sashimi of bluefin tuna, Irish oyster, king crabs, grilled tiger prawns and so much more! Nathan Outlaw at Al Mahara's plush interior, relaxed environment, underwater views, and gourmet dishes definitely match their hefty price tag.
Reserve a table right next to the large glass aquarium for the best dining experience ever!

Cuisine: Seafood
Address: 1st floor, Burj Al Arab Jumeirah, Jumeira Road, Umm Suqeim 3, Dubai, United Arab Emirates
Opening Hours: Lunch: 12.30pm - 3.30pm, Dinner: 7pm - 11pm
Price Range: AED 950 - AED 2900
Reservation: available
Contact: +971 4 301 7600
Website: https://www.jumeirah.com/en/hotels-resorts/dubai/burj-al-arab/restaurant-at-burj-al-arab/al-mahara/
6. COYA Dubai
Peruvian-style cuisine may not be as easy to find in Dubai, but COYA has pretty much all you need! Located at the stunning Four Seasons Jumeirah Hotel, the fine dining restaurant serves up a variety of sensational Latin American fare. The interior at COYA is classy and elegant, with a touch of Incan heritage. The dining service is exquisite, and the menu includes a variety of delicious Peruvian gems such as Trio de Maíz (josper corn, crispy corn, sweet onions, red chillies), Arroz Nikkei (Chilean sea bass, rice, lime, chili), and Sundae de Maíz (corn sundae, sweet corn ice cream, pineapple, popcorn). We highly recommend ordering a few platters for sharing, so you get the chance to try out a fair variety of the food COYA offers!

Muslim diners must note that as with any fine dining restaurant in Dubai, some or all of the above-mentioned restaurants may serve alcohol.
Cuisine: Peruvian, Latin American
Address: COYA Restaurant, Restaurant Village, Four Seasons Resort, Jumeirah Beach Road,, Jumeirah 2, PO BOX 71384, Dubai, UAE
Price Range: AED 430
Opening Hours:
Party Brunch - Saturdays: 12pm - 4pm / Lunch - 12.30pm - 4pm / Dinner - Sat - Tue: 7pm - 11.30pm & Wed - Fri: 7pm - 12am
Pisco Lounge - Sat to Tue: 12.30pm - 1.15am / Wed - Fri: 12.30pm - 2am
Reservation: available
Contact: +971 (0) 4 316 9600
Website: http://www.coyarestaurant.com/contact
Find a Halal Restaurant near you in Dubai