If you're in the mood for a proper treat, look no further than London's wonderfully vibrant selection of dessert cafes. With rich flavor combinations, exciting ingredients, and inventive takes on traditional treats, these beautiful spaces have become popular destinations amongst locals and tourists, offering everything from peaceful hideaways to lively conversation hubs. In this blog post, we are listing some of the finest dessert cafes in London – Read on!

1. Cedric Grolet at The Berkeley
Image Credit: The Berkeley
London has earned a reputation for having some of the best sweets in the world, and none is quite as indulgent or enjoyable as Cedric Grolet at The Berkeley in Knightsbridge. Cedric Grolet (the famous pastry chef) is renowned for his creative and artistic approach to pastries.
From fruity chocolate creations to classic French cakes, Cedric Grolet's specialty desserts bring a unique flair to traditional recipes. Each creative creation is crafted without compromise, artfully presented, and served with perfection.
Moreover, Grolet's use of seasonal and local ingredients adds a flavor that sets this restaurant apart from the competition. Whether you're looking for something special to finish a romantic dinner or something delicious to celebrate a special occasion, Cedric Grolet at The Berkeley is the place to go for exquisite desserts!
Halal status: Halal according to visitors and reviewers.
Address: Wilton Place, SW1X 7RL
2. The Hummingbird Bakery
Image Credit: The Hummingbird Bakery
The Hummingbird Bakery will become your go-to for some of London's best and most authentic American cakes and desserts. This bakery's wide range of decadent creations has made it a firm local favorite - from its classic cupcakes with the signature swirl of buttercream frosting to its tantalizing layer cakes with flavor combinations such as salted caramel and banana.
You'll love the delicious New York cheesecake, Mississippi mud pie, and red velvet cupcakes from the Hummingbird Cafe. Whatever you order here, you won't be disappointed! So come on over and indulge your taste buds!
Halal status: All items are alcohol-free unless marked, customized halal items are available through pre-orders. Do ask to enquire about specific ingredients used.
Address: 133 Portobello Road, Notting Hill, W11 2DY
3. The Muffin Man Tea Shop
Image Credit: The Muffin Man
The Muffin Man Tea Shop in London is a bakery to be reckoned with. Established in 1962, this wonderful shop provides the classic English muffin layered with creamy clotted cream, rich strawberry jam, and delightful squirty cream.
But that's not all--their menu also offers a wide range of specialty cakes such as Queen Mother's cake- dates and walnuts, banana bread, apple pie, and cheesecake that just melt in your mouth. These goodies are skillfully crafted with top-end ingredients, making them irresistible.
Head over to the Muffin Man Tea Shop for a mouth-watering feast! Enjoy delicious free-range eggs, fluffy pancakes, hearty toasted sandwiches, heavenly open sandwiches, scrumptious paninis, and much more.
Halal-status: Vegan-friendly, do ask for alcohol use on specific items.
Address: 12 Wrights Ln, London W8 6TA
4. Brasserie of Light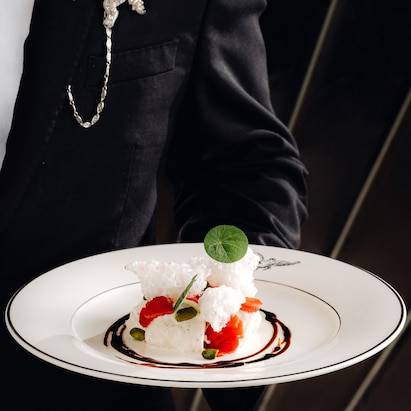 Image Credit: Brasserie of Light on Facebook
Indulge your sweet tooth in London and head to the Brasserie of Light for an unforgettable experience! Its expansive dessert menu is widely renowned for its delicious options and creativity. From Tahitian vanilla parfait with honeycomb and chocolate mousse to Tarte Tatin with pineapple carpaccio, you'll find an abundance of delights to choose from.
The restaurant's decadent atmosphere also adds to its appeal, making it a top choice for those seeking a luxurious yet relaxed setting for indulging in London's finest desserts.
Halal-status: Halal options available.
Address: 400 Oxford St, Duke St, London W1A 1AB
5. Hans & Gretel, Camden
Image Credit: Hans & Gretel UK on Facebook
Hans & Gretel in Camden is where you get your tempting desserts. Their wide selection of sweet treats, from homemade pastries to vegan brownies, will bring you back for more. Visitors regularly rave about their signature red velvet cheesecake, which pairs a distinctive light and fluffy texture with the perfect balance of cream cheese and cocoa.
Experience a unique fusion of fun and food with chimney cakes filled with homemade gelato, plus delightful freak shakes topped with oodles of sugary candy - all waiting to be savored!
Halal-status: Halal options available.
Address: Unit 91, Camden Market (North Yard), London NW1 8AH
Conclusion
Don't miss out on this sugary paradise - treat yourself today and enjoy a delicious treat! From classic cupcakes to towering pie stacks loaded with creamy mashed potatoes and gravy, there's something for everyone here.