Getting the chance to travel to Europe would be like a dream come true for many. But while you might be excited about travelling to this amazing part of the world, as a Muslim traveler you will have some concerns as well. Apart from exploring the medieval wonders, magnificent European architecture and breathtakingly beautiful natural landscapes you will also need to think about 'how easy will it be to find mosques near me in Europe' and if there are enough Halal food options in the destination you travel to. As an answer to this, we have put together a list of some of the most Muslim-friendly European destinations so that you can enjoy the most enjoyable Halal holidays in Europe.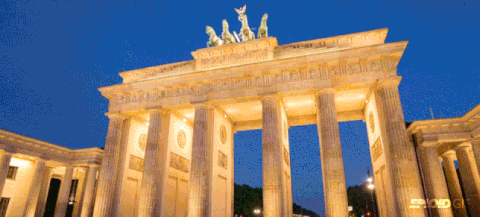 Credit - giphy.com
Berlin
Most European cities boast of a diverse mix of cultures and ethnicities, and one such amazing city that tops the list of Muslim-friendly cities in Europe you'll have to visit is Berlin. Nearly 9% of the population of the city is made up of Muslims so this is one of the best options available to enjoy halal holidays. As you visit the many attractions scattered all over the city you might not want to miss out on the largest department store in Europe, KaDeWe, the beautiful Grunewald forest, the world famous Berlin wall and main mosques like the Berlin Central Mosque, Wilmersdorfer Moschee and Omar Ibn Al-Khattab Moschee. In terms of Halal food options, you have plenty of choices because there are nearly a 100 Halal restaurants in Berlin. Among these, Turkish food at Rayahn Chicken or the Lebanese cuisine at Maroush is affordable options for cheap Islamic holidays.
London
London is by far one of the most popular tourist attractions and also a great holiday stop to look for in any halal Europe tour package as well. The world-class attractions on display like the Tower Bridge, British Museum, Buckingham Palace and the Big Ben need absolutely no introduction so you might just want to know if this city is a good place to enjoy your halal holidays. The answer is, yes! London too has a fairly large Muslim community and therefore there are enough of Halal food eateries and prayer facilities available. There are quite a number of mosques in London you can visit including the London Central Mosque, East London Mosque and Finsbury Park Mosque among many others, and close to these Muslim friendly neighbourhoods you can find several Muslim owned restaurants and even food carts so you can grab a bite where ever you go.
Manchester
Planning a trip to Europe? You cannot miss out on this amazing city in England. Amidst the spectacular display of arts and culture, media, sports and world-class education, Manchester also boasts of several Muslim friendly attractions. Of course, we are talking about amazing Halal friendly restaurants where you can enjoy a delicious European style meal. Some of the best stops we recommend are Masala Twist for Pakistani food, Beirut for mouth-watering Mediterranean cuisine and Relish'd for some yummy steak and burgers.
Malta
Malta is one of the most charmingly beautiful Muslim-friendly cities in Europe you'll have to visit. The city is known for its picturesque beaches, romantic resorts, rich history and also best Halal restaurants. Although a small island located in the midst of the Mediterranean sea, there are plenty of elements that make this one of the best halal travel destinations. Keep a lookout for popular Halal eateries like Millenium Kebab in Sliema and Ali Baba in Gzira to enjoy some great-tasting food.
Amsterdam
If you are a lover of fine arts, then Amsterdam will sure be on your top holiday destinations. Also, you have no need to worry about Halal food options, because this is one of the best European cities with easy to find Halal food for great Muslim holidays. As you wander through the classic paved streets visiting attractions like The Rijksmuseum, Dam Square or National Maritime Museum you can enjoy a lovely meal at restaurants like Bazar Amsterdam, Restaurant Riaz and MOZO.