Most travelers to
Malaysia
would skip this large city that was known for a while as nothing special to stop by. After reinventing itself and rising out of the ashes, however – not to mention, adding
Legoland
to its repertoire –
Johor Bahru
now welcomes visitors galore. In this teeming pot of
food
, culture and business also lie heritage and religion, and you must visit the beautiful
mosques
in Johor. Allowing a peek into their culture, as well as the history of everyday life, non-Muslims are also welcome to explore these places.
If a Muslim traveler needs
prayer facilities
in Johor, they can stop by any one of these mosques. Here are the mosques you must visit in Johor: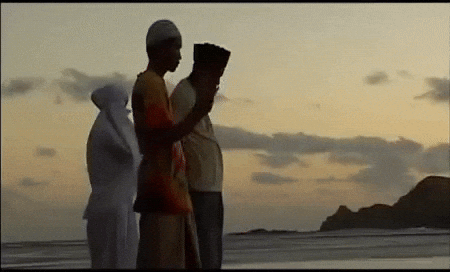 Credit - giphy.com
1) Sultan Abu Bakar State Mosque


Picture Credit - www.hoteljen.com
You can't go through
Johor Bahru
without stopping by here at least once. One of the must-visit mosques in JB, what makes Sultan Abu Bakar State Mosque so iconic is its architecture and age. Constructed between 1892 and 1900 – that's more than a century ago – the architect primarily drew inspiration from English Victorian styles, with a little Moorish and Malay influence thrown in. This can be seen in the
minarets
that resemble 19th-century clock towers in Britain. The mosque can hold up to 2000 worshippers at a time and is named after
Sultan Abu Bakar
, the father of
Sultan Ibrahim
, who commissioned its construction. The State Mosque has been under renovation for a while now, but it is still worth a visit even if the upgrade is not complete. You can visit the mosque at Masjid Sultan Abu Bakar, 80000 Johor Bahru, Johor, Malaysia.
2) Masjid An-Nur Kota Raya
Picture Credit - www.panoramio.com
The only mosque to be located inside a
shopping
complex, An-Nur Kota Raya Mosque can be found in Plaza Kota Raya. If you're expecting a small prayer room, you are in for a surprise. It's more like the mosque is attached to the mall, as is visible from the architecture and minaret on view from the outside. While it is not the only mosque to have air conditioning, it is definitely a prominent feature. So if you are there to shop and not sure where to pray in Johor, you don't have to look any further. You can visit the mosque at Masjid Kotaraya, Johor, 80000 Johor Bahru, Malaysia.
3) Masjid Jamek Yayasan Bandar Baru UDA
Picture Credit - commons.wikimedia.org

One of the biggest mosques in the heart of Bandar Baru Uda, Masjid Jamek Yayasan possibly has the most number of people praying there in congregation every day across Johor Bahru. This beautiful mosque is an icon in the area of Bandar Baru Uda, with reason. It is the place that everyone gathers for main events, and it has some of the best talks going on. Despite its crowds, it is always kept as clean as can be – forever an attraction. It is one of the remarkable places to visit in Johor, Malaysia. You can find Masjid Jamek Yayasan at Jalan Padi Ria, Bandar Baru Uda, 81200 Johor Bahru, Johor, Malaysia.
4) Sultan Iskander Mosque
Picture Credit - www.shutterstock.com
A second main mosque to be visited when you're in JB, Sultan Iskander Mosque is a rather recent addition to the group. This
Ottoman
inspired architectural style opened only in 2016. It was initially known as the Bandar Dato' Onn Mosque – after the area that it is located in – but was then renamed the Sultan Iskander Mosque after
Tunku Mahkota
opened it on his late grandfather's birthday. Visit the mosque at No 2, Jln Dato' Onn 2, Bandar Dato Onn, 81100 Johor Bahru, Johor, Malaysia
5) Masjid Kolam Ayer

Picture Credit - masjidkolamair.wordpress.com

Another gorgeously built mosque, Masjid Kolam Ayer delights worshippers with its ample room for parking and
praying
, and neatly kept premises and bathrooms. What makes it stand out from other
mosques
is the option to pray in an air-conditioned area or an open area with fans. For those whom air conditioning is a distraction or due to health reasons, having this option is a big deal. You can find Majid Kolam Ayer is at Jalan Kolam Ayer, Taman Kolam Air, 80200 Johor Bahru, Johor, Malaysia\
6) UTM Sultan Ismail Mosque
Picture Credit - www.flickr.com
Smack in the middle of
Universiti Teknologi Malaysia
rises this beautiful mosque that looks like something out of a fairy-tale. With spires that belong in the story of Rapunzel, this is a sight to behold in the day and is a lit up beautifully in the night. Spacious, gorgeous, and visible with an aerial view from miles away, if you're looking for prayer places in JB, don't miss out visiting Sultan Ismail Mosque at 39/2, Jalan Ihsan, 80990 Johor Bahru, Johor, Malaysia
If you don't know how to find a mosque nearby, you can always
find prayer places
on your mobile with
Halal Trip app
. Don't forget to leave a mosque review for JB, Malaysia, as there are plenty of people who would love to know a list of mosques in Johor Bahru that they should visit or can pray at, and it is very useful as part of their Johor
travel guide
. So whether you use this list to drop by, or the Halal Trip app to locate mosques nearby in JB, explore the culture, heritage and architecture that is present in these mosques that are pillars of the community.