Can you name the historic buildings here in Singapore? You might be unaware of it, but you may have passed by or even visited these buildings before.
The National Heritage Board has gazetted 73 buildings around the city. These buildings have their own stories and traditional values that are being preserved. History buffs and art junkies, get ready to be amazed by the stories behind these buildings as well as their unique architecture.
Exploring these monuments in Singapore would expose you to a thing or two on history, heritage, and culture. Have a little fun discovering these National monuments in a self-guided tour. I'm sure you'll be surprised with little-known facts about the monuments!
Disclaimer: Singapore is currently in Phase 2 of the COVID-19 situation. Some of the activities/places mentioned might be affected in one way or another. This article is correct at the time of writing.
1. National Gallery Singapore
Image Credit: National Gallery Singapore
What is now an art museum showcasing collections of Singapore and Southeast Asian modern art, the National Gallery Singapore was restored in 2005 and opened to the public in 2015. Integrating two of the National Monuments - the former Supreme Court and City Hall, these buildings have witnessed significant events in the Nation's history. It was gazetted as a National Monument in the year 1992.
Today, you can still marvel at the newly restored Supreme Court and City Hall via the link bridges. Check out the City Hall Chamber, where the signing of the Japanese surrender document happened in 1945, and also the swearing in of Singapore's First President and Prime Minister. While you are between halls, admiring the artwork, you shouldn't miss out on the former Supreme Court dome. It was initially hidden from view, but now you can see it from the Supreme Court Terrace.
Address: 1 St Andrew's Road #01–01, Singapore 178957
Operation time: Mon-Sun, 10am to 7pm (admission and ticket sales ends 30 minutes before closing time)
How to get there: Nearest MRT station is City Hall. If you are heading there via bus, you can stop opposite Peninsula Plaza. The gallery is just a 5-minute walk away.
2. Singapore River Bridges
The Singapore River Bridges is one of the newest additions to the list of National Monuments in Singapore, gazetted in 2019. Anderson Bridge, Cavenagh Bridge, as well as Elgin Bridge made up the collection of the Singapore River Bridges.
The Cavenagh Bridge is one of the oldest bridges here in Singapore, and in fact, the only suspension bridge. It has been used for pedestrians and vehicles to pass from the Northern bank to the Southern bank of the Singapore River. Before the construction of this bridge, people would have to detour towards the older, wooden Elgin Bridge or pay for a boat ride across the river. When the traffic was building up due to trading along the river, the government decided to build Anderson Bridge. Today, these bridges are still accessible to the public. In fact, Anderson Bridge is part of the Singapore Grand Prix circuit.
Address: Along Singapore River
How to get there: Start your way from Esplanade Theater and walk towards the Fullerton Hotel. You will be able to see Anderson Bridge. Continue down the road, and you can find Cavenagh Bridge followed by Elgin Bridge.
3. The Cathay
Image Credit: Keir Gravil on Flickr
I don't know about you, but I for one was clueless about The Cathay building being around to see some of Singapore's darkest days. The Cathay was opened in 1939, being the first ever place in Singapore to have an air-conditioned movie theater with armchairs. During World War II, the building was converted into a Red Cross casualties station.
The original Cathay building can no longer be seen today as it was demolished during reconstruction. Only the front facade of the theater building was preserved and gazetted as a National Monument in 2003. You can still enjoy a movie at the cinema, hit the gym, or even get your sushi fix at Maki-San.
Address: 2 Handy Rd, Singapore 229233
How to get there: Nearest MRT station is Dhoby Gaut.
4. Old Hill Street Police Station
It may no longer be a police station today, but one can't miss this building with colorful windows just by the junction of River Valley Road and Hill Street. Completed in 1934, it was the site for Singapore's first prison and the living quarters for police personnel. It was gazetted as a National Monument in 1998.
Throughout the years, the buildings have housed many different organizations such as the National Heritage Board and Singapore Kindness Movement. It has undergone several name changes like the MITA Building to MICA Building and finally Old Hill Street Police Station, as it's known as today.
Address: 140 Hill St, Singapore 179369
How to get there: Less than 5 minutes walk from Clarke Quay MRT station.
For more insta-worthy places like Old Hill Street Police Station, check out our other article here!
5. Central Fire Station
Image Credit: Daniel's Journal
Continue down Hill Street from the Old Hill Street Police Station, and you will stumble upon Central Fire Station. Known as the oldest fire station in Singapore, it was gazetted as a National Monument in 1998.
The public is free to roam the Civil Defence Heritage Gallery, which is the official museum of the Singapore Civil Defence Force. Expect to see the progression in the Civil Defence and the history of firefighting in Singapore. You can also experience what firefighters go through in a mission at any of the interactive stations.
Address: 62 Hill St, Singapore 179367
How to get there: Approximately 7 minutes walk from Clarke Quay MRT station.
6. Lau Pa Sat
Do you know that Lau Pa Sat is the only food court gazetted as a National Monument in Singapore? Also known as the Telok Ayer Market, it was initially a fish market and was converted into a hawker center as the surrounding area was being transformed into business districts.
Gazetted as a National Monument in 2003, the interior of Lau Pa Sat is unlike any other hawker center. Despite undergoing several reconstructions and relocation, the current design was adopted from the original octagonal and cast-iron design. The next time you happen to visit Lau Pa Sat, don't forget to marvel at the Victorian design and savor some delicious satay from the Muslim-owned Satay stalls.
Address: 18 Raffles Quay, Singapore 048582
How to get there: Approximately 5 minutes walk from Downtown MRT station.
7. Istana Kampong Gelam a.k.a Malay Heritage Centre
Located at Sultan Gate, Istana Kampong Gelam was constructed in 1840 by Sultan Ali Iskandar Shah. It has been the residence of many of the Sultan's descendants over the years. The Kampong Glam area was scheduled for redevelopment in 1993, which meant residents had to shift out and find their own housing arrangements.
Today, Istana Kampong Gelam has been refurbished into a museum – the Malay Heritage Centre. Learn about the Malay culture through the artifacts, multimedia, and diorama displays showcased in the museum. It was gazetted as the National Monument in 2015.
Address: 85 Sultan Gate, Singapore 198501
How to get there: Walking distance for Bugis MRT station or Jalan Besar MRT station.
8. Sultan Mosque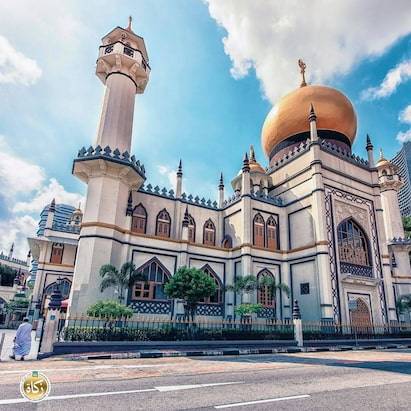 Image Credit: @zakat.sg on Instagram
If you weren't aware, then yes, the Sultan Mosque is also a gazetted National Monument (since 1975)! When Kampong Glam was acquired by the Temenggong and Sultan of Johor, their followers from Riau, Sumatra, and Malacca moved into the neighborhood. The mosque is said to have retained its unique architecture, with some extension work, refurbishments, and restorations being done over the years.
5 other mosques have also been gazetted as National Monuments in different years – Masjid Al-Abrar, Masjid Abdul Gafoor, Masjid Alkaff (Serangoon), Masjid Hajjah Fatimah, and Masjid Jamae (Chulia). The various different histories that lie behind each mosque have undoubtedly made a significant mark in the history of Singapore.
Address: 3 Muscat Street, Singapore 198833
How to get there: Walking distance for Bugis MRT station or Jalan Besar MRT station.