Sydney
is one of the livelier, more expensive and highly Muslim-populated parts of
Australia
. With a Muslim population of around 40%, finding Halal food is not a problem, even if you are out in the countryside or up in the mountains (for real!). It is definitely not difficult to have a
Halal vacation
in Sydney! When on holiday in Australia, it pays to know that Sydney sports pleasanter weather than Melbourne, going up to about 40 degrees in the summer, while
Melbourne
just hits 20 degrees – if you are a more fun-in-the-sun kind of person. Depending on the time of year you are visiting, there are plenty of things to do when traveling in Sydney, Australia.
However, if you are looking to experience the city like a local, try out these fun things to do in Sydney: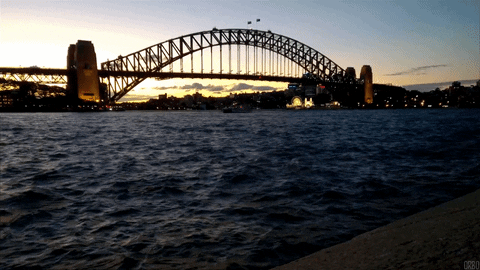 Credit - giphy.com
1) Bald Hills, Wollongong
This isn't one of the top-rated tourist attractions in
Sydney
(and we don't know why!) but we assure you, it is worth it. If you have the time, take the spectacular coastal drive from Sydney to
Wollongong
– and you'll want to because it's award-winning. Hang gliders set off from Bald Hill, and it overlooks
Sea Cliff Bridge
, an iconic bridge to the people of Wollongong. Not only is it the road access, but it also allows you to get out and stretch your legs, walk along the coastline, and look out for whales during migrating season. With views that are as pretty as a picture – only much better in real life – you don't want to miss this.
2) Climb the Pylon Lookout
The
Harbour Bridge
climb is a popular activity where folk get to climb to the top with a guide and are rewarded with some spectacular views. Since it is a tourist attraction, prices are a bit steep. If you still want the fun at a cost-saving value, you can access the Pylon Lookout by walking along the bridge on the pedestrian path. The pylon that supports the bridge keeps you secure as you climb, and you are met with a fantastic view from the top. It is definitely one of the more unique things to do in Sydney.
3) El Jannah
You know when you're in a non-Arab country sometimes and you want to eat Mediterranean
food
but it's just not the same because it's not authentic enough? Well, that's not a problem here. One of the
must-visit restaurants
in Sydney is El-Jannah, a family run business with Lebanese cuisine that is so delicious that people travel from all around Sydney to delight their taste buds. The fact that it is very affordable, famous for their charcoal chicken, and situated in the Arab neighbourhood of Granville means it has a lot going on for it. It should be noted that it is always crowded though, due to its popularity.
4) Volcano Steakhouse
Are you craving a steak and don't know where to go? No fear, Volcano Steakhouse is here! Delicious, halal, and fresh – need we say more? Being a steakhouse, the prices are slightly on the premium side but so worth it. A must-try
Halal dish
in Sydney's Volcano Steakhouse is the eye fillet with chips and salad, but with their vast menu and variety, even if you are with a company of non-steak lovers, everyone can find a favourite. If you want to binge a bit on your meal, you could also pick a restaurant opposite the Harbour Bridge for a luxurious experience.
5) Sculptures by the Sea


Picture Credit - www.sydney.com

Art buffs, this one's for you; or anyone who wants to appreciate a little creativity. If you have planned your vacation in Australia for late October/November, you're in luck. One of the top things to do in
Sydney
is to attend an outdoor art gallery which is set up at the coastal walk between Bondi and Bronte. Since this is an immensely popular exhibition for Australian sculpture artists, you can bet it is going to be crowded. A local's tip: Start in Bronte and end in Bondi as much of the crowd goes the other way around. And of course, weekdays should be less populous than weekends. The 6.9km coastline should allow for a one and a half hour walk – plenty of time to enjoy the stunning scenery as well as the fabulous
artwork on display
. Since Bondi Beach is one of the more famous ones, what better place to end up for a dip in the sea?
6) The Blue Mountains


Picture Credit - www.australia.com

One of the most spectacular parts of the country, this is something you absolutely must do when you travel Australia if you can help it. Just a 90-minute car ride from Sydney,
Blue Mountains
have views that you cannot miss. With cable cars, a glass-topped carriage, and a mini train ride, you are plunged into the depths of nature with a view from the top. It's not all about sitting back and relaxing at the Blue Mountains! Ironically, it is more worth it to make the trip in winter – even though it is colder – as the mountains are much greener then. They tend to brown a bit in the summer, reducing the scenic beauty and appearing dry. There are Halal restaurants up here too, so don't worry about going hungry. End with a cruise ride along the
Paramatta River
, watching the sunset; or decide to prolong your stay and spend the night at one of the Blue Mountain
accommodations
available.
7) Take a tour!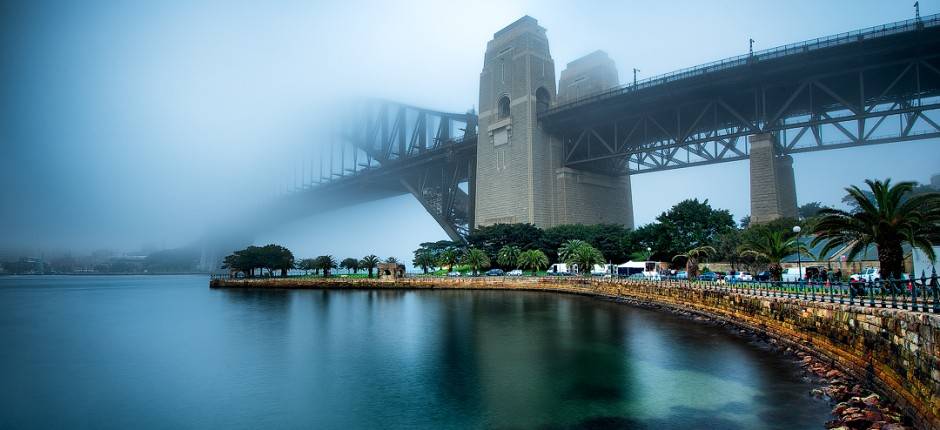 Picture Credit - www.hirsty.com.au

This seems like a decidedly un-local tip, but it actually is! Even though exploring the place on your own is fun and has its benefits, it pays to be a tourist as well, as having a guide explain sites and event around Sydney creates an enriching experience. If you are unsure about the activities in Sydney, this one is a gem. Even if it is not a whole tour package, booking a driver to take you to a location than trying to get there yourself is much more convenient, and is a great way to learn about the city.
Sydney offers many more activities like paragliding, snorkelling and water parks, and if you are willing to spend on it, it might be worth it. Some of these points may not necessarily seem like local tips, but when it comes to figuring out what to do in Sydney, some tourist attractions are exactly that –
tourist attractions
– because they cannot be experienced anywhere else in the world. So don't miss out!