Kandy
is probably the second-most popular city in
Sri Lanka
,
Colombo
taking first prize. It can be called the cultural capital and is as developed as Colombo, albeit smaller, and a much calmer and cooler town to be in. Having been the last royal capital city – while the Kandyan kings held out against foreign power for 300 years – the elite that walked the land ensured that this city would be rich in culture, history, and tradition. So from tea to crafts to temples –
Kandy
has it all.
Here are top 5 things that you should buy in Kandy: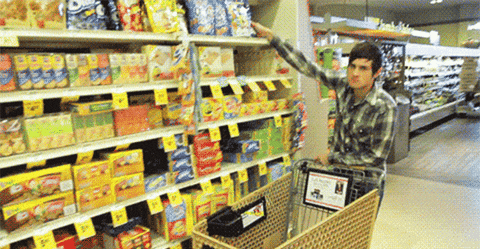 Credit - giphy.com
1) Tea
Picture Credit - www.lanka.com

Don't tell me you didn't see that coming. Besides the fact that you should buy tea anywhere in
Sri Lanka
, Kandy is accessible to all the gorgeous tea plantations that come into view the further into hill country you go. So if you don't have time to make it to
Nuwara Eliya,
Hatton and so on – which takes a considerable amount of time to get to – Kandy is the best spot to get all that tea. Try the
Ceylon Tea Museum
, Tea Tang Boutique, or Mlesna Tea Fortress.
2) Souvenirs
Picture Credit - www.silverspoonlondon.co.uk
Another predictable item on the list, we know. Each part of
Sri Lanka
has different bits of heritage to show, so in addition to visiting the acclaimed
Temple of the Tooth
(amongst others) and watching the
Perahera
in July or August, sift through the layers of history in this culture-rich town and discover ancient arts and handicraft that are one-of-a-kind. Oak Ray Handcrafted Wood Carvings sports a workshop where you can see people work as well as purchase from the store. Make sure to bargain though, as the initial prices quoted are pretty steep. Waruna Antiques is a great place to discover old maps, jewellery, masks, coins and more at decent prices. Rangala House gallery, in addition to local art, sells a range of organic jams made in the surrounding hills. Who doesn't love a present that is
food
? Odel Luv SL has cute souvenirs that are useful and modern, so don't miss it!
3) Clothes

Picture Credit - www.timeout.com

Kandy City Centre
has been in action recently enough that it is still somewhat of a novelty. If all you want to buy are a new pair of shoes and some trendy clothes, this is the place to go. With a variety of stores, and
entertainment
and
food
for those much-needed breaks, some of the items found in Kandy City Centre aren't available in different branches of the same store across the country. So leave nothing to chance, if you love it, buy it!
4) Gems
Picture Credit - www.flickr.com
Sri Lanka is not as well-known for its gems as it is for its tea, but they are precious nevertheless. Most of the gem stores and jewellers in
Kandy
cater to tourists starting with an informative video on the
gem industry
and ending up at the showroom. Ladies, be prepared to swoon at the glitter! Do your homework on prices before you go though, so that you are not taken advantage of. Check out Isini Gems & Jewellers, E. W. Balasuriya Jewellers, and Hemachandras (Kandy) Limited Jewellers.
5) Fabrics
Picture Credit - www.barefootceylon.com
Sri Lankan specialities are
batik
and handloom, and loose fabric, as well as various items made out of it, can be found in certain stores. Selyn is a handloom store that gives voice to women who need to work and carries beautiful items made by them. Jayamali Batiks Studio and Prestige Selection both offer a demonstration of how batik is made, which just adds to the experience for a tourist. Since the owner of Jayamali refuses to pay drivers a commission for bringing visitors (a standard practice otherwise), you might be told that the store is closed. Ask around though, it is not hard to locate. The staff is friendly and accommodating, and ready to meet your needs.
Kandy Market Hall
is for those who wish to brave the sensory overload – with smells, sounds, and sights – but is a gem of a place to seek out
beautiful fabrics
as well.