Looking for the perfect destination to go along with this year's top wellness travel trends? As we're in the middle of the year and with all of those workload taking toll of your spiritual and physical wellness, you are in the right place to plan for your next vacation!

Wellness tourism has become the latest craze in the world, offering a wide variety of retreats to suit each individual's preference. From immunity retreats to spiritual healing retreats, find your peace in some of these gorgeous locations I've listed below.
Koh Samui, Thailand
Image Credit: big.tiny.belly on Unsplash
Want a romantic getaway to the tropical islands? Koh Samui has the perfect backdrop set up for you as you relax in between the palm trees and listen to the sound of nature.
Koh Samui has both affordable and luxurious retreats with a wide range of activities. Fitness and yoga retreats are the most popular programs along with healthy scrumptious vegan meals (perfect for halal precautions) to enrich your diet. Here are some of the top wellness retreats in Koh Samui:
Kamalaya Koh Samui:

High-end spa paradise that has won multiple awards. Has over 17 wellness programs that also include forest bathing. I recommend staying at least 5 nights to get the full experience.

Absolute Sanctuary:

An affordable wellness center with the quality of a 5-star spa resort. Choose from a list of specialized programs from detox to holistic health for women. This is also an alcohol-free retreat.
Bali, Indonesia
Image Credit: big.tiny.belly on Unsplash
Bali may be a popular destination that attracts surfers, partygoers, and tourists alike but did you know that it attracts plenty of yogis too? I've visited Bali multiple times for yoga workshops and I honestly feel there's something magical about this paradise, especially with its serene mountains, and refreshing waterfalls.
This island offers some of the most affordable wellness retreats with plenty of meditation workshops, Balinese massages, and yoga shalas to practice. With over 20 wellness retreats in Bali, there is definitely something for everyone:
Maldives
Image Credit: Ishan @seefromthesky on Unsplash
Dive into Maldives with its wide collection of award-winning resorts and spas with Muslim-friendly wellness retreats! This archipelagic country allows you to escape the hustle and bustle of your busy work lives as you find your true north within this tranquil space.
Participate in endless water activities from snorkeling to scuba diving as you embark on a journey of self-discovery. Here are some of the top wellness retreat destinations in Maldives:
Anantara Veli Maldives Resort:

Luxurious resort that provides a three-day wellness program on either mindfulness or weight loss management. It is an all-inclusive program that includes a welcoming foot massage and access to yoga classes.

Joali Being:

With a focus on nature-based retreats, you will get personalized wellness programs of either 5, 7, or 12 nights ranging from mind relaxation to movement workshops. In addition, you will get a unique tea concoction made just for you.
Egypt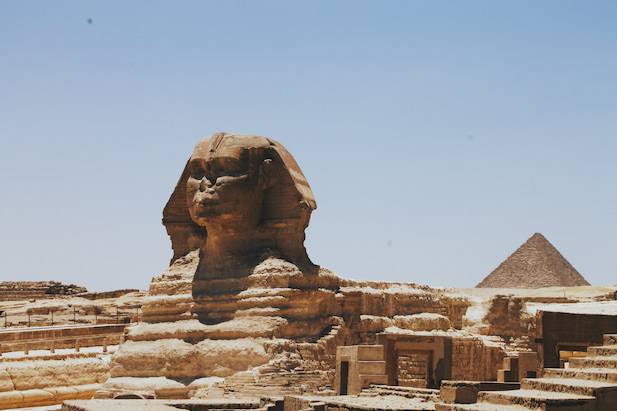 Image Credit: Arralyn on Pexels
The birthplace of alternative medicine practices such as herbal medicine, Egypt has been long recognized as a healing place for both the mind and soul. There are two popular locations for wellness retreats: Siwa Oasis and Cairo.
In the summer, you can go for a traditional sand bath at Siwa Oasis where you will be buried in the sand up to your neck, creating a "steam bath" as you sweat. A cloth will be draped over your head to prevent sunburn and the scorching rays. This raved wellness technique is said to help with blood circulation and cholesterol levels.
Cairo is the center of luxurious spas where you can find both traditional and modern spa treatments to unwind.
Siwa Relax Retreat:

an adult-only ecolodge located close to Siwa Lake away from town.

Roof Flow:

a yoga establishment that provides 3 to 4-day retreats that are fun-filled and exciting. They have a few retreats every month exploring different parts of the country including horseback riding, hot springs, and sandboarding.
BONUS: Six Senses Kaplankaya, Türkiye
Image Credit: Six Senses Kaplankaya
Six Senses is well known for its unique wellness retreat programs, bringing in highly acclaimed coaches to guide participants to better health and living.
If you are heading to Turkey, Six Senses Kaplankaya has the perfect program for individuals looking to elevate their work life and restore energy to their physical and mental performance. You will have access to the largest Six Senses spa in Europe and nutritious meals by world-class chefs to rejuvenate.
Which Country Has The Highest Number Of Wellness Tourism?
The United States has the highest demand for wellness tourism, bringing USD 175.3 billion in revenue in 2022. With more people pursuing a healthier lifestyle and better mental health in North America, it is no surprise that the wellness travel industry is booming here to cater to this demand.
Final Thoughts
I hope that these recommended picks will help you plan your vacations better as you prepare for a journey of relaxation and rejuvenation. It's time to leave our emotional baggage at home and pack your travel bags to your next destination!
Share these with your travel buddies who would love a break!
Cover Image Credit: Edmond Dantès from Pexels