Night markets in
Bangkok
are a splendour and delight to tourists from all countries alike. The excessive haggling to the loud advertising of products by local vendors are all experiences that the lively
night markets and morning bazaars
offer. The famous markets are affordable and give variety; from a collection of clothing and accessories, antiques from around the globe and food stalls, and restaurants.Here are a list of Bangkok's night markets and morning bazaars.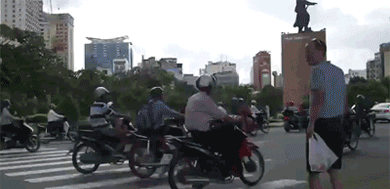 Credit-Giphy.com
1. Chatuchak Market
The ultimate market, Chatuchak market stretches for over a kilometre and is divided into 27 sections depending on what's in store. This grand market brings
products from all around Thailand
and attracts nearly 200 000 shoppers daily. You name it, Chatuchak has it; from wood carvings to handmade jewellery. Brace yourself for the marketplace experience of a lifetime.
2. JJ Green
A combination of a marketplace and hang out location the JJ Green is a popular site for tourists and locals alike for an eventful evening. Not far from the humungous Chatuchak Weekend Market, the JJ Green attracts a good crowd during a continuous tour from its neighbourhood in the weekends. Look forward to purchasing a
range of collectables
from this flea market to take back home.
3. Rot Fai Market, Srinakarin Train market
Picture Credit - www.propertyseven.co

Rot Fai Market, open from dusk to midnight Thursday to Sunday, is known for its collection of clothing and accessories from around the globe, authentic and unique
local souvenirs
and yummy roadside treats in plenty for the foodies. It is, without a doubt,
Bangkok's best night market
in the eastern suburbs and often titled as a cool hangout spot for fun night out.
4. Pak Klong Talat Flower Market
The best market to visit by dawn or a little after to collect the freshest flowers swamping in from farms all over the country. This market also makes a good choice for a walk around to experience the true essence of
local shopping
as it is open round the clock, but more so to enjoy this adventure by being enveloped in the fragrances of many diverse flowers. Pak Klong Talat Flower Market is little acknowledged for its fresh supply of fruits and vegetables. It is a "one-stop shop" for all local fruits served fresh and luscious.
5. Silom night market
Shopping is the most popular activity when in Silom. As night falls in this district the roads transform into a shopping aisles exhibiting products ranging from shoes to watches, makeup, bags and clothing of all fashion. Highly populated by tourists this district, however, is known for its notorious nightlife. When shopping in Silom prepare rather thoroughly for a bargain "war" as prices quoted initially are quite exorbitant.
Tips for a good buy! When purchasing goods from vendors make sure your energy is in store for a long session of bargaining. Always ask price of items around the item you're interested in and pretend it is expensive for your budget, so when you arrive at the one of your choice the rate quoted is lower than otherwise stated. Remember, haggling is almost obligatory.
Shop to your heart's content at night markets and morning bazaar's in Bangkok for it offers a great deal on a variety of products. Even for a non-shopper, the sensory stimulating experience of just walking through the busy market streets is one worth having.