New Zealand is well-known for its sheer of pristine beauty from vast landscape consist of mountains, lakes, glaciers, geothermal pools, volcanoes peaks to stunning beaches and islands. It's the land of indigenous Maori, the first settlers before European arrived. According to the latest 2013 Census, the total population of 4.2m New Zealanders or Kiwis made up of a multicultural society dwelled by the majority of European descent (called Pakeha), and immigrants including Polynesian communities. Topped off by amazingly fresh food, friendly people, and unique culture; there are endless activities to experience from free and independent undertakings to paid tour or package deals. This travel guide will provide tips for planning your trip and prepare you for a Muslim-friendly travel in New Zealand.
Getting Around
Image Credit: Neal E. Johnson on Unsplash
New Zealand is comprised of 2 main islands – North Island and South Island. Planning logistics and how to travel will depend on time, budget, and convenience. A good combination of some modes of transportation is recommended to enrich the experience.
The most common and popular is self-drive either by car or motorhome/campervan due to its flexibility and independence factor. Stopping whenever you want to snap pictures of beautiful locations is the most desirable. Driving in New Zealand is left-handed and requires a license. Beware you will be driving long hours from city to city and while traffic may not the issue, you may get fatigued from it.
The bus and coach transport is convenient and well-organized. There are a lot of bus coaches serving the main tourist route. Inter-city is the most popular bus network and you can take advantage of the unlimited travel pass.
New Zealand's rail network is not vast due to the challenging landscape. The train may not be the best option for inter-city travel but if you have 12 hours to spare, board the Northern Explorer which links Wellington and Auckland through the volcanic heart of the North Islands (make stops at Tongariro National Park). The South Island's TranzAlpine is highly recommended for a stunning alpine rail journey.
In the main tourist cities like Auckland and Wellington, you can rely on the city loop bus to get around other than walking. Get on the ferry to explore beach suburbs and enjoy the view of the harbor city from afar. In Wellington, you must ride the cable for an amazing view of Wellington harbor.
From North Island (Wellington) to South Island (Picton), a huge Interislander ferry can take passengers as well as cars through spectacular Marlborough Sounds.
Alternatively, you can take a domestic flight to save some travel time. You can enjoy breathtaking mountain views from the top such as when arriving at Queenstown Airport.
Etiquette and Manner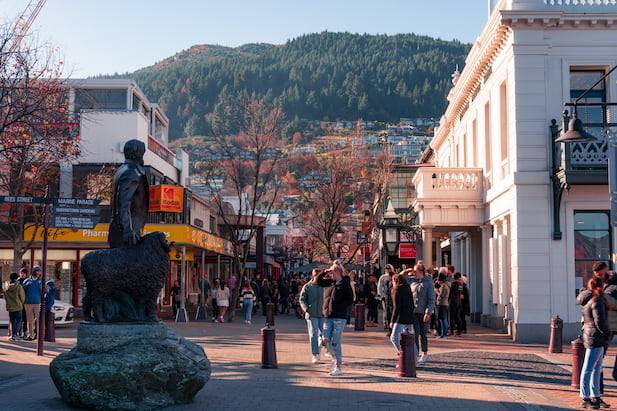 Image Credit: Sulthan Auliya on Unsplash
New Zealanders are generally friendly and laid back. The way of life is casual but manners are important. Carry yourself with an open mind, open heart, and respect others. The general etiquette of treating others like you want to be treated must be held firmly as you encounter new cultures or converse with locals in a remote location.
In New Zealand, strangers do talk particularly in the rural parts. Exchanging a few pleasant greetings is expected. Keep your conversation general such as about the weather, what's the plan for the weekend (or how was the weekend), or about a sport (rugby especially). Avoid anything personal such as people's salary, why they don't get married or have children. Also, note that you can call a person by their first name and avoid calling with designated 'uncle' or 'auntie' if no family relation.
When visiting Maori village, equip yourself with Maori customs such as do not sit on a table and do not show emotion on your face when witnessing Maori warrior dance (haka).
Maori's relationship with the land is deep, profound and sacred. It's important to respect the natural environment and its resources when visiting its natural park. While freedom camping is allowed, ensure that it's not on private property.
New Zealand customs is very strict at the airport in protecting its beautiful environment. Do not bring fresh food of any kind. All food items brought into the country must be declared
The Maori language is recognized as the official language in New Zealand (although English is commonly used). You will encounter the name of places, street or buildings in the Maori language widely. Get to know a few useful phrases such as Kia Ora (Hello) and do pronounce Maori words began with 'wh' as 'f'.
Get yourself familiar with Kiwi slang (often spoken very quickly) and local phrases such "sweet as, she'll be right, see ya later bro, choice bro, how's it going mate." Know what is dairy (little corner store), gumboots (rubber boots), EFTPOS (payment accepted by debit or credit card), and entrée (appetizer).
Exploring Nature
Image Credit: Tobias Keller on Unsplash
Be up close to nature, its flora, and fauna through a brisk walk, swim, hiking, or ferry cruise. This way the appreciation of nature can be best absorbed.
South Island is definitely top of the list to visit for the best of nature New Zealand can offer. Queenstown, Mackenzie, and Westland regions are the most stunning with incredible displays of nature such as glaciers (Franz Josef, Fox, and Tasman), fiord (Milford Sound, Doubtful Sound), lakes (Lake Wakatipu, Hayes, Matheson, Wanaka, Tekapo), beaches (Gillespie) and national parks (Mount Cook, Mount Aspiring, Fiordland). Some attractions are within close proximity so you can witness the amazing creation of a lake, beach, and mountain in one day.
Other parts of South Island worth visiting are Abel Tasman National Park (beautiful seaside best for sea kayaking), Kaikoura (sperm whale watching), and Paparoa National Park (Pancake Rocks and Blowholes).
On North Island, the most notable natural attractions can be found in Rotorua geysers (Pohutu Geiser at Te Puia), mud pool, geothermal spring, and colorful pool (Waiotapu). Be amazed at Lake Taupo for its impressive size (about the size of Singapore) that you feel like standing by the seaside. After visiting Huka Falls, make your way from Taupo to the oldest national park in New Zealand - Tongariro National Park for mountains and volcanic views (such as Mount Ruapehu, Whakapapa Village, and Chateau Tongariro). Most favorite by New Zealanders for its one-of-a-kind landscape and natural wonder.
Other natural beauties in North Island are in the Northland region (Bay Of Island, Cape Reinga, 99 Miles Beach) and Bay Of Plenty region (Cathedral Cove, Hot Water Beach, Mount Maunganui ) where islands, rugged cliffs, and long beaches are your playground.
New Zealand is also famous for unique habitats that can't be found elsewhere. Other than the shy Kiwi bird which you can view in a conservatory or wildlife sanctuary, be amazed at the clever kea bird, fur seals, Hector's dolphins, and native animals such as yellow-eyed penguin, tuatara, pukeko, pukeno, and tui.
Exploring Culture
New Zealand culture is essentially a Western culture that is shaped by its geographic isolation and at the core, is the result of the influence of Maori culture and British colonization.
The Maori culture can be experienced at Waitangi (the most historic ground in New Zealand where a treaty was signed between the Maori and the Europeans), Rotorua (Tamaki Village, Mitai Maori, Whakarewarewa), Auckland (Auckland Museum), and Wellington (Te Papa Museum) where you will learn about Maori art, craft, cultural dance, song and hangi (meal cooked in earth-oven).
Auckland is the biggest Polynesian city in the world. Take this opportunity to explore Otara market in West Auckland where you can absorb the rich Pacific cultures islanders of Samoan, Tongan, Niueans, and Cook Islanders.
Sporting culture also runs deep in the life of Kiwis where you could be part of it by getting a ticket to rugby or cricket matches. Must-do when in Auckland, the City of Sails is to sail on America's Cup prestigious yacht around the harbor.
The strong sense of Kiwis' identity is unique and can be characterized by iconic elements such as L&P drink, paua shell (a close relative of abalone), pineapple lumps (chocolate-covered sweets with pineapple flavored in the center), the pohutukawa (New Zealand Christmas tree), pavlova (meringue and cream dessert), and jandals (flip-flop or thongs).
Café culture is an evolution throughout New Zealand (especially Auckland and Wellington) and you can taste the art of perfecting and experimenting with espresso in many cafes in the city and countryside where the standards for coffee is high.
Adventure Activities
Apart from natural beauty, the country is well-known for its extreme sports, adventure activities, and mountaineering tradition.
The adventure hub is in Queenstown where you could challenge adrenalin for bungy jumping (AJ Hackett choices from Kawarau Bridge, Nevis, Ledge/Freestyle), skydiving (NZone Skydive), jet boating, rafting, canyoning, and zip-lining.
In North Island, you could perform bungee off Auckland Harbour Bridge or at Lake Taupo. Waitomo Cave is popular for caving, black-water rafting, and abseiling. In Rotorua, you could get inside a big plastic ball and roll down a hill – called Zorb or OGO.
You could take a guided trek or mountaineering skill course from one of many experienced mountain guiding companies. During the winter season, you could ski or snowboard at Whakapapa in North Island or have endless choices in Queenstown (The Remarkable, Coronet Peak, Cardona, Treble Cones). Outside winter season, indoor ski is possible at Snowplanet in Auckland.
Muslim Friendly
Image Credit: Sulthan Auliya on Unsplash
According to the latest Census statistic from 2013, the number of Muslims in New Zealand is around 1% showing an increasing trend from the 2006 census.
There are several mosques and Islamic centers in major cities where Muslims are concentrated in New Zealand. You can find the list and salat/prayer time at the Federation of Islamic Associations of New Zealand (FIANZ) websites. Major universities provide a prayer room for students, and public place such as Auckland International Airport serves as a quiet place to observe prayer.
With abundant of fresh ingredients including delicious seafood and influence from diverse ethnicities in New Zealand, you won't experience too much inconvenience in finding Halal eateries. Tourism New Zealand published a New Zealand Halal Food Guide as recommended by FIANZ and Kiwi Muslim Directory which also includes plenty of vegetarian outlets. In North Island, you can't go wrong with Long John Silver outlets for various seafood meals (3 locations in Auckland serve a Halal menu). For pies and sausage rolls, you can enjoy Mrs. Mac's Halal-certified range at selected petrol stations and supermarkets.
If you require self-catering, there are plenty of Halal butcher around major cities given New Zealand export its meat and poultry abroad.
Stay in a Muslim homestay enables convenient arrangements for Halal food such as Mesra Homestay in Auckland or Rasa Sayang Villa in Rotorua.

Other Useful Tips/Places of Interests
For the Lord of the Ring fans, while you can book the various location tours, you could plan a trip to Tongariro National Park where you can admire the Middle Earth landscape at your own pace. When in Nelson, South Island don't miss out to pop by jeweler Jens Hansen who designed and made the famous movie ring.
If you are into design and creative art, the World of Wearable Art and Classic Cars Museum in Nelson and WETA Workshop in Wellington for filmmaking experience can't be overlooked.
Some of the freshly produced bounties that must be eaten unique to the land are; seafood - crayfish, oyster (from Bluff), green-lipped mussels, pipi, abalone, and fruits - tamarillo, feijoa, and yellow kiwifruit.
There are quirkiest and most interesting places to visit such as the longest place name in the world with 92 letters (Hawke's Bay), world's steepest residential road (Baldwin Street, Dunedin), and the largest wooden building in Southern Hemisphere (Old Government Buildings, Wellington).
New Zealand night sky is perfect to view Southern Cross, Southern Lights, and the Milky Ways at the International Dark Sky Reserve (Mt John Observatory, Lake Tekapo).
Expect a good standard of service when traveling in New Zealand. That said, tipping is not customary.
With proper planning by referring to travel guide above, New Zealand (or Aotearoa in Maori) can be one of the best vacations. This is a destination you must add to your travel bucket list – a once-in-a-lifetime experience to see and undertake in adventure or adrenaline activities. A unique Kiwi experience that is priceless and pure awaits you.

More details:
Tourism New Zealand: Click here
Halal Food Guide by FIANZ: Click Here
FIANZ for Islamic Centres, Prayer Times, and Halal Directory: Click Here
Te Ara for a complete guide to New Zealand: Click here
For more travel guides, check out our travel blog or download the Halaltrip Islamic travel app to help locate Halal restaurants and prayer locations near you.