Visiting famous places in Saudi Arabia is a great opportunity for you to learn more about the country's interesting Islamic history. Some of the
interesting things to do in Saudi Arabia
includes visiting
unique historical spots
– and you can even admire the unique architecture from another era. These famous historic Islamic places in Saudi Arabia played a major role in shaping the Islamic history of the country, so read on to find which
places you should visit
.
1. Jubbat Ha'il
Image Credit:
Saudi Tourism
Jubbat Hai'il is located near the Jubba town in the Ha'il province and is one of Saudi Arabia's largest archaeological sites – one of the most fascinating tourist places in Saudi Arabia Three important sites are located here, that includes one in Jebel Um Sanam mountain which is also a
UNESCO World Heritage Site
. This site is especially famous for the rock inscriptions and carvings at Jebel Um Sanman and other surrounding mountains – and some of these intriguing illustrations date back to the Mesolithic Period. You can still see illustrations of camels, oryx, gazelles and more that reflect different time periods and the way of life several centuries ago.
2. Najran
The city of Najran borders Yemen and is located in southwest Saudi Arabia. Najran was also part of the incense route, where caravan trading in frankincense and myrrh from Yemen took place. However, Najran is also known for the Event of Mubhala which was a significant point in Saudi Arabia's Islamic history. The city's history can be traced back to 4,000 years when it was a fertile agricultural area, and still remains so today with fruit and vegetable farms. Najran is also famous for archaeological sites as Al-Ukhdūd and ruins that are still standing today. Do visit Najran when you travel to Saudi Arabia to see something unique to the region.
3. Mada'in Saleh (Al-Hijr)

Mada'in Saleh, also known as Al-Hijr is located in the Al-Ula Region in the Al-Madinah Province and was the first UNESCO World Heritage Site to be declared in Saudi Arabia.This archaeological site with ruins from another era is fascinating – the ruins of the Nabatean Kingdom that include tombs, water wells and intricate facades dates back to 1st century BC to the 1st century AD. Cave drawings and other inscriptions that pre-date this period can be seen too. According to the country's Islamic history, the Thamud tribe settled at Al-Hijr in the 3rd Millenium BC and carved these inscriptions.
4. At-Turaif District
The origins of the At-Turaif district can be traced back to the 15th century when it was recognized as the first capital of Saudi Arabia. Located in the highest valley of the Old Diriyah region, At-Turaif District was created in the Najdi architecture style and was also declared as a UNESCO World Heritage Site in 2010. Sunni Islamic reformer, Sheikh Mohammad Bin Abdul Wahhab had a significant influence through his teachings and preaching, where At-Turaif was vital in shaping religion and politics in Saudi Arabia. Soon the Wahhabi movement started to spread became part of Saudi Arabia's Islamic history – making this district one of the most important historic Islamic places in Saudi Arabia. Some of the ruins have been re-built and structures can still be seen today.
5. Khaybar
Khaybar is an oasis located north of
Medina
where the Battle of Khaybar took place in 628 AD between Muslims and the Jewish community who had inhabited the region up to the 7th century. Khaybar was an important stopover of the incense trading route from Yemen to Levant, and this fortress town with palm tree groves and water dams was also known for producing dates as well. Don't forget to have a look at the ruins of ancient Khaybar fortress, that was conquered by Muslim armies thousands of years ago.
6. Jawatha Mosque
The Jawatha Mosque is one of the important historic Islamic places in Saudi Arabia. Originally built in 629 AD by the Bani Abd al-Qays tribe, this is one of the earliest mosques that were built in Saudi Arabia. Located in the Al-Kilabiyah village in Al Ahsa, It was built in the pre-Islamic era of Saudi Arabia and is claimed to be the first site to hold the Friday congressional prayer apart from the Prophet's Mosque in Medina. According to legend, the Hajr Al Aswad of from
Mecca
was stolen by the Qarmatians and was kept at Jawatha Mosque for twenty-two years.
7. Masmak Fort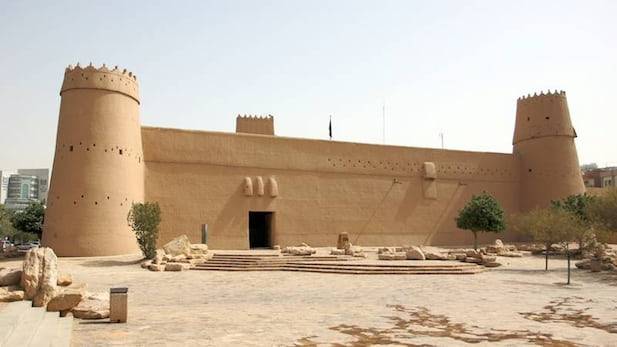 Image Credit: Baptiste Marcel on
Wikipedia
Masmak Fort is one of the most famous historical places in Saudi Arabia that you should not miss. This impressive fort was originally built by Riyadh Abdulrahman ibn Sulaiman ibn Dabaan in 1865 and played an important role in the history of Saudi Arabia. Masmak Fort was taken under Turkish rule until 1902 when a prominent battle resulted in King Abdul Aziz Al Saud succeeding in reclaiming his ancestral home. The fort's defences are strong with solid walls and towers. A mosque and well are located within the fort – while the ceilings of the interior are decorated with painted palm tree, ethel wood and taramic.