Ah…New York, it has been romanticised in both song and film, the city that never sleeps. Being a rendezvous point for different cultures, religions and cuisines, this city a must visit for any travel junkie as this it has something for everyone, may it be the arts, fashion, food or history – New York has got it all!
A wanderer's paradise, the city is best experienced on foot and getting from one location to the other is not as difficult as long as you follow a map. New York is a riot of sound and colour, the city is all about its people and the stories that they have etched throughout history and now. It is the most populous state in the whole U.S. with 200 something nationalities congregating in one place.
New York may be quite overwhelming and you'll be thinking – where to start? What to do? Don't worry, we have managed to summarise 7 things that you can do when visiting this bustling urban metropolis.
Locate mosques and prayer places near you in New York
Follow the airport guide to JFK


1. Statue of Liberty, Ellis Island
Starting off with the most iconic landmark of New York – the Statue of Liberty. The bronze colossus was a gift from the French people to the Americans, designed by Frédéric Auguste Batholdi and built by Gustave Eiffel. It is an icon of freedom and the United States, the robed woman holding a torch represents Libertas, a Roman Goddess of Freedom.
You can take a ferry ride to Liberty Island to witness the grandeur of Liberty Enlightening the World (Statue of Liberty); the basic ferry ticket offers you access to the grounds as well as guided tours.
To get access to the Liberty Crown's breathtaking views of the city and harbour, you should book your tickets online 6 months prior to visiting. If you are unable to obtain crown tickets do not worry, the pedestal tickets offer equally great views.
Visit the best attractions in New York


2. The High Line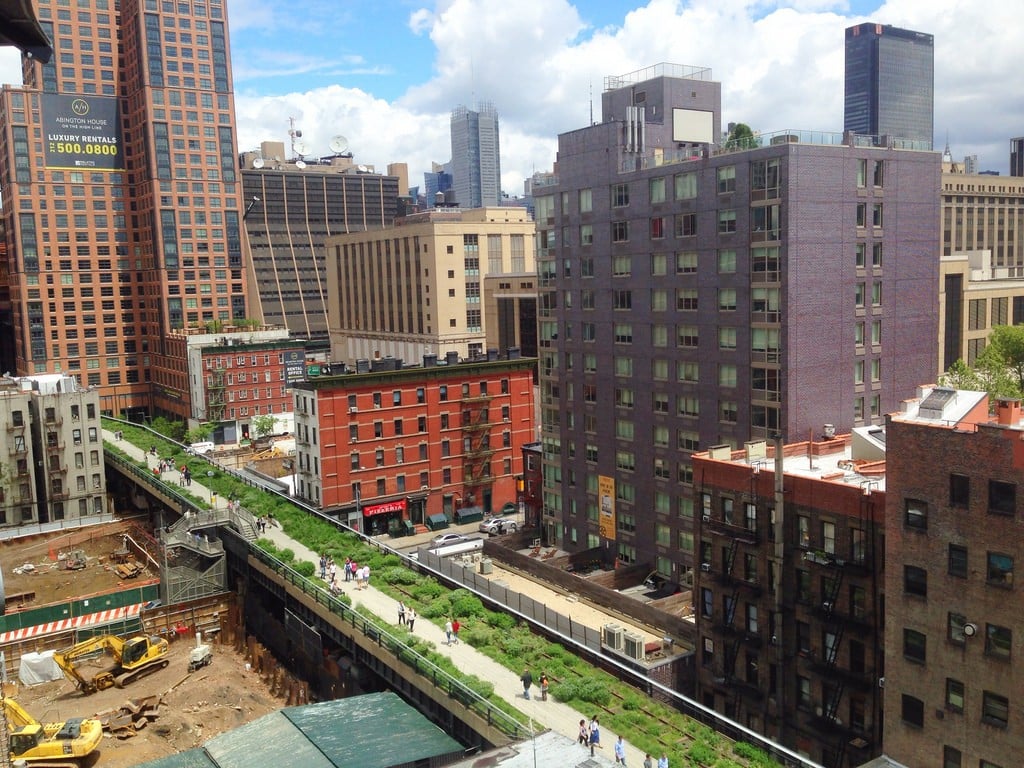 Some of New York's best attractions are within the Manhattan borough. Home to Central Park, Times Square and Broadway – its more famous attraction, the High Line stands out in a more unique way.
This green space was once a grimy little rail line that went through an unpleasant district of slaughterhouses; however, it has undergone a modern day urban renewal to become one of New York's best loved spots. You can go for a leisurely stroll or have a relaxed picnic 30ft above the city – with stunning views of the ever-changing urban landscape of Manhattan.
The park boasts of patches of grass with seasonal blossoms as well as public art installations that can be enjoyed in an open space. The stunning views of the Hudson river and bleacher-like seating behind huge glass panes frame the traffic and pedestrians below like living works of art. You can find food and drink vendors to get refreshments along the way – if you are a little tired after all that walking. The Whitney Museum is located on the southern end of the High Line, that showcases work by living artists and is worth a visit.
The High Line is the best place to go for a romantic stroll at night and watch the city lit up all around.


3. Coney Island
A 50-minute subway ride from the glitz and glamour of Manhattan to this old-school amusement district, Coney Island has a lot of nostalgic kitsch charm and excitement to offer. It is the perfect one- day getaway for kids and adults alike.
Famed for its wood-plank boardwalk, Cyclone roller coaster and the New York aquarium, Coney Island will not bore you. A wonderland of activities, Coney Island traces its amusement park roots to the 1800s. Some of the old rides are still available today like the Wonder Wheel that was first opened in 1920, this includes the Cyclone roller coaster which has been there since 1927.
Coney Island is a must visit in any New York City itinerary, so don't miss out on all the fun this place has to offer!
4. American Museum of Natural History
Founded in 1869, this grand museum houses 30 million artefacts as well as the Rose Center for Earth and Space. From October through May, the museum plays host to 500 plus butterflies from all over the world! You can enter the glasshouse conservatory to watch the butterflies flutter about and land on your outstretched arm.
The most famous inhabitants of the museum are the skeletons of the giant woolly mammoth and the scary Tyrannosaurus rex. The fossil halls have 600 species on display, there are many other animal exhibits along with galleries dedicated to gems and minerals, as well as an IMAX theatre. Don't forget to pay a visit to the 94ft replica of a Blue Whale that hangs from the ceiling of the Milstein Hall of Ocean Life.
The Rose Center for Earth and Space is home to a planetarium and other exhibits and shows. Enter the Cosmic Pathway which covers the 13-billion-year history of the universe along a spiraling path that is as long as a football field. You can also go for the Dark Universe show that is narrated by the famous astrophysicist Dr. Neil Degrasse Tyson, who is also the director of the Rose Center.
For general admission, you can pay any amount you wish for (it is run on charity basis). However, for space shows, IMAX films, or ticketed exhibits you'll have to pay admission fees plus the amount for one show, or admission fees plus all shows.
5. Guggenheim Museum
This conical white architectural structure, famous for its appearance than its contents is a classic New York icon. Designed by famed architect Frank Lloyd Wright, the inverted ziggurat was completed in 1959 to mixed reviews, and has appeared in many postcards, TV shows and films throughout the years.
The museum houses artwork by Picasso, Jackson Pollock and Kadinsky, as well as paintings by Monet, Van Gogh and Degas – and photography by Robert Mapplethorpe. The museum has opened up branches in Bilbao, Venice and Abu Dhabi.
The museum has two restaurants, the Wright at ground level and Cafe 3 on the 3rd floor that offers amazing views of Central Park. Be sure to step into the original Guggenheim museum when in New York.
6. Times Square
Times Square is the image you see in your head when you think of New York. This busy intersection bathed in neon lights, people scurrying about and the yellow cabs, skyscrapers, digital billboards is what defines this concrete jungle. It's all about the sights and sounds, and 50 million people visit it every year. This is where the real essence of the Big Apple lies!
The main junction is full of popular retail outlets and restaurants; you can climb the red Times Square steps to get a broad view of the area, and get a picture taken with any of the costumed characters that roam about. Listen to street musicians and enjoy food sold from street vendors. Finding Halal food will not be a difficult, just use your phone to search for places or ask about.
New Year's Eve and Christmas are great times to be at Times Square, however the areas will be very crowded – but the experience will be worth it.
7. Chinatown
A trip to New York is not complete without heading over to Chinatown – Manhattan's most colourful neighbourhood, where every visit is a different experience. Strange little shops and countless restaurants line the streets and alleyways, with mysterious temples tucked away in this labyrinthine borough. Chinatown is home to the biggest population of Chinese immigrants in the U.S.
This is the place to be if you are looking for cheap authentic Chinese food – there are many dim sum places and noodle shops. Bargaining is the game here, so be sure to get a good deal when shopping for souvenirs or other trinkets.
While in Chinatown, pay a visit to Little Italy as well – its close by Mulberry Street right next to Motts Street. A clear example of two contrasting cultures existing in one place.
Amazing places to shop in New York
New York is a diverse place that has a lot to offer, and should be on every traveler's list. New York has its own brand of charm, whilst time moves faster in Times Square, time may move slower while taking a stroll through High Line; it's a city of many contrasts coexisting in one place. So get ready for that New York trip and keep your Instagram feeds updated!
Plan your next Halal tour to New York and explore the Big Apple! Find mosques and prayer places near you in New York City at your fingertips with the HalalTrip App.