Get ready to explore the most interesting South Indian destinations! South India consists of the five main states of Karnataka, Tamil Nadu, Andhra Pradesh and Kerala – complete with gorgeous beaches, tropical forests and intriguing historical sites. These are just some of the fascinating South Indian attractions that are perfect for those you wish to get immersed in a true travel experience. Whether it's sailing through the backwaters of Kerala or ancient archaeological sites, there is something for everyone to enjoy. Take a good look at this South Indian travel itinerary to find out the best way to spend your holiday.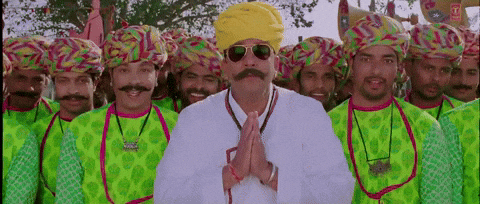 Picture Credit - giphy.com
Day 1 – Day 2: Chennai
Picture Credit - imgur.com
Nature and wildlife lovers cannot miss the Guindy National Park or the Arinjar Anna Zoological Park, where you can experience South India's natural beauty. Don't forget to drop by the gorgeous beaches either – Marina Beach and Elliot beach especially. For something more cultural, visit the Government Museum and Fort St. George – as well as the famous Kapaleeswar Temple to check out the unique colourful architecture and its significance to the city.
Travelers can get around Chennai by buses, train or by metred rickshaws. You will be able to find Halal food in South Indian states quite easily or try the aromatic, delicious vegetarian or vegan food. Notable restaurants include Zaitoon, Palmshore and Aasife Brother's Biryani Centre.
Some hotels to stay at include FEATHERS – A Radha Hotel, Hilton Chennai and Ginger Chennai.
Day 3: Madurai

Picture Credit - Imgur.com
The next two days of your South Indian travel itinerary will take you to Madurai city which is most famous for its beautiful temples. You can travel to Madurai through domestic flights or by train for the longer, scenic route. Do make a trip to the famous Meenakshi Amman Temple which is one of the top South Indian attractions. You will get to see colourful intricate carvings of deities along with impressive wall paintings – and drop by the Temple Art museum too. This temple is an important historical building in Madurai that is also famous for the Hall of Thousand Pillars.
Halal restaurants can be found in Madurai which includes Anjappar Chettinad Restaurant and Royal Park Madurai – or you can enjoy the local cuisine by visiting vegetarian restaurants instead.
Day 4 – Alleppey

Your next stop will be Alleppey also known as Alappuzha, and the best way to get here is by bus. The Alleppey regions are where you can take a serene boat cruise in the Kerala backwaters to appreciate the lush greenery and rural scenery. The gorgeous Alleppey beach must be your next stop to catch the gorgeous sunset.
There are plenty of vegetarian dining options around and two popular restaurants that serve Halal food include Mushroom and Thaff Restaurant.
Day 5 – Day 6: Wayanad

The Wayanad region which is known for it's gorgeous, unspoiled natural beauty and wildlife is the ideal place for nature lovers to enjoy the South Indian weather. Pay a visit to the famous Wayanad Wildlife Sanctuary or the Muthanga Wildlife Sanctuary to see creatures of the wild in their natural habitat. The Eddkal Caves is another attraction that cannot be missed, and the natural formations are completely covered with stone age carvings. However, there are no direct modes of transport from Alleppey to Wayanad, so hiring a car would be the best option.
Accommodation options include Wayanad Gate Hotel, Kallat Hotel and Petal Hotel to name a few. Halal food options will be quite limited in this area, but you will find numerous vegan and vegetarian places to try out. But have a look at the Wilton Restaurant and The Jubilee Restaurant who are known to serve Halal food.
Day 7 – Day 8: Mysore

Your next stop will be the city of Mysore, and you can travel from Wayanad by taxi or bus. The fascinating city of Mysore is famous for the Mysuru Palace with its impressive sculptures and architecture. Mysore also has some popular spice bazaars such as the Devaraja Market which is an interesting place to visit and shop too.
Those who love being outdoors can pay a visit to the beautiful Brindavan Gardens to enjoy South Indian weather be surrounded by bright flowers and greenery. Do drop by one of the oldest zoos in India, the Sri Chamarajendra Zoological Gardens which is one of the top attractions – do take a stroll by the Karanji Lake too that is located on the eastern side of the zoo as well.
Some hotels to consider staying at include The Quorum, Ginger Mysore and Fortune JP Palace. You can also find many Halal restaurants serving a variety of cuisines within Mysore as well.
Free Day – Bangalore

Picture Credit – www.excitingindia.in
Your final day will be spent in Bangalore where you can kick back and relax – and get some shopping done too. You can head over to Brigade Road, MG Road or Collage just to name a few which are some great shopping spots.
Muslim-friendly travel to south India will be much easier with this helpful South Indian travel itinerary - and you won't miss out on the best spots or attractions to visit.