Sushi is one of those things that divide people – you either love it or hate it. Sushi lovers, this one's for you! There is more to
Japanese food
than simply
sushi
though, so perhaps other flavours of the cuisine will tickle your taste buds. It is hard to find Japanese restaurants in
Kuala Lumpur
serving
Halal food
, as even if the meats are Halal, they tend to use mirin and rice wine in their dishes. We wanted to give you a great Japanese
dining experience in Kuala Lumpur
however, so here is our round-up of
Halal Japanese Restaurants
in KL: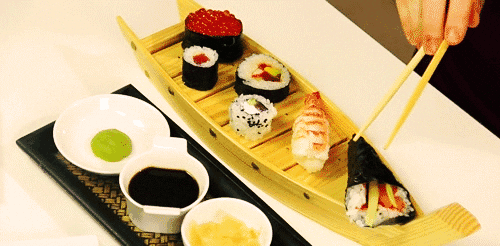 Credit -Giphy.com
1) Sushi King
Picture Credit - midvalley.com.my
Probably the most famous Japanese restaurant in KL, most people look no further than Sushi King for their sushi fix. They have a large selection on their buffet menu as well as à la carte, and the best part is that if you don't see something you want at the
buffet
, you can order it separately. Sushi King is definitely one of the best sushi restaurants with a buffet in Kuala Lumpur that is Halal certified, but they have such a good variety that even if Japanese food is not your thing, you're bound to find something you like there!
---

Where to find: There are over 100 outlets in Malaysia, so you're sure to find one near you
2) Sukiya Malaysia
Picture Credit - suki-ya.com
Halal-certified, Sukiya Malaysia serves up Japanese food like a
local cuisine
– minus the pork and spirits – and if you ever find yourself craving a bowl of ramen noodles, you know where to come. One of the oldest Japanese restaurants in Malaysia, Sukiya Malaysia has been open since 1982 and knows how to treat its customers. Hailing from Japan itself, the vibe is that of Japanese pop culture with authentic Japanese food like Gyudon, Japanese Curries and Chicken Bowl, not to mention Ramen.
---
Where to find: There are plenty of locations, mostly in malls. Two possible outlets in Kuala Lumpur are in Mid Valley Mega Mall and Sunway Velocity Mall.

Picture Credit - facebook.com/ramenvillage

Another place to indulge yourself with Ramen noodles is Ramen Village – the name speaks for itself. Their flavours are spot on and they even offer fusion dishes with Thai and Korean cuisine influences, as per their Halal-certified menu. The miso broth is one of the best with chicken so tender that it just falls apart. The prices are not quite affordable for regular visits, but it's a must-try at least once.
---

Where to find: NU Sentral, Lot L5 09, No. 201, Jalan Tun Sambanthan, 50470, Kuala Lumpur
4) Agehan Japanese Restaurant, Grant BlueWave Hotel
Picture Credit -bluewavehotel.com
If you're looking for a fine dining Japanese restaurant in KL, Agehan is the place to go. This Halal-certified Japanese restaurant resides in a five-star hotel, but they have a little something to suit all budget types. Splurge on the à la carte menu for a fancy dinner, or attend the reasonably-priced buffet on the weekend. Agehan has a traditional Japanese cuisine experience – like Hosomaki Sushi, Nigiri and Makimono – as well as local twists on dishes like Cili padi (bird's eye chilli) Tuna Mayo Maki. It is one of the best
Japanese restaurants in Klang Valley
.
---
Where to find: Grand BlueWave Hotel Shah Alam, Persiaran Perbandaran, Seksyen 14, 40000 Shah Alam.
5) Hei Sushi
Picture Credit - zomato.com
The first
Halal-certified restaurant
that offers a sushi belt, Hei Sushi brings fun into food. What's not to love about watching a conveyor belt filled with sushi and taking your pick off it as you please? Hei Sushi is one of the best halal restaurants in Kuala Lumpur as it has plenty of dishes on its menu that keep you coming back for more. Not to mention that it is an affordable
Japanese restaurant in KL
with multiple outlets. There is so much more than just sushi on offer, and all the dishes have fresh delicious ingredients incorporated in them. Their seafood and sashimi dishes are top notch, as is their Wagyu beef, and they have mini baked rice, salad bowls, ramen, and grilled fish as well. Their speciality is delivering Japanese cuisine with a local twist.
---
6) Express Teppanyaki
Picture Credit - batrouney.wordpress.com
Friendly service, delicious food, affordable prices, and a live cooking show – need we say more? Teppanyaki is the Japanese word for cooking food on a grill, and customer favourites are their ramen, beef and chicken dishes. With
great value for money
, this is the perfect place to stop by if you need a quick bite, and it will keep you coming back for more. With a little something for everyone, they even have vegetarian options.
---
Where to find: Level 1, Food Republic, Pavilion Mall, 168, Jalan Bukit Bintang, Bukit Bintang
7) Pepper Lunch Express
Picture Credit - gomakan.com
Even though their outlet at Pavilion is closed, they still have branches at selected food courts open. Pepper Lunch's speciality is their pepper dishes (which is almost everything) and is best eaten hot and fresh. Try their Pepper Rice with various meats or seafood options mixed with all the sauces and toppings they offer to give it that oomph. Expect the kick of heat!
---
Where to find: Bukit Bintang Food Court
8)Toyyiban Sushi, Bangi Getaway
Picture Credit - facebook.com/toyyiban
The only Muslim-owned sushi restaurant, Toyyiban Sushi is a family business that was started up by a Malaysian who once studied in Japan. Even though they don't have a large selection on their menu, it is a cosy restaurant that carries some of the best Halal dishes in Kuala Lumpur. In addition to crispy fried sushi, they also serve noodle dishes like Udon, Soba and Bento for reasonable prices. They offer a local twist in the form of spicy soy sauce (sambal kicap) along with wasabi. An interesting fact about the restaurant: it is named after the verse in Qur'an where Muslims are commanded to eat good, pure food – Halalan Toyyiban – so you can be assured that you're fulfilling that here!
---
Where to find: Bangi Gateway Shopping Complex, 43650 Bandar Baru Bangi, Selangor Darul Ehsan
Click here for more information about Toyyiban Sushi
These are some of the best Halal Japanese restaurants in KL, so satisfy your sushi or Japanese cravings here. Whether it's grilled fish, sticky chicken, fresh sashimi, or a kick of wasabi, these buffets and menus offer all that and more. Tune into the Halal Trip App to let us know what you thought of these places, and which dishes were your favourites, and don't hesitate to share more gems you might discover on your travels.