How It All Began
The Halal Guys
is a name that is known many places in
America and around the world
, offering a safe haven for locals and tourists looking for
Muslim-friendly food
in places where it might not be as widely available. In fact, that's exactly how they got their start all the way back in 1990. Starting as a humble American-style hot dog cart on the south-east corner of West 5th and 6th Avenue in
New York City
, the Muslim cab drivers in the city would seek this bright yellow food cart out to fulfil their pangs of hunger, and to get a taste of
Halal-friendly American food
.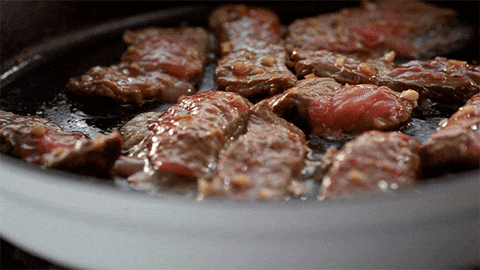 Credit - giphy.com
What's The Special?
The Halal Guys might have begun as a simple hot dog cart, but today their most famous menu item is the chicken or gyro meat platter. Their food is unique because they've come up with their
own distinctive recipes
that take influences from American, Middle Eastern and Mediterranean
cuisines.
They don't bother themselves with fancy plates or too many varieties of food; they just want to do what they do and make it the best!
Their signature platter consists of fragrant basmati rice soaked and cooked in spices, topped with delicious, tender chicken or lamb meat, fresh vegetables, crispy fried falafel, and pita bread. Apart from the Halal meat, their white (yoghurt based) and red (super spicy) sauces that come along are also a worldwide favourite, so make sure to grab some extra!
In NYC
, their most famous outlet, The Halal Guys are the #1 Yelped business and the 3rd in all of USA! The New York Post has also said that they are "perhaps the city's most famous open-air dining destination", and they're right because nowhere else can you see people lining up for many blocks just to get a plate of street food!
Where to Find The Halal Guys
26 years later, The Halal Guys have expanded and had further plans to expand on an impressive scale with over 200 franchise and
restaurant
locations all around America and
the world.
In 2014, they partnered with Fransmart, a franchise development company to
launch restaurants
all around America (California, Louisiana, Florida, Arizona, Los Angeles, etc.), in Canada, Philippines, Malaysia, and Indonesia. They have also been certified
Halal around the world
by many Halal-governing bodies such as the International Halal Food Council.
These are some of the most famous The Halal Guys outlets in the world:
New York City
Although there are 3 different The Halal Guys outlets just in NYC, we chose to talk about this one because it is THE original stand; i.e. where it all began! You can guess that there's something special coming when you're walking towards the corner of West 53rd Street and 6th Avenue because you'll see a massive line of people waiting to grab their grub long before you see the simple red and yellow stands of the iconic street food stand. And you'll want to join in line (and wait however long it takes), for one of two reasons: a. you've had the food before and can't wait to try more, or b. you want to see what all the fuss is about. If you fit into that second category, we guarantee you'll be in the first pretty soon!
If you're a first-timer, here's some advice: the wait is worth it, but have your order ready (chicken, lamb, or combo), and load up on the delicious white sauce. As for the red sauce, you definitely don't want to miss it (cause yum!), but be wary because it sure is super, duper spicy!
Click here for more information about The Halal Guys
---
Address: W 53rd St 6th Ave, New York, NY 10019. Theater District, Midtown West.

Phone: +1 347-527-1505
Seoul, South Korea
Walking from the
Itaewon Station
(Exit 2), the bright yellow brick building with the name spelt across the top in red is sure to catch your attention. With a menu that consists of the classic chicken gyro and rice platters as well as sandwich options, this is where you can find the simplest and most satisfying
Halal food in South Korea.
The platters come in three sizes (small, regular, and new york); go for the small if you want to have a regular meal, the regular if you want a filling meal, and the New York if you want to share with a friend and you're both really hungry!
---
Address: 187 Itaewon-ro, Itaewon-dong, Yongsan-gu, Seoul, South Korea.

Phone: +82 2-794-8308
Montreal, Canada
Situated right next to
Concordia University
's downtown campus on Mackay Street, this outlet that's been up and running only for a little more than a year is almost a clone of the famous New York City outlet. In fact, they get the special sauces down from
NYC
and even source their meat from the same places! And you know what, the incredibly long lines are also pretty similar to the original.
Click here for more information about The Halal Guys
---
Address: 1448 Mackay St, Montreal, QC H3G 2H6, Canada.

Phone: +1 514-933-8225
Manila, Philippines
If you're in
Mandaluyong City
and looking for where to
find Halal food
, this is the place for you! Certified by the Halal Development Institute of the Philippines, this The Halal Guys outlet in SM Megamall is just as buzzing as all of their famous outlets. They source their Halal beef from the same supplier as the NY outlet in Chicago and season the locally-grown chicken to the same standards as the original. The only difference is the switch from basmati to jasmine rice, to cater to the local palate. The staff are also trained by the New York team as well, so you can be sure that there's no lack of authenticity.
---
Address: 5L Mega Food Hall, SM Mega Fashion Hall, SM Megamall, Epifanio de Los Santos Ave, Ortigas Center, Mandaluyong, Metro Manila, Philippines.

Phone: +632 941-4158
Jakarta, Indonesia
The Halal Guys outlet in
Jakarta
probably has one of the most bearable queues, but they serve some of the best
Halal food in Indonesia
for sure. They also have a limited seating area, so you can enjoy your food right there! The menu here is typical to The Halal Guy outlets everywhere, with sandwich and rice platter options, and you can also get something to drink and finish the meal off with baklava for dessert!
---
Address: Senayan City, Lantai 5, Jl. Asia Afrika, Senayan, Jakarta.
Phone: 021 72782270
These are just a few of the places where you can find the Halal Guys outlets around the world, but they are available in so many places. If you're in a city in
America
,
Indonesia
,
Malaysia,
South Korea
, etc. and are looking for some affordable, yet awesome
Muslim-friendly food,
all you have to do is log on to
their website
and put in your location, and you'll be directed to their nearest location.
If there isn't a The Halal Guys outlet near you, don't worry, because they are always expanding. Some of the cities where plans have been put in places for new outlets to open are Chicago (IL), Washington (DC), Austin (TX), Las vegas (NV), and more in the United States of America; and Kuala Lumpur (Malaysia), Manila (Philipines), Toronto (Canada), and Jakarta (Indonesia) internationally.
They have no intention of stopping there, so watch out for The Halal Guys; there might be an outlet coming to a location close to you very soon!