There is no doubt that taking the best tours in the Pacific islands and Oceania will give you an unforgettable experience like no other. With numerous interesting islands and charming towns located coastal regions that are just too beautiful to miss – which why you should have a fun
Halal tour
in Oceania. Find out more about
Muslim travel
in Oceania so that you can have a
Muslim-friendly vacation
while visiting some amazing places.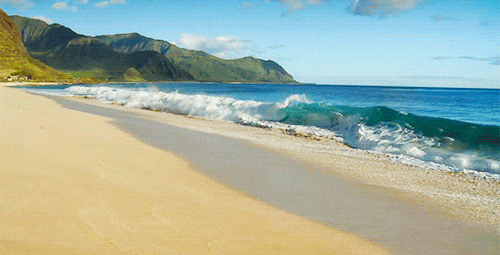 Credit - Giphy.com
1. Fiji
Fiji is made up of over 300 islands and is popular for white, sandy beaches framed by the turquoise ocean - which are often the major highlight of any trip. Paradise Beach and Sunrise beach are especially popular. But those who are looking a beach paradise should stay over at the Mamanuca Islands that can be reached within a two-hour boat ride or a fifteen-minute plane ride from
Nadi
.
Fiji is also known for its gorgeous coral reefs with beautiful marine life too – so do go snorkelling or scuba diving if you can. There is a nice array of activities to enjoy in Fiji such as hiking, bird watching, whale watching and even zip lining.
2. Norfolk Island
This small, beautiful island is located between
Australia
and
New Zealand
and should be part of your Australia and Oceania holidays. Not only can you admire the gorgeous sunset over the coast, but nature lovers can explore the islands by visiting popular national parks. Mt.Pitt and Mt Bates are the best places to get a bird's eye view of the island and take in the amazing scenery.
Bird watching and hiking are some fun activities to enjoy, do keep an eye out for the regional wildlife and reptiles too. Don't forget to drop by Emily Bay Lagoon for swimming and snorkelling near a serene beautiful beach.
Finding places that serve
Halal food
won't be easy, however, you can stick to vegetarian or seafood options. But do ask the staff if pork products or alcohol are used in food preparations as well.
3. The Great Barrier Reef
You cannot miss the Great Barrier Reef if you are planning any
Australia
and Oceania holidays. The Great Barrier Reef is magnificent with colourful coral gardens and bright marine life – being the world's largest coral systems too. It has always been one of the
top attractions in Australia
.
You can even take a cruise from Port Douglas to the permanent activity platform and enjoy some snorkelling and diving too. The Cairns is the nearest city to the Great Barrier Reef, from where visitors can take day trips to Green Island in a glass-bottomed boat to observe marine life.
The Cairns is where you will be able to find a few restaurants that serve
Halal food
, you can even get more information from the
Cairns mosque
too. However, some places might serve alcohol as well.
4. Bora Bora
This gorgeous French Polynesian island is famous for breathtakingly beautiful ocean scenery and lush rainforests – the perfect island getaway. Bora Bora is best known as top honeymoon destination as well.
From snorkelling, scuba diving or hiking – there are plenty of engaging ways to explore the island. You can spend the day swimming or take a stroll by the white, sandy Matira beach. But pay a visit to the inactive volcano Mount Otemanu to hike up the summit
Finding
Halal dining options
will not be easy in Bora Bora. However, you can stick to vegetarian or seafood items instead. But first, find out if pork products or alcohol are used in food preparation from the restaurant or hotel staff.
5. Gold Coast
Tours and holidays in Australia and Oceania are not complete without exploring the
Gold Coast
in
Queensland
. There is plenty of fun to go around too – the Gold Coast is very popular for amazing beaches and excellent surfing spots. No surprises that jet skiing, swimming and surfing are some of the top activities to enjoy here. Burleigh Head Beach and Surfer's Paradise Beach are must-visit spots too.
It won't be hard to find
Halal
restaurants
in the Gold Coast since there is a significant Muslim population, which is ideal if you want to visit
Halal-friendly destinations
. You can even find out more information from The Gold Coast Islamic Centre as well.
6. The 12 Apostles
The 12 Apostles are located in Port Campbell National Park on the coast of
Melbourne,
Victoria in Australia. The massive limestone stacks lining the coast make the perfect backdrop when taking your photographs to the beach. The best way to take in the view is by the plane ride or a hike along
Great Ocean Road
. Do check out the famous shipwreck site Loch Ard Gorge which is located north-west of the 12 Apostles as well.
It will be hard to locate
Halal
food in
Great Ocean Road
. But you will find Halal food options in Apollo Bay which are located more than an hour from the Port Campbell National Park.
7. Papamoa Beach
Papamoa Beach is located in the city of Tauranga, Bay of Plenty in
New Zealand
.
The beach has always been a favourite spot for picnics and fun beach activities such as kite-surfing and swimming. For something unique, you can visit the Blokart Recreation Park - a blokart is a compact land yacht with wheels on which you enjoy a thrilling ride.
You can also go camping and enjoy the coast at the Seaview & Beachfront Campsites at the Papamoa Beach Resort.
There are a
few Halal restaurants
to be found in Tauranga, however, there are vegetarian dining options available too. Most restaurants do serve alcohol as well even though they serve Halal food.
Tours and holidays in Australia and Oceania will be more when you add these spots to your
travel itinerary
. Start planning your
Muslim-friendly vacation
and don't miss out on these interesting places!