Ah
Paris
. The
Eiffel Tower
rising up to meet the sky, French being spoken in double time all around, the scent of pastries wafting from the bakeries… Ah Paris, the city of love. You can't
holiday in France
and not visit Paris. One cannot be at a loss wondering
what to do in Paris
as it is one of the most
iconic tourist cities
in the world. There is plenty that Paris has to offer to eager foreigners – sights, smells and sounds to drink up for however short a time you are there for. Beyond the top-rated
tourist attractions in Paris
, however, lies a city that is dear to locals for different reasons. Reasons that make it home. Here they give you plenty of things to do when traveling in
Paris, France
.
If you want to know what to do in Paris in 3 days, or unique things to do in Paris that the typical tourist wouldn't know of, here are our locals' tips for this incredible city: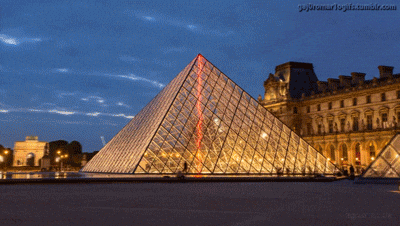 Credit - giphy.com
Places to see…
The first thing you need to be prepared to do is to be on your feet a lot. Walk, walk, and walking some more is one of the main activities in Paris. The only way to truly experience a city is to be a part of it. That being said, let's dive right in.
Le Jardin de Belleville
Picture Credit - www.parisjourney.com
Le Jardin de Belleville
is a beautiful place to walk through and appreciate the annual flora on display as well as the view of Paris. It is located on the hill of
Belleville,
making it the highest park in Paris, and the summit displays a panoramic view of
the city
: Paris from the top. Parc de Belleville sports a 100-metre long waterfall fountain, an open-air theatre, ping pong tables and playground for children. Want to get away from city congestion? Take a breath of fresh air here.
Le Quartier de Montmartre
Picture Credit - www.infrancia.org
Le Quartier de Montmartre represents the typical Parisian quarter and is home to the beautiful church,
Sacré-Coeur,
a grand imposing structure that looks rather like a
grand mosque
! You can visit it during its opening hours and try the funicular to carry you to the top rather than opt to climb all 300 plus stairs.
Montmartre
is located in the centre of
Paris
and is known for its artistic history with many renowned artists like Picasso, Monet, van Gogh, Modigliani and more working in studios in or around the area. You don't want to miss walking on history itself!
Le Pantheon
Take in more history and fabulous architecture at
Le Pantheon
, a mausoleum now housing late distinguished French citizens. Walk through the student quarters of La Place Monge and absorb the atmosphere, or take a peaceful stroll through
Le Parc des Buttes Chaumont
or
Parc de la Villette
. The latter has plenty of events going on and is home to Cité des Sciences et des l'Industrie –
Europe's
largest science museum which is worth a visit. You can also find La Géode at the Parc: a giant steel sphere that reflects the city, the sky and the park, and contains an Omnimax theatre and 400 seats that is an experience in itself.
France Miniature
If you want to see all of France in one go, try
France Miniature
– a miniature representation of all the major monuments in
France
. That way, you can skip all the main sights and holiday like a local instead! (No, we're kidding. Please make the most out of
your French holiday
!) Visit
Les Catacombes de Paris
at night for an eerie vibe – it's like going to a graveyard as this ossuary holds the remains of over six million people. If you'd rather be surrounded by beauty, however, take in
La Tour de Montparnasse
at night. It is truly a sight to behold.
Les Quais de la Seine
Les Quais de la Seine is a
UNESCO World Heritage Site
and is a lovely walk along the river.
The Seine's
banks are also home to major attractions like the Eiffel Tower,
the Louvre,
so it's worth the walk. It is also a great
place for a picnic
, the two best parts of the banks found around the islands of Île de la Cité and Île Saint-Loius.
Food to eat…
It's not hard to have a
Halal vacation in Paris
as there is actually plenty of
Halal eats
available. A must-have food when you're in France is crepes and you can find them in mobile crêperies or in the Montparnasse Quarter. Similar to hot dog stands in
New York
, fast food crêpes serve up "Fête à Crêpe" – sweet and savoury version of the local delight. Select a signature crêpe or custom-make your own to dine there or take away, as it is one of the
must-try Halal dishes in Paris
.
Rue Saint-Anne is a Little Tokyo for anyone craving sushi or the like. Probably one of the most ethnically diverse regions of Paris, it is an interesting sight to see, with Japanese restaurants and waiters, immigrants, locals and tourists all intermingling in the area. If you really want amazing Japanese food though, your vacation in France will, ironically, not be complete without a visit to Makido, a fusion food speciality with Japanese burgers.
The first
restaurants in Paris
by Turkish immigrants can be found in Saint Michel. Known as "Grec" in French, these Greek restaurants serve up kebab fast-food, with mouth-watering meats, friendly service, and good value for money. La Table Lebanese, Val's Delights, Maison de Gyros, Restaurant Istanbul, and Restaurant Patcha are just a few examples. Restaurant Istanbul located in Saint Jacques is one of the best Turkish
restaurants in Paris
. Assanabel located in Rue d'Alésia is a must-visit restaurant in Paris with amazing Lebanese food.
Indian
and Pakistani cuisine
is plenty available in Paris at Restaurant Sahil – popular but cheap food – and New Jawad, to name a few. Pizza Poplare located by Metro Bourse has you waiting 15 minutes in the queue for their speciality pizza but it is definitely worth it. With pizzas as good as those found in Italy, you can understand why people line up for it!
If you're looking for something different, O'tacos is your place. A novel idea, these French tacos can be found almost everywhere. Sugar and Spice caters to your juicy-burgers-and-large-fries cravings, as well as Le Butcher at Rue du Faubourg Saint-Honoré near Champs- Elysées; while L'Atelier located in Ivry-sur-Seine sports a little fine dining and buffet option. Le Confidential has authentic Halal French cuisine, located at Rue Robert Estienne.
Picture Credit - www.redtri.com
For those with an insatiable sweet tooth, rejoice, for there are plenty of dessert options. Ice-roll located in Beaugrenelle mall serves rolled ice cream – the latest trend in ice cream. You can't
go to Paris
and not have gelato, so drop by Grom Gelato for some delights; and of course, don't miss out on Häagen-Dazs. Princess Crêpe puts a Japanese twist to a French speciality, with Japanese flavours to tickle your taste buds.
Some of the
biggest Paris attractions
are French patisseries from the stores of famous chefs. They might be a bit pricey, but if you're in Paris, you might as well get the whole experience! La Patisserie Cyril Lignac is located almost everywhere, Patisserie Michalak has some incredible delicacies, and Patisserie Pierre Hermé's speciality is macarons – delicious to consume immediately as well as a great gift to take back home.
Things to do…
While there are many
fun things to do in Paris
, it is most known for its history, culture, and incredible ancient architecture. So walking is your best bet to absorb as much of the city as possible. Cycling is an option too, but not for those who aren't used to Parisian drivers! Paris offers gorgeous man-made structures as well as natural scenic beauty, so go get those museums, theatres and operas, and enjoy a walk along the Seine and in its alluring parks.
With so many top things to do in Paris when you travel France, it's hard to not fall in love with
this city.
A culture like no other, one of its
major attractions
is
the food at hand
. Add these local tips to your tourist-y itinerary to have a wholesome incredible experience.