Traveling is a transcendental activity that enriches the soul and brings us close to heaven. Our Prophet (SAW) encouraged travel because he understood its value. Exploring new places is an act of self-discovery that brings fulfillment to us and helps us comprehend our place in the world.
Traveling to unique destinations enriches our knowledge about life. It makes us more sophisticated and fulfilled as people. Also, travel allows us to update our life-experiences, which is exactly what we need after a harsh year – 2020. This year showed us that being deprived of something as simple as travel can impact our lives in unexpected ways.
That's why 2022 is a turning point for humanity as a whole. And as a small part of that whole, you can make this year an opportunity for self-discovery by traveling to some unique adventure destinations!
Be it the dazzling landscapes of Newfoundland, the culturally-rich Alexandria, and Marrakech, or the heartwarming atmosphere of Puglia Region; discover these unique destinations for your next journey of self-discovery!
Here are the Top 10 Places to go for a Trip of Self-discovery in 2022. On top of being an exciting activity, traveling to these destinations will also be a chance for you to enrich your inner-life!
1. Experience Spiritual Awakening in the Holy City, Jerusalem! (Palestine/Israel)
Western Wall, Jerusalem. Photo by Sander Crombach on Unsplash
Jerusalem, also known as Al Quds, is the sacred city where Muhammad (SAW) experienced the Israʾ and Miʿraj. He went on a journey from Mecca to Al Quds, and then he ascended to heaven to meet God and the prophets who came before him.
Visiting Jerusalem was significant for the story of the Prophet. This city is significant to the prophecy of Islam and the other religions before. That's why the Holy Land is the most suitable place to have a mystic experience of self-discovery. On top of that, it's also one of the safest places on earth. Muslims, Jews, and Christians all live in Jerusalem peacefully.
The first building that comes to mind in Jerusalem is Masjid Al Aqsa. Its iconic dome shines from a distance to invite everyone to visit. Praying in this mosque is a sacred rite of passage for Muslims.
However, religion is not the only reason to visit the Holy City. There are plenty of archeological sites and museums that capture the chronicles of Middle Eastern history. Furthermore, it's a busy city with colorful markets and mouth-watering cuisine. Visiting Jerusalem is your chance to buy Hebron Glass!
Another interesting place nearby is the Dead Sea. Surprisingly, swimming in the Dead Sea is very easy; you'll never drown there because it's extremely salty, which keeps your body floating. Interestingly, the mud of this sea is super healthy for the skin. Hopefully, your trip to Jerusalem will be as fulfilling to your body as it is to your soul.
2. Alexandria is a Huge Library to Get Lost in! (Egypt)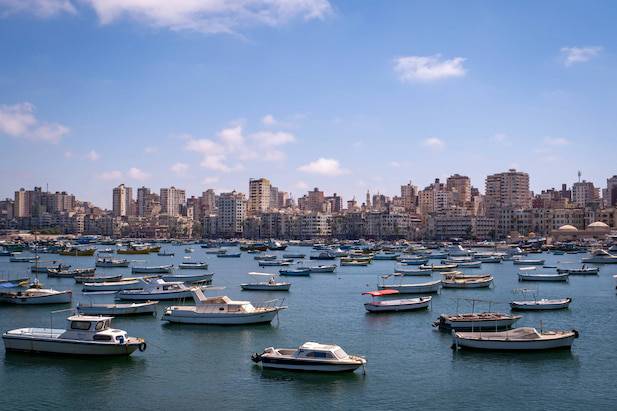 Alexandria, Egypt. Photo by Flo P on Unsplash
Few cities can compete with the richness of Alexandria! It's a city that accumulates many centuries of glory ever since Alexander the Great built it (hence the name). This coastal Egyptian city is a historical and cultural hub.
Alexandria is a city you can get lost in while exploring various museums, most notably the Greco-Roman Museum and the National Museum. Both of which exhibit many significant archeological findings.
Book-worms will love visiting Alexandria! They will get an opportunity to explore Bibliotheca Alexandrina, one of the biggest libraries in the world. This library is a tribute to the ruined Great Library of Alexandria. The Great Library of Alexandria was once the biggest in the world many centuries ago.
If you want to have a firsthand historic experience, you must see the Catacombs of Kom El Shoqafa; this site was one of the Seven Wonders of the Middle Ages. The internal architecture of this wonder is dazzling. Here's a funny fact, a donkey fell into a hole in the early 1900s only to let the world discover the catacombs of Kom El Shoqafa by accident.
You should also visit the Citadel of Qaitbay. It's a fortress that captivates the eyes and the heart. From this citadel, you can see a beautiful panoramic view of Alexandria.
And when you feel like you've had enough of history or archeology for the day, you can just take a quiet walk on the long beaches before visiting a restaurant that serves fresh seafood. The Corniche of Alexandria is a vibrant place full of authentic Egyptian restaurants and cafes.
We'd need a whole book to list all the reasons to visit Alexandria if we want to do justice to this city. A simple alternative is to go there and explore it by yourself!
3. Find a New Self in Newfoundland! (Canada)
The farther you leave home, the stranger it gets. Newfoundland is an example of one of those places. The staggeringly gigantic and raw nature of this Canadian region will drive you to realize your small place in God's realm. But, at the same time, you'll be grateful for the life you have and the part that God assigned to you in the great scheme of existence.
Newfoundland is one of the isolated adventure destinations for those of you who like to stay away from the racket of modern-day life every once in a while. Expect to see many immense natural landscapes that enchant the mind and refresh the body. And don't forget to go on a trip to watch whales, which are obviously immense. It would be a shame if you don't!
Traveling alone to Newfoundland is much recommended. That way, you can truly find your inner voice. The best place to do that is at Terra Nova Dark Sky Preserve, where the stars and the northern lights decorate the sky with lights and colors that exhibit the spontaneous beauty of God's creation.
Fans of Vikings will be amazed when they find viking remains in L'Anse aux Meadows, the World Heritage Site. The Vikings settled in Newfoundland 1,000 years ago, where they established their ports, unique houses, and agriculture.
We should also mention that the capital city of Newfoundland, St. John's, is one of the most colorful cities. St. John's is a peaceful, beautiful city with friendly people who respect privacy and always welcome strangers.
4. You'll Never Feel Lethargic in Istanbul! (Turkey)
With a history of over two and a half millennia and the remains of four different empires, Istanbul is a melting pot of Mediterranean civilizations. This city is the center where the Eastern world meets the Western one. It's an exciting and vibrant city.
Your trip to Istanbul will be one of the most diverse and enriching experiences as a traveler. You'll have to spend at least two weeks to find yourself in this gorgeous city.
You'll be astonished by the numerous sophisticated mosques in Istanbul, most notably the iconic Blue Mosque, a giant construction of the Ottoman Empire. After exploring this unique building, you have to visit the Hagia Sophia Holy Grand Mosque, which was once a church before the same Ottomans rebranded it. Nowadays, It's a great museum.
Afterward, you must head on a journey to explore all the other outstanding landmarks of the Ottoman Empire that fascinate visitors with their unique architectural style and intricate details.
After you finish that journey, you must go on another one, this time to taste all the colorful and pleasant meals of Istanbul. Turkish Kebab is a good starting point!
Visiting Istanbul is also an opportunity for shopping. Every visitor has to explore the Grand Bazaar, which is a huge market that offers everything. Shopping is a significant part of self-discovery because it shows us what we desire. When we get an object that we really desire, it always brings us fulfillment.
Make sure to bring back some souvenirs for your loved ones!
5. The Puglia Region is the Best Place to Relax in 2022! (Italy)
Photo by Jack Ward on Unsplash
Your time in the Puglia Region of Italy will absolutely boost your physical and mental health. You'll spend your time enjoying Mediterranean cuisine, which is super-healthy and full of antioxidants. According to one study, "switching to a Mediterranean diet for just 10 days is associated with significant positive mood effects." This region is famous for high-quality olive oil, which is always a beneficial addition to your diet; that's why Puglians use it in all their meals.
Apart from that, this region is one of the quietest places in Italy, it enjoys lovely weather, and the people are heartwarming.
During your stay in Puglia, you'll be able to relax and breathe clean air and actually feel it filling your chest and oxygenating your body.
After you enjoy sunbathing in the incredibly charming beaches and cities of Southern Puglia, it would be great if you went on a journey across the villages of the north; Matera and Vieste are stunningly gorgeous with their medieval architecture.
6. Samarkand Will Hypnotize you with its Mystic Architecture (Uzbekistan)
Gur-Emir-Mausoleum. Photo by Ildar Garifullin on Unsplash
Have you ever felt visually hypnotized by looking at something so fascinating to the point that you cannot look away? It's the kind of experience that the mystical architecture of the Uzbekistani Samarkand invokes! Witnessing the beauty of Registan during sunrise is a life-changing experience that pleases all the senses, especially sight.
Samarkand has no shortage of historical gems. After all, this city was the center of the Silk Road. Just like the other destinations on this list, Samarkand is a city that amazes its visitors with its rich historical monuments.
It would take a long list to include all the mesmerizing mosques, mausoleums, and madrassas that you have to visit. However, to give you a few examples of where you can start your exploration, the grand 15th-century mosque Bibi-Khanym, the 17th-century Sherdor Madrasa, and the Shah-i-Zinda Necropolis are three must-visits. The other landmarks are yours to discover!
7. Walking Around to the Red City Marrakech is a Journey for all the senses! (Morocco)
Photo by Miltiadis Fragkidis on Unsplash
The Red City Marrakech needs no introductions; it's a must-visit, and self-discovery is but one reason to go there. No other city captures the exoticism of the Maghreb better than Marrakech. It was one of the imperial cities where the Sultans ruled the Maghreb fiercely during the middle ages.
Walking through the labyrinthine alleyways of the Medina is a wholesome experience that stimulates all the senses. The Medina is a place where you will breathe the relaxing aroma of spices and herbs, see thousands of colorful shops and exotic artifacts, and hear the sound of the activity of thousands of people. The sensory overload of Marrakech entrances the mind and opens the eyes.
This Medina has truly earned its title as a World Heritage Site by all the standards. The old heritage of Marrakech is summarized very well by the 12th-century Masjid Al Koutoubia. This mosque is a spiritual landmark that showcases the genius of ancient Moroccan architecture.
While you're still in the Medina, you might want to visit Riads, which are traditional Moroccan houses that offer a friendlier hotel experience. These mini-hotels usually have fountains in the middle, used for decoration, and Wuḍūʾ.
The Medina is not the only exciting spot in Marrakech. To truly find your inner-self in the city, visit a quiet landmark, most notably, the Bahia Palace. It's a royal building that looks enchanting with all the intricate details of decoration and architecture.
Additionally, the magnificent Majorelle Gardens are another peaceful place that you mustn't miss in Marrakech. The gardens contain the Islamic Art Museum of Marrakech along with plants and cacti from all five continents. The Majorelle Gardens are an eclectic piece of art that combines nature and culture.
It goes without saying that your trip to Marrakech has to include visiting Djemaa el-Fna Square, which is a small wonderland. Perhaps the best time to visit this wonderland is during Ramadhan after the Iftar. That way, you'll see all the Moroccan traditions during this holy month. You'll be surprised by the amount of activity and street performances you can find in that Square! Djemaa el-Fna is a hub for musicians, magicians, snake-charmers, storytellers, Faith-healers, etc.
8. Explore the Fairy-tale Ambience of Medieval Bruges! (Belgium)
Photo by Olivier Depaep on Unsplash
Bruges is a Belgian fairy-tale city that you must visit alone to understand what it's all about. It's one of the most underrated European cities, making it one of the most unique destinations to travel to on this list. Bruges is best described as an open-air museum for good reasons; this city hosts one of the best-preserved medieval towns in Europe.
Visiting Bruges is an opportunity to explore Christian architecture and art. There's a 12th-century chapel in Bruges that some followers of the Christian/Catholic faith believe to house the blood of Jesus Christ (Prophet Isa). Even if there's no way to confirm the truth of that claim, it's still a place that you need to discover for its sheer cultural significance.
You'll be surprised by the greatness and intricate details of the sophisticated Flemish art that the museums of Bruges exhibit.
Also, nothing compares to the romantic atmosphere of Bruges at night. The tall buildings reflected on the canals, and the white swans swimming elegantly make a visually-pleasing venture that opens the heart and relieves the mind.
Another interesting fact about Bruges is its chocolate tradition. Bruges is one of the best spots on earth to taste high-quality chocolate, which is a great reason to visit this fairytale city.
If you're a fan of movies, you have to watch In Bruges. It's a funny movie with a heart-touching story. But most importantly, it showcases the hidden beauty of Bruges. If this text didn't convince you to check out Bruges, the movie will undoubtedly do the job!
9. Experience the Warmhearted Atmosphere of Granada! (Spain)
Photo by Maddie Leopardo on Unsplash
At the peak of the Golden Age of Islam, one of the regions that stood out was Andalucía (nowadays Spain), and one of its major cities is Granada. Apart from being one of the friendliest cities in Spain, this Andalucian gem is a place that enjoys lovely weather all around the year. It's a sunny city, but not very hot, which is the finest weather.
The interplay of beautiful natural landscapes and amazing Arabic architecture makes this city a sanctuary for contemplation and meditation. It's also not very busy as other Spanish cities, which gives it an exceptional charm.
The most iconic place is the World Heritage Alhambra Palace; it's a wonderful complex building that captivates the mind as well as the soul. You will surely admire the Islamic architecture of this fantastic palace building, especially the fountains and the towers.
Additionally, if you're a fan of Flamenco music, you'll find the most genuine forms of this gypsy style in Granada. Buying a Flamenco guitar would be a great souvenir!
When in Granada, you have to make sure you have enough storage space on your devices for the thousands of pictures you'll capture, especially since this city has a street-art subculture.
10. Sunbathe in the Canary Islands! (Spain)
Photo by Massimiliano Morosinotto on Unsplash
We're still in Spain, but this time we're actually a lot closer to Morocco. The Canary Islands are only 100km away from the Atlantic coasts of Morocco. Just like Granada, Marrakech, and the rest of Morocco, the Canary Islands have fabulous, sunny weather, perfect for sunbathing.
These islands are quite undiscovered by tourists, especially non-Europeans. It makes them one of the unique destinations in the world.
Additionally, if you're a fan of stargazing and spotting the constellations, the Canary Islands offer an opportunity to practice your hobby.
There are five Islands, which share many similarities, but each of them has its special details.
You'll have a great time exploring the diversity of everything on these islands; this includes beautiful villages, volcanoes, natural caves, dunes, plenty of animals, plants, delicious foods, and the most wonderful beaches. It will also be a great time for you to travel alone and ponder about your future.
We've reached the end of our list of the Top 10 Places to go for a Trip of Self-discovery in 2022. By now, you must've decided which place (or places) touched your heart the most. If you are still undetermined, pick your destination randomly because, honestly, they are all fascinating!