credit-giphy.com
1. Penang Island, Malaysia
Brimming with colonial charm, you are bound to get lost in its maze of colourful streets. Trishaws, old Chinese shops, a burgeoning art scene and fun-filled carnivals – Penang is the old and the new coexisting in harmony.
2. Dubai, United Arab Emirates
Dubai is a thrill seekers paradise and will definitely full fill your thirst for adventure. Be it dessert safaris or a wild shopping trip, Dubai is the one stop shop! Dubai is fearless and fast-paced, but sophisticated at the same time.
3. Melbourne, Australia
If you are the artsy type, Melbourne is the city for you! It's stylish and cosmopolitan and has long since been the epicentre of all things hipster. The best way to experience Melbourne is as a local. Take a walk down its many streets and absorb the multicultural atmosphere as well as its contemporary art scene. Made up of a mix of art-deco and modern architecture, it gives the feel of New York.
Food and coffee are the main part of their bohemian subculture, so make sure to try out trendy eateries in the area. Feeling like Italian – head to Lygon Street, if you are craving Middle-eastern cuisine Brunswick is where you'll find it, and if it's good old Chinese you want to head over to Chinatown.
4. Kyoto, Japan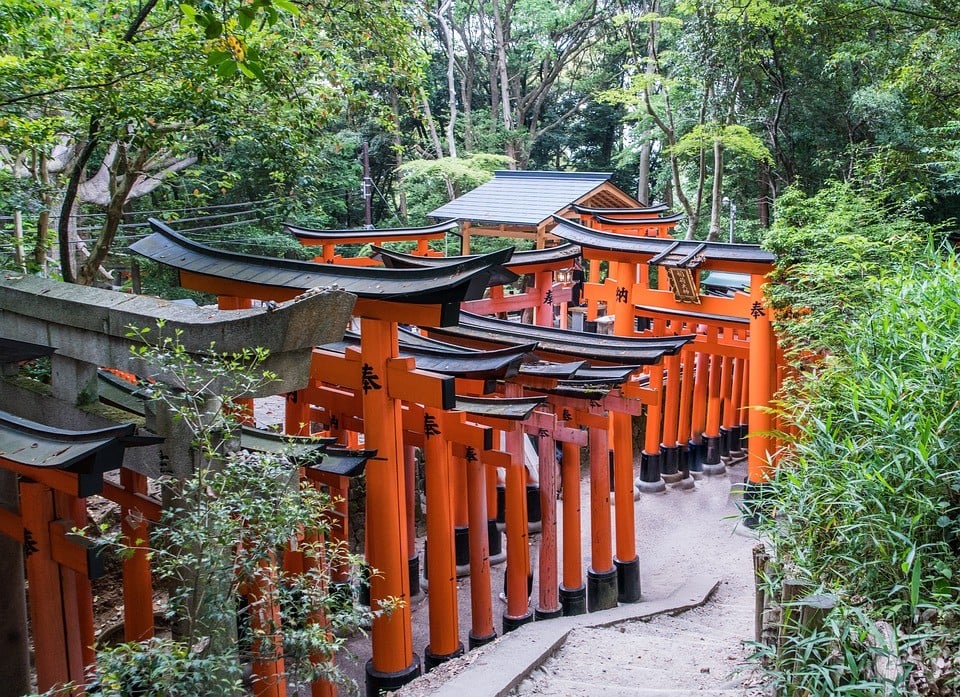 Definitely, add Kyoto Railway Museum to your list of places to see in Kyoto. The museum showcases retired locomotives, as well as a restored old Nijo station. The Kyoto Manga Museum is an absolute delight to visit as well, with a collection of over 300,000 comics and manga-related exhibits.
5. Bali, Indonesia
Bali has it all, relaxation, adventure and spirituality. It's a magical landscape that boasts of serene beaches and ancient temples, with friendly locals. A must do in Bali is to go for a hike on Mount Batur situated in Kintamani, and be rewarded with a stunning bird's eye view of the beautiful region.
Due to 12% of the population being Muslim, you can easily find a Mosque in Bali. Finish off your trip to Bali with a visit to Jimbaran, a quaint fishing village with a secluded beach, and reflect on your experiences there while enjoying an unforgettable sunset.
6. Istanbul, Turkey
Istanbul is famous for its architecture, namely mosaics and frescoes as well as the elegant arches that adorn the many palaces, mosques and churches. The Topkapi Palace is a must-see, with its opulent pavilions, bejewelled Treasury and expansive Harem, which gives a glimpse into the lives of the many Sultans that inhabited the Palace.
The Aya Sofya, once a grand church which was converted into a Mosque and now stands as a museum is the best example of Turkish architecture. Make sure to visit the Blue Mosque, known by this unofficial name due to the blue Iznik tiles that adorn its interior. Drop in at the Basilica Cistern which is an underground palace. It is a great spot to hide away from the summer heat.
Because Turkey is a dominantly Muslim country you don't have to worry about finding Halal friendly restaurants and, Mosques in Istanbul as there's plenty. Just enjoy your time in this magnificent city.
7. Basque Country, Spain
Basque country has long been an unexplored travel location; however, things are fast changing. This is a beautiful region located between northern Spain and southern France; it has a rich cultural history and is made up of different ethnicities. It's a mix of quaint little villages, cosmopolitan cities and amazing natural landscapes.
Basque country is all about indulging your senses, it boasts a world-class cuisine, but don't worry there are many Halal options to choose from so you won't be missing out on any of that good food.
Art and architecture play a key role in Basque country tourism so don't forget to visit the Museo de Bellas Artes which showcases classical art by Goya as well as contemporary art. The Guggenheim Museum is a must visit more for its stunning architecture than its contents - it is one of modern architecture's most iconic buildings.
Be sure to visit La Concha Bay in San Sebastian, it is a seaside metropolis. Many festivals and activities take place throughout the year, and the best way to get around is by bicycle. So wear some shades, hop on a bicycle and explore the city and what it has to offer.
Basque country is home to a few Mosques and prayer facilities. One of the most well-known Mosques is the Mezquita Asslam.
Find nearby prayer places and Mosques in Basque Country
8. Valetta, Republic of Malta
It's small but mighty capital - Valletta - was built by the 16th-century Knights of St John, and has been described by Unesco as "one of the most concentrated historic areas in the world". It is also the European Capital of Culture for 2018, so don't miss out on this great city. Valletta is a must see for the art and history buff.
It may be tiny but it boasts of some amazing tourist attractions. Stepping into the Grand Masters Palace is equivalent to stepping into a time machine and going to the past. Corridors lined with Knight's armor and weapons, rich interior covers the insides of this majestic establishment. Five rooms of state are open to the public, while the rest are closed off due to the palace being the official residence of the president of Malta.
St John's Co-Cathedral was built in the 16th century; a baroque style revamp was made in the 17th century. The cathedral contains two paintings by Caravaggio. However, the most treasured work of art is the large scale painting of John the Baptist.
Want to feel like Indiana Jones or Tomb Raider, then paying a visit to the prehistoric Hal Salfieni Hypogeum and Tarxien Temples is a must. It may be eerie but it is definitely worth it! The upper Barrakka Gardens is a great spot to retreat to from the bustle of the city – the balcony offers a stunning view of Malta.
9. Amsterdam, Netherlands
You can explore the many restaurants in the city, there's a wide range of Halal restaurants in the area. Therefore, your options are not limited. You can take a Canal cruise through the city's waterways or take a bike ride.
There are several Mosques scattered around the city, and it's not difficult to reach any of them. The most notable being the El-Thaweeb Mosque. The Mosques can easily be located by doing a quick search on the net or asking a local or the front desk of your hotel/hostel.
Last but definitely not least, your bonus destination!
10. Chefchaouen (The Blue City), Morocco
The blue walls of the city are due to a religious choice and not a stylistic choice, Jews believed that the color would remind people of the power of God and to this day the tradition of painting the walls blue has remained the same.
Offering picturesque views, a variety of activities are at your disposal - nature treks that pass through lush green forests and streams, you can spend your nights stargazing under the cloudless skies, and you can even explore the mountainous terrain by taking a mule ride.
Chefchaouen is a foodie's paradise as the Moroccan cuisine is dynamic and full of flavour. The signature dish is the Tagine – popular amongst tourists and locals alike - consisting of meat, vegetables, spices and oil served on couscous, deserves a taste. End your meal with a steaming cup of mint tea, which is a staple of the Moroccan lifestyle. The food served is Halal, so there are no restrictions - enjoy all of it!
Head over to the quaint but colorful Medina where you can buy little trinkets, carpets, shawls and slippers. Haggling is the game here, so make sure you get a good deal on your purchase. The Grand Mosque of Chefchaouen is located within the Medina, however it is only accessible to the male Muslim community.