From the moment you throw your hat into the air, there is a sense of freedom. Between the time that you graduate till whenever life starts up again is space for you to be more you – by doing things you didn't have the time for in the recent months or even years – and space to get out of your comfort zone, experiment, and surprise yourself by doing things you never thought you would. Why not? It's time to live a little. If you have a travel itch from having worked yourself too hard or spent too long doing the same things, we have just the list for you: on where to travel after graduating from college. There are cheap and exciting travel destinations for your post-grad adventure, and a little something for everyone, we hope!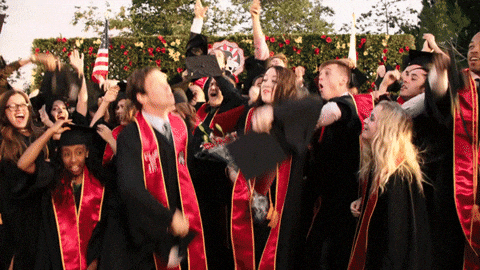 Credit - giphy.com
1) Peru
If you're looking for a little culture, adventure, history, and a good workout, trekking the trail of Machu Pichu in Peru is the place for you. Of course, Machu Picchu itself is incredible and should be on your bucket list, but the hike there is worth a mention too. The best time to go is between May and September, and it takes you through the jungle, ruins, and beautiful mountain scenery. Make no mistake, the hike you'll be taking is mountainous, so you will have to have some level of fitness to be on it. Peru also allows you to participate in projects for however long or short of a time you are there for. So take the opportunity to give back to the world by helping build water tanks to improve access to drinkable water. Your small effort goes a long way! Even if it is South America, Peru is a great graduation trip idea.
2) Australia
Want to go Down Under? Australia has fabulous sites to see, not to mention great deep sea diving to view their marine life, as well as giving you the chance to see a great white shark up close and personal. Don't worry, your chances of getting eaten are slim as you will be caged while the shark swims free. It's enough to say that this sport is for adrenalin junkies because it takes some guts to be so close to one of the world's scariest predators. Who knows, you might just surprise yourself by trying it out and having one of the best post-graduation trips. The best feeling comes from giving back – to people and to this amazing earth – so lend a hand in preserving the nature you see and let it last longer for much more to enjoy.
3) India
The months before graduation are generally stressful and hectic, and all you want to do is get away and have a relaxing holiday. If you're looking for places to go after high school graduation – or college – India is a great option. Not only is this graduation trip idea cheap, but there is so much to experience there. It is also one of the best graduation trips for families as there's nothing like good company to make a trip more fun. From delicious street food (most places are vegetarian) to visiting the Taj Mahal – a Wonder of the World has to be on everyone's bucket list – shopping for incredibly gorgeous ethnic wear, and even visiting schools in rural villages to remind yourself what a blessing your life is; this is one place that strikes a lot of chords.
4) Dubai
A tourism capital of the Middle East, Dubai is the perfect place to shop, eat, and experience a whole bunch of things in just one city – the perfect place for high school graduation vacation ideas. It is definitely the most Halal-friendly graduation trip on this list. There is no need to double check about restaurants being Halal as you can take the fact that you are in a Muslim country for granted. Despite being in the Middle East, the multicultural population assures incredibly diverse food that stays true to its origins, so you can eat your way around the world without breaking the bank in terms of travel. Not only does Dubai boast the tallest building in the world (Burj Khalifa), the only 7-star hotel in the world (Burj Al Arab), the biggest mall (Dubai Mall), and more, but they also host brands from across the globe which makes shopping extremely easy. From skiing in the day to a desert safari that same night, bungee jumping, paragliding, stomach-dropping rides at Wild Wadi Water Park, your high school graduation trip will definitely have a jam-packed schedule.
The Maasai Mara is the most popular safari in Africa, and rightly so. Bordering Tanzania, Maasai Mara National Reserve is home to the Big Five. Also known as safari royalty, the African lion, the African leopard, the African elephant, the Cape buffalo, and the black or white rhino are generally the most sought-after animals to see. It is the best place to see lions in their natural habitat and to feel like one with the world. Migration period takes place between July and October where you can see hordes of wildebeest, zebra and antelope crossing the Mara River. Adjacent to the Maasai Mara Reserve is Serengeti National Park in Tanzania. Much larger than Maasai Mara, it feels less crowded and is also perfect to spot lions and cheetah in action. The Great Migration here happens from November to June, when herds of zebra and wildebeest come together to graze, mate, and give birth. This trip will certainly go down as adventure student travel, and to see the animals in their natural habitat is a truly humbling experience.
6) Nepal
When it comes to affordable graduation trips, Nepal is a safe bet. It might not seem like the country has much to offer, but hiking to the base of Mount Everest is a once-in-a-lifetime experience. Climbing the mountain is a task that you may or may not want to attempt one day, but the hike to the base is not to be missed. Meeting the people on the way, immersing yourself in culture and taking in the breath-taking sights is something to write home about. And after all that, when you are back in civilisation, volunteer at an orphanage and spend time with the children. Going that extra mile makes for an extra special graduation trip. The hike is best done from March to May and September to November when monsoon season has not set in.
7) Prague
A great high school graduation trip idea is the quaint city of Prague in the Czech Republic. It has been on the UNESCO World Heritage List since 1992 as it is steeped in history which is very evident in the ancient well-kept building. The architecture is part of the reason that Prague is considered one of the most beautiful cities in the world, and there is such a charm present in the city that you have to see it at least once in your life. History buffs will delight in roaming the streets and soaking in the sights, the skyline and the culture present. It is home to Prague Castle, the Royal Palace, the intricately detailed St Vitus Cathedral, the Astronomical Clock that still works to date, and so much more to be explored.
8) Greece
Images of picturesque towns on hills by the coast, surrounded by the bluest seas come to mind. Rhodes Town in Greece is home to historic sites and modern luxuries. Split into Old Town and New Town – you guessed it – the Old Town contains medieval castles, Roman ruins, a maze of ancient streets and a cathedral present under the Byzantine rule. The New Town releases one from the olden charm to trendy boutiques and bistros and of course, the beach. Greek cuisine sports some delicious dishes, but don't hesitate to ask how it was prepared – whether it contains alcohol or anything you should be concerned about – and when in doubt, always stick to seafood and vegetarian options. There is fresh seafood available as it is a coastal area.
With so many places to go, take your pick and book your tickets. Your adventure awaits!