Leisure travel is something that everyone would like to experience. Trains have always been a mode of relaxed traveling and with some trains being decked up with luxuries and taking travelers along some of the most scenic rides, the journey becomes all the more enjoyable. Some of the best train journeys are listed here.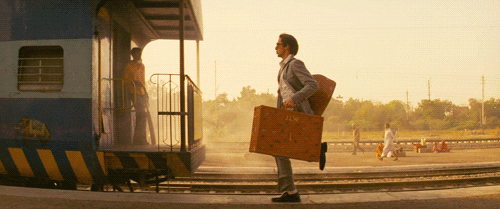 Credit - giphy.com
The Glacier Express:
Undoubtedly one of the most scenic trains in Switzerland, the Glacier Express traverses along some of the most scenic views of Europe. The train covers a distance of 180 miles in around eight hours moving from Zermatt to St Moritz.
Venice Simplon-Orient-Express:
Picture Credit: Belmond.com
Connecting some of the best cities in Europe, the Venice Simplon-Orient-Express is one of the most charming train journeys. The train runs for three days covering the most scenic views of France, Switzerland, and Austria.
Rovos, Pride of Africa:


Picture Credit - www.greatrail.com
An awesome date with nature, the Pride of Africa explores the majesty and hidden treasures of the Continent. This luxurious train follows a long itinerary taking guests through South Africa, Zimbabwe, Zambia, and Tanzania. This train has been rated among the most luxurious trains in the world.
Eastern & Oriental Express:
Picture Credit - Belmond.com
Linking Singapore and Bangkok, the breathtaking Eastern & Oriental Express travels over 1,200 miles taking you across lush countryside and paddy fields. The food on the train is delicious with international and eastern influences.
Palace on Wheels:
Picture Credits - tourism.rajasthan.gov.in
Adorned with extravagances, the Palace on Wheels chugs through the princely state of Rajasthan. It crosses the Thar Desert and some of the best cities of Northern India. You can enjoy a royal welcome in Jaipur, a camel safari near Jaisalmer, lunch at the Lake Palace in Udaipur, and an afternoon at Taj Mahal.
The Bernina Express:
One of the best ways of crossing the Alps, the Bernina Express travels from northern to southern Europe. Running through Switzerland's Graubunden region, the train crosses some of the most breathtaking sceneries of Europe.
The Blue Train:
Picture Credit - www.luxurytrains.co.za

Launched in 1998, the Blue Train offers a hotel-like experience on wheels. Every compartment boasts of individually controlled air-conditioning, television, telephone, and en-suite bathrooms. Professionally trained butlers are at your service all around the clock. The train follows the traditional route from Pretoria to Cape Town.
Trans-Siberian Express:
Running from Moscow over the Urals across the outstanding Russian steppes and Lake Baikal to Vladivostok, the Trans-Siberian Express claims to travel over one-third of the world and travels for eight days.
The Canadian:
Picture Credit - Railpictures.net
Taking visitors through the awe-inspiring beauty of Canada, the Canadian travels over 2,749 miles between Toronto and Vancouver. During its course of the journey, the train travels along some of the most incredible landscapes of the country.
For more travel inspiration and destinations to visit download the halal trip travel app.